Share this item with your network:
Strategic insight for health IT leaders

Warakorn - Fotolia
Patient engagement in healthcare a key to value-based reimbursement
With the advent of value-based care, patient engagement is becoming increasingly important to keep patients as long-term customers and get them involved in their own treatment.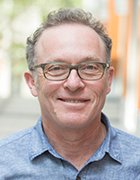 By
Within the federal government's meaningful use requirements, patient engagement in healthcare focused on patient access -- via portals -- to health data collected and stored by providers. But a newer incarnation of the concept comes when patients take a bigger role in their treatment, such as generating their own health data and transmitting it to clinicians -- allowing caregivers to better coordinate care and therefore lower costs and improve outcomes.
"Patient engagement is really central to getting care coordination right," said Brian Eastwood, patient engagement analyst for health IT research and consulting firm Chilmark Research. "At its core, it's keeping an eye on chronic patients in between the appointments they might have with the health system. The idea there is that they're given goals at these appointments and have care plan tasks to do. They're now starting to understand the condition they have and work toward doing those things a little bit more."
Patient engagement in healthcare tasks might include the following: watching an instructional video about an upcoming surgery or a new diagnosis; tracking key chronic condition metrics such as blood glucose and blood pressure levels, activity and weight; meeting individualized exercise or activity goals; and adhering to a dietary plan.
Beyond patient portals
In his September 2016 Chilmark report, "Beyond the Portal: Technology for Improved Consumer Engagement," Eastwood explored technologies and vendors that have been developing patient engagement in healthcare systems and included some capabilities of next-generation systems. "To provide the level of engagement necessary for coordinated care," reads the 47-page report, "next-generation solutions will include much functionality that today's portals lack." Eastwood predicted that over the next several years, patient engagement in healthcare systems will be mobile-first, integrate telehealth for acute and post-acute care, and incorporate artificial intelligence.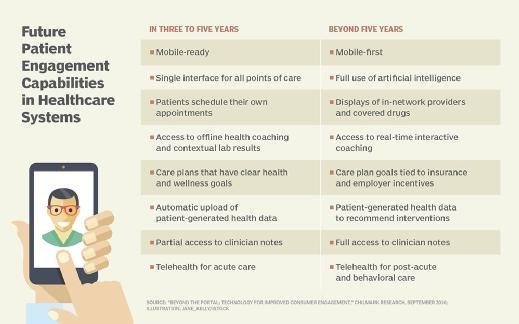 Meanwhile, as more providers and health plans start delivering value-based rather than fee-for-service care and engaging in value-based contracts with employers, patient engagement becomes critical, Eastwood said. He added that providers "have more of an incentive to improve that kind of engagement." As a result, providers, health plans and employers with wellness programs are starting to look more at engaging with patients before chronic conditions get worse instead of relying on portals or other patient communication after services have been rendered, he explained.
Eastwood acknowledged that many EHR vendors now include modules for patient-generated health data and provide patient engagement apps. But they generally don't have the ultra-specific focus on costly chronic conditions such as diabetes, hypertension, obesity and chronic pulmonary obstructive disease. In contrast, smaller, more agile health IT companies make patient engagement central to their technology, he said.
Benefits of provider reimbursements
A scientific basis for patient engagement in healthcare is reflected in the expansion last year of a diabetes prevention program by the Centers for Medicare and Medicaid Services (CMS), Eastwood said. CMS' new willingness to reimburse providers for pre-diabetes intervention, he reported, comes after pilot programs across the country revealed that this approach can be medically effective and save money. The private health IT sector likewise is interested in technologies that can support similar medical intervention initiatives, he said.
Another commercially fertile area for patient engagement is services, such as oncology, in which patients are highly motivated to stick to complicated treatment schedules and drug regimens. And one other significant area involving patient engagement is customer relationship management or patient relationship management, which some vendors and healthcare organizations are adapting from the sales world to bring together disparate caregivers and communicate with patients often.
Dig Deeper on Population health management