Share this item with your network:
Strategic insight for health IT leaders

Luis Louro - Fotolia
Value-based models of care depend on advanced technologies
As healthcare shifts from fee-for-service to value-based care, health systems and physician groups are using advanced technology to achieve better care at lower cost.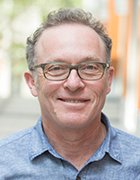 By
Beth Israel Deaconess Care Organization is built on value-based models of care and the technologies that help manage...
Continue Reading This Article
Enjoy this article as well as all of our content, including E-Guides, news, tips and more.
the inherent financial risk from this new way of delivering healthcare.
Many traditional health systems are slowly transitioning from fee-for-service to value-based models of care, whereby providers are reimbursed according to how healthy they keep their patients. BIDCO is already there and only practices value-based care. All the Boston-based accountable care organization (ACO) contracts are designed around value-based reimbursement; if BIDCO's patients don't get better, then BIDCO doesn't get paid.
Value-based care needs some help
While BIDCO is committed to value-based models of care, it's still trying to figure out how to make this approach more successful, said Bill Gillis, CIO at the organization's sprawling collection of hospitals, physician groups and clinics.
Executing such complex contracts, with their built-in health-metric targets, is only possible with advanced analytics and population health management software that can identify, assess and guide treatment of large groups of the most chronically ill and costly patients. These illnesses include congestive heart failure, Type 2 diabetes and chronic obstructive pulmonary disease.
"BIDCO is committed to the value-based care process," Gillis said. "I really feel that BIDCO is in a place where we've turned a corner and are starting to see some of those results" -- in other words, consistently meeting quality and cost targets. He noted that "a lot of that has to do with having the technologies and tools in place to dig into the information that's provided by the various payers and contractors so that we can manage these populations in a way that keeps them healthy, ... out of high-cost pools and obviously controls the cost."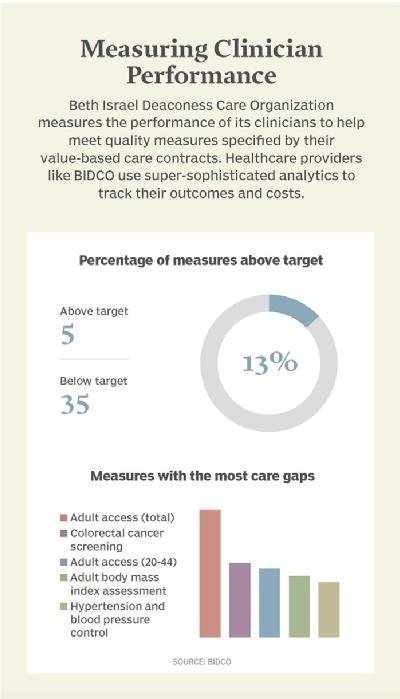 Big data analytics plays big role
In the health IT world, there's much consensus on this big data approach to value-based care -- combining data from payer, clinical, demographic, social media and other sources to produce an exhaustive pool of data to analyze which medical practices are most effective with which patients. In addition to analytics and population health management software, technologies increasingly associated with value-based models of care include care management software, cloud-based services such as customer relationship management (CRM) or patient relationship management, and remote patient monitoring using wearable and other wireless tracking devices.
While much of healthcare is still running on a volume basis -- providers that do the most and the costliest procedures are reimbursed most -- there has been a distinct shift toward value-based care, both in the public and private sectors. Two years ago, Congress passed, by a large bipartisan majority, the landmark Medicare Access and CHIP Reauthorization Act of 2015 (MACRA), which, among other things, puts forth medical outcome quality measures for physicians and health systems that are reimbursed by Medicare.
Even though the Trump administration has reduced the number of measures and cut back on the Medicare knee-and-hip-replacement bundled payment program, private insurance payers have started to move toward value-based care models. Also, most observers see the administration's moves as relatively minor in terms of the overall sweeping change to value as opposed to volume.
Predicting value-based care's future
When asked to predict the future of value-based care, Marc Probst, CIO of Salt Lake City-based Intermountain Healthcare, envisioned an upended landscape in which care is distributed more horizontally than today's hospital-centric system.
Hospitals will be smaller and built almost exclusively for the highest-acuity patients, Probst said. Care settings such as birthing centers and urgent care clinics will be physically larger than hospitals and run at far lower cost. Home care with telemedicine and remote patient monitoring will be ubiquitous. And yet-to-be-named specialized care "pods" will dot cities and suburbs.
He also predicted that costs will plunge due to lower fixed costs, better precision care and an end to reliance on emergency departments for routine care and excessive use of routine procedures. Patients won't have to wait for appointments because caregivers will be much better at scheduling.
"There will also be tons and tons of self-triage, and that will just get more sophisticated," Probst speculated. "If your child has otitis media [an ear infection] or strep throat, or you have the flu, you're not going to the doctor. You're doing that with your iPhone, and the iPhone is going to know enough information to send in a prescription for the antibiotic." --S.S.
Bundled payments
A distinct trend in the private payer sector is bundled payments, which allow the insurance payer to provide one pot of money for a given episode of care or procedure; the amount is usually based on actuarial historical costs. The various care providers -- such as the hospital, surgeon and anesthesiologist -- then allocate the bundle of money among themselves. If money is left over, the providers make a "profit," so there's an incentive for efficient care delivery.
And so a slew of bundled payment software vendors have sprung up, just as analytics and population health vendors have proliferated over the last decade. At the same time, the major electronic health record (EHR) vendors are now offering population health and analytics capabilities.
But with the technologies for value-based models of care developing quickly, some experts warn that the tools, though powerful, have a limited effect unless coupled with new business models such as payer-provider partnerships, providers becoming insurers and ACOs.
"Once you get past those business-model and corporate structure issues and decisions, it does ultimately come down to the analytics and supporting data in order to be able to take on financial and clinical risk management for costly patient groups," said Brian Flanigan, principal and value-based care integrated offering leader at Deloitte Consulting. Challenges for providers under value-based care include a lack of robust interoperability in health IT and a pressing need for data governance that organizes, streamlines and ensures the quality and integrity of data, Flanigan added.
Analytics critical to value-based care
A longtime interoperability advocate, Marc Probst, CIO of Salt Lake City-based Intermountain Healthcare, one of the country's larger health systems and a provider long noted for its emphasis on value-based care, said analytics is clearly the most critical tool for value-based care.
"If you're going to provide value-based care, ... you have to take variability out of care and then understand best practices," Probst explained. "What procedures are helping? What procedures are causing more harm than help? What are just costing money? And so analytics becomes incredibly important. Going to the next level, once you understand how that care should be provided, then it's really assisting the clinicians in doing that and providing care in the most effective way."
How MACRA applies value-based care
The MACRA Quality Payment Program sets out two major value-based care tracks: the Merit-Based Incentive Payment System (MIPS) and Advanced Alternative Payment Models (APMs). The following information is available from the U.S. Centers for Medicare and Medicaid Services (CMS).
MIPS applies to physicians and other clinicians who bill Medicare more than $30,000 and provide care for more than 100 Medicare patients a year. On the Quality Payment Program MIPS track, caregivers receive performance-based payment adjustments from CMS. From among 284 measures, providers pick six performance measures that they want to report on, including at least one medical outcome measure.
MIPS measures can range from blood pressure management for adult kidney patients, suicide risk assessment for adult depression disorder and appropriate treatment for children with upper respiratory infection to breast cancer screening, biopsy follow-up and access to specialists.
Under the APM track, providers get incentive payments to offer cost-efficient, high-quality care -- a form of value-based care. Payments can apply to a clinical condition, population or an episode of care. In Advanced Alternative Care Models, physician practices earn more -- up to 5% in incentive payments -- for assuming more financial risk tied to their patients' medical outcomes. --S.S.
These analytics tools have been primarily designed using Intermountain's intellectual property -- such as workflows and clinical practices -- and then integrated with its EHR system in concert with the EHR vendor's developers. Intermountain's key clinical tactics for value-based care include providing wellness programs to prevent illness; moving many kinds of patients to less expensive settings, such as their homes and outpatient and urgent care clinics; and closely scrutinizing the number of procedures.
Some value-based care experts believe other kinds of software are just as important as software for analytics and population health. Whether fulfilling bundled payment contracts or larger value-based contracts, many providers are using more care coordination and management. In that way, providers along the care continuum work more closely together while communicating with the patient. This approach increasingly makes use of software -- often based on CRM and wellness technologies -- that allows care managers to quickly and in real time check key quality measures and reduce gaps in care.
"Analytics has got to feed more robust care management tools than we're seeing at this point," said Brian Murphy, senior analyst at health IT consultancy Chilmark Research. He said the analytics, population health and care management modules offered by the major EHR vendors generally aren't as powerful and sophisticated as those provided by independent vendors. But he noted that the EHR vendors' tools are adequate for many smaller providers, such as physician practices, as well as larger health systems.
As value-based models of care and their associated technologies proliferate, so do ancillary mini industries that are springing up around them. In addition to software vendors developing new tools, consulting firms -- such as Medical Advantage Group -- that specialize in putting value-based care technologies and practices in place for provider clients are seeing plenty of business.
Interoperability obstacles still loom
Health IT's famously persistent lack of interoperability is a major barrier to value-based care, Medical Advantage IT director Ben Bawcum said. "It's a universal problem in entering into this market," he explained. "Everyone has this issue, and there are a thousand and one technology vendors who will tell you that they have it solved. They kind of get you as far as connecting the pipes together, but they don't get you into data mapping and harmonization of data."
Data clearinghouses, endpoint-to-endpoint connectivity using Health Level Seven International (HL7) or other protocols, and even machine learning can help with data sharing, Bawcum added, but "at the end of the day, you're really stuck with a bag of stuff. And when you're dealing with EHR vendors and you're dealing with systems that don't speak the same language at their core -- and not at the HL7 layer, but how they store and define data -- they're always going to be translating. So you have to do the hard work of data matching and data analytics."
Darline El Reda, director of analytics at Medical Advantage, said analytics is most needed to help providers pinpoint clinically and financially relevant opportunities in value-based contracts.
She offered a counter-intuitive example from one of the East Lansing, Mich., company's clients -- a provider using a telehealth intervention program for patients with congestive heart failure. This condition has a low prevalence and high nonadherence rate for remote monitoring in the non-Medicare population served by the provider, and analytics showed that the telemonitoring technology was an unnecessary cost. "You've wasted a lot of money and probably moved nothing," El Reda said.
That healthcare providers are already effectively using this kind of precision cost accounting shows that value-based care is making deep inroads into healthcare. And advanced technologies like analytics and population health management software serve as the foundation.
Dig Deeper on Clinical data analytics software and systems