Nationwide Health Information Network (NHIN) definition
The Nationwide Health Information Network (NHIN) is a set of standards, services and policies that enable secure health information exchange (HIE) over the Internet. The initiative is sponsored by the Office of the National Coordinator (ONC) for Health Information Technology (HIT), which began developing the NHIN in 2004.
Download Our Guide to U.S. EHR Leaders: State by State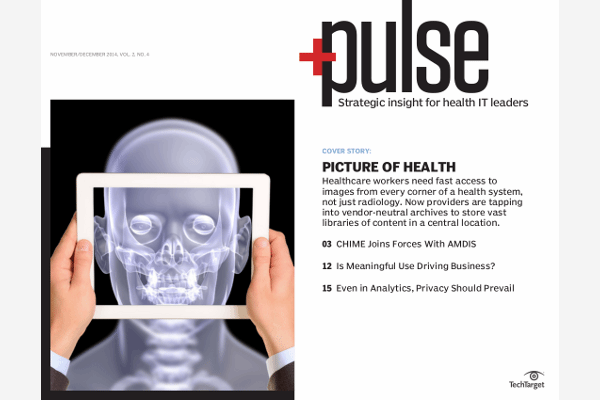 Who rules meaningful use? CMS attestation data from more than 600,000 hospitals and physicians reveals a mix of valuable insights.
By submitting your email address, you agree to receive emails regarding relevant topic offers from TechTarget and its partners. You can withdraw your consent at any time. Contact TechTarget at 275 Grove Street, Newton, MA.
You also agree that your personal information may be transferred and processed in the United States, and that you have read and agree to the Terms of Use and the Privacy Policy.

The NHIN provides a common platform for nationwide health information exchange across diverse entities. NHIN standards and services will be used by federal agencies, health care providers, health information exchanges and consumers to securely exchange health information at both the national and local level. The NHIN is a fundamental requirement for achieving nationwide health information exchange, one of the primary goals of the Health Information Technology for Economic and Clinical Health (HITECH) Act.
A health IT policy committee called the NHIN Workgroup is responsible for providing a set of recommendations to the ONC to establish a policy and technical framework for the NHIN. Several components form the basis of the NHIN -- authentication and certification, vocabulary and message standards, delivery protocols, directories, a trust framework and security. A diverse group of organizations has been using the NHIN to demonstrate live health information exchange; this has resulted in the Nationwide Health Information Network Exchange.
Learn more:
NHIN standards come with some key benefits.
ONC turns its attention to NHIN governance.
Engineers of NHIN struggle to find common ground, tangle over policy.
The ONC's website explains more about the NHIN and provides an inventory of NHIN tools.
Continue Reading About Nationwide Health Information Network (NHIN)
PRO+
Content
Find more PRO+ content and other member only offers, here.