Lance Bellers - Fotolia
News
Stay informed about the latest enterprise technology news and product updates.
The eClinicalWorks False Claims Act case: Implications for health IT
For some health IT experts, the eClinicalWorks' False Claims Act case is about the EHR vendor's lack of interoperability and the failure of meaningful use.
Experts say the False Claims Act case against eClinicalWorks highlights problems in health IT that center on a lack of interoperability, the failure of meaningful use and the failure of electronic health records, or EHRs.

Download this free guide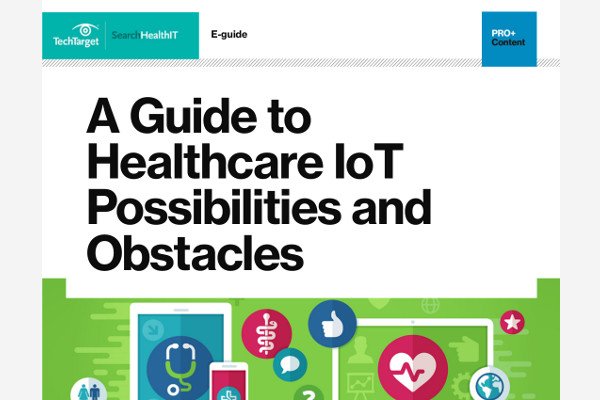 Download Complete Guide to Healthcare IoT Now
Healthcare IoT has the potential to greatly improve patient care – but it's not without its challenges. Download this essential guide in one PDF and learn how to overcome the obstacles: security, data overload, regulations, and more.
The Department of Justice noted in its press release about the case that a lack of interoperability played a role: "ECW's [eClinicalWorks'] software failed to satisfy data portability requirements intended to permit healthcare providers to transfer patient data from ECW's software to the software of other vendors."
Kirk Nahra, an attorney at Wiley Rein LLP in Washington, D.C., who specializes in privacy, information security and compliance issues, explained. "One of the points [of these EHR certification requirements] ... is [for] systems to be able to work together," Nahra said. "[It's] the whole idea of interoperability."
An ongoing concern
This is an issue that Laura Adams, president and CEO of the Rhode Island Quality Institute in Providence, a nonprofit that in partnership with the Rhode Island Department of Health developed a statewide health information exchange (HIE) called CurrentCare, said she and other healthcare organizations in Rhode Island have personally experienced with eClinicalWorks.
"ECW is the only major EHR vendor that we have been unable to integrate with, despite the willingness of their R.I. customers to do so," Adams wrote in an email. "It has left a significant gap in patients' longitudinal records that we've been working with ECW to close for literally years now."
To Kate McCarthy, senior analyst at Forrester Research, this case just reinforces something she's believed in for a while: "It's kind of mystifying that they were able to get away with this as long as they did. But my opinion on health records has been, for a while, that [EHRs are] a dying technology."
A perfect design for failure
McCarthy explained that healthcare organizations try to use EHRs to run hospitals and drive everything, from scheduling to patient workflow to revenue cycles, in addition to using EHRs simply as clinical document storage -- which is what they are more suited for than anything else, she said.
"They're systems of record," McCarthy said. "They're not systems of insight, and they're not systems of engagement. And so the way that people have tried to make them work in the industry was basically a perfect design for failure."
But more than the failure of EHRs, McCarthy said she believes this case against eClinicalWorks also demonstrates the failure of meaningful use.
"The issue I see is more that meaningful use, in and of itself, is a pretty big failure," she said. "And even organizations that are successfully attesting meaningful use are not meeting customer organizations' expectations with the products and services that they're delivering."
She added that "not only have we not [achieved meaningful use], but now vendors are out there faking meaningful use attestation."
The effect on eClinicalWorks
What does this all mean for eClinicalWorks? Other than having to shell out $155 million -- which is a significant blow to the company who reported making $440 million in revenue in 2016 -- not much else.
"There are all kinds of companies in the healthcare industry who have been targets of False Claims Act cases who have paid big-dollar settlements -- often much bigger than this one -- who are continuing to be high-profile, active, visible, sometimes even highly respected participants in the healthcare industry," Nahra said.
From my perspective as the CEO of an HIE, one of these silver linings is a resounding message that impeding the flow of data such that it cannot follow the patient simply won't be tolerated.

Laura Adamspresident and CEO of the Rhode Island Quality Institute
However, Nahra added that although eClinicalWorks will bounce back from this, it will still face some challenges stemming directly from this case.
"They're facing immediate business challenges, and any company who uses somebody who pays a fraud settlement is going to think about whether to keep using them," Nahra said. "I mean, that's just a normal course of events."
Adams agreed.
"I can't imagine that there is an ECW customer anywhere in the nation who isn't worried in the wake of these revelations and significant financial penalty for ECW, both in terms of the fine and the stipulations put on the company in regard to the free upgrades and interoperability requirements," Adams wrote.
And some other EHR vendors are weighing in, too. For example, ChartLogic is offering its services should any of eClinicalWorks' customers want to change EHRs.
Adams added that there is a silver lining to all of this, especially for the healthcare industry.
"From my perspective as the CEO of an HIE, one of these silver linings is a resounding message that impeding the flow of data such that it cannot follow the patient simply won't be tolerated."
EClinicalWorks didn't meet EHR certification requirements
Civil False Claims Act allegations were brought against EHR vendor eClinicalWorks because the company's software did not comply with the requirements for a certified EHR, the Department of Justice (DOJ) U.S. Attorney's Office of the District of Vermont said in a press release. In order to settle the case, eClinicalWorks is paying $155 million.
"ECW [eClinicalWorks] falsely obtained that certification for its EHR software when it concealed from its certifying entity that its software did not comply with the requirements for certification," the release said.
The DOJ explained in the release that eClinicalWorks was able to pass certification testing without meeting the criteria for certification for standardized drugs by modifying their software and "hardcoding" only the drug codes required for testing.
"In other words, rather than programming the capability to retrieve any drug code from a complete database, ECW simply typed the 16 codes necessary for certification testing directly into its software," the release said.
Kate McCarthy, senior analyst at Forrester Research, said while hardcoding those 16 drug codes was wrong -- "It's not OK; they shouldn't have done it" -- it's not as bad as the EHR vendor risking a HIPAA violation by not "maintaining really robust user reporting."
The DOJ press release said eClinicalWorks did not accurately record user actions in an audit log.
The company also did not reliably record diagnostic imaging orders or perform drug interaction checks in certain situations.
Eugenia Cowles, acting United States attorney for the District of Vermont, said in the release that this case "demonstrates that EHR companies will not succeed in flouting the certification requirements."
EClinicalWorks would not go on the record to comment on this story. However, it did provide a letter sent out to its customers addressing these issues, ultimately saying, "We have not admitted any fault or wrongdoing, and our goal as a company is to always make sure we are doing the right thing."
Dig Deeper on Electronic health record (EHR) vendor selection