Definition
ONC (Office of the National Coordinator for Health Information Technology)
The Office of the National Coordinator for Health Information Technology, abbreviated ONC, is a position within the US Department of Health & Human Services (HHS). The position was created by Executive Order in 2004 and written into legislation by the HITECH Act. The ONC's purpose is to promote a national health Information Technology infrastructure and oversee its development.

Download this free guide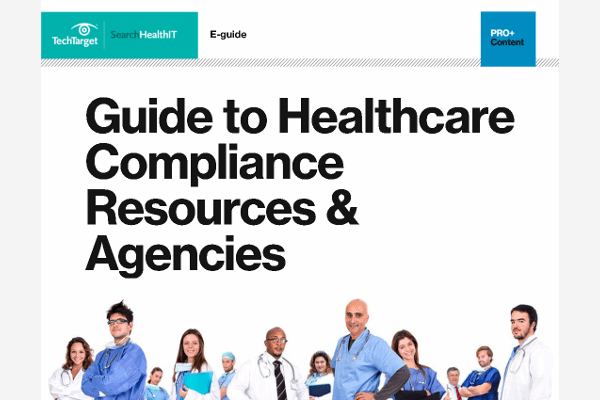 Healthcare Compliance Essential Guide Collection
OCR, CMS, ONC…the list of agencies and regulatory bodies that govern the use of health IT in the U.S. goes on. Download this essential guide collection now for an overview of these compliance resources, and make sure you stay compliant in this evolving health IT landscape.
By submitting your personal information, you agree that TechTarget and its partners may contact you regarding relevant content, products and special offers.
You also agree that your personal information may be transferred and processed in the United States, and that you have read and agree to the Terms of Use and the Privacy Policy.
The ONC's mission involves many aspects of health information technology (HIT), including policy coordination, strategic planning for the adoption of health IT and health information exchanges (HIE), establishing governance for the Nationwide Health Information Network and, above all, promoting a national health IT infrastructure. This last mission, according to the ONC, aims, among other things, to improve the quality of health care while reducing costs; improve the coordination of care and information among hospitals, labs, physicians and other health care organizations; ensure that personal health records (PHR) remain secure, and promote the early detection, prevention and management of chronic illness.
For the ONC to do its work, significant upgrades to health IT systems across the country will be necessary. To that end, and in response to provisions of the HITECH Act, the ONC drafted an interim final rule for an initial set of standards, implementation specifications and certification criteria for electronic health record (EHR) systems. This rule was released on Dec. 30, 2009, which was the same day the Centers for Medicare & Medicaid Services, or CMS, released a notice of proposed rulemaking for meaningful use. Health care providers must demonstrate meaningful use of a certified EHR system in order to qualify for financial incentives under the HITECH Act. Both sets of rules are open to public comment and will be finalized later in 2010, with the first awards to hospitals and eligible health care providers coming in 2011.
Also in response to the HITECH Act, the ONC is reviewing proposals for the formation of up to 70 Regional Extension Centers (RECs) which will receive federal funding to help hospitals and community clinics in their area make the transition from paper-based to EHR systems.
Learn more:
Hot topics at ONC meeting: Compliance, health IT adoption.
Thoughts on EHR meaningful use certification from an ONC leader.
Find ONC news and updates at the Health IT Pulse blog.
Visit the official website of the ONC.
Presentation: ONC, meaningful use and beyond.
Continue Reading About ONC (Office of the National Coordinator for Health Information Technology)
PRO+
Content
Find more PRO+ content and other member only offers, here.