News
Stay informed about the latest enterprise technology news and product updates.
ONC updates Health IT Certification Program to support efficiency
The Office of the National Coordinator for Health IT (ONC) recently announced in a blog post two changes that will be made to the agency's Health IT Certification Program.
Content Continues Below

Download this free guide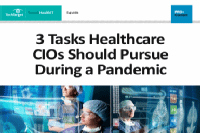 New Download: 3 Tasks Healthcare CIOs Should Pursue During Pandemic
During the COVID-19 crisis, healthcare CIOs are enabling a remote workforce and scaling out telehealth options. But they can also streamline a few processes that will help patients and providers. In this guide, you'll explore these 3 processes.
According to the blog post, those two changes to the Health IT Certification Program are:
Approving more than 50% of test procedures to be self-declaration.
Exercising discretion for randomized surveillance of certified health IT products.
These changes apply to ONC-Authorized Certification Bodies (ONC-ACBs) as well as ONC-Authorized Testing Laboratories (ONC-ATLs).
Self-declaration of test procedures
This change to the Health IT Certification Program means that health IT developers can now self-declare their product's conformance to 30 out of 55 certification criteria without having to do any testing.
Before, testing usually included either a visual demonstration of the product's functionality or providing documentation that confirms the required functionality is there.
The blog post notes that the Health IT Certification Program criteria that are now self-declaration are functionality-based certification criteria.
"By making this change, ONC enables ONC-ATLs and health IT developers to devote more of their resources and focus on the remaining interoperability-oriented criteria, aligning with the tenets of the 21st Century Cures Act," the post said. "In addition, health IT developers are still required to meet certification criteria requirements and maintain their products' conformance to the full scope of the criteria. Any non-conformity complaints received and associated with these certification criteria would continue to be reviewed and investigated by ONC-ACBs."
Discretion for randomized surveillance
When it comes to ONC-ACBs conducting randomized surveillance, ONC is using enforcement discretion. This means that ONC will not audit ONC-ACBs for compliance with randomized surveillance requirements or take administrative action or any other action to enforce compliance requirements until further notice.
"In addition, we will not consider lack of implementation of these requirements by an ONC-ACB to be a violation of an ONC-ACB's compliance requirements under the Principles of Proper Conduct, nor will it impact an ONC-ACB's good standing under the Certification Program," the post said.
ONC said this will allow ONC-ACBs to devote their resources to certifying health IT to the 2015 Certification Edition which will hopefully support greater availability of certified health IT products to providers participating in CMS' Quality Payment Program.