Get started
Bring yourself up to speed with our introductory content.
FAQ: Why aren't patients using PHR services?
Personal health records could help patients track medical history, prescriptions and more. Yet most patients have never heard of them, let alone use them. Find out why in this FAQ.
Just as hospitals and eligible providers have been encouraged to implement electronic health record (EHR) technology, individual patients are increasingly being pushed toward personal health record (PHR) services. These applications -- which are available from third-party software vendors, health insurers, employers and hospital or physician networks -- let patients keep track of their personal health information (PHI).

Download this free guide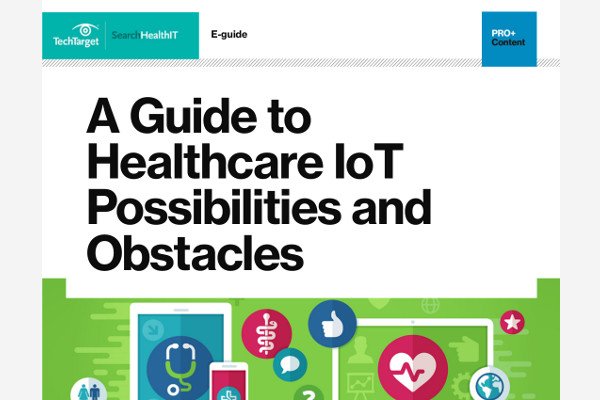 Download Complete Guide to Healthcare IoT Now
Healthcare IoT has the potential to greatly improve patient care – but it's not without its challenges. Download this essential guide in one PDF and learn how to overcome the obstacles: security, data overload, regulations, and more.
PHR services present numerous advantages, such as the ability to monitor vital signs and refill prescriptions. However, for a variety of reasons, PHR adoption remains in the single digits, despite the efforts of information technology giants such as Google Inc. and Microsoft, and tech-savvy health care networks such as Kaiser Permanente and Beth Israel Deaconess Medical Center. This FAQ discusses why patients are shying away from PHR services and what must change for the systems to gain traction.
A PHR service aggregates electronic PHI from a patient's physicians and other authorized parties. It differs from an electronic health record (EHR) in the sense that a PHR is owned by a patient, not a health care provider.
The medical history contained in a PHR service typically consists of drug allergies, prescriptions and recent laboratory tests and surgeries. In addition, some PHR services allow patients to either enter or upload data themselves. In the latter case, the data typically comes from a remote patient monitoring device such as a blood glucose meter; data is either pushed to the PHR service directly from the device or pulled from the device when it is connected to a patient's computer or smartphone.
Like ice cream, PHR services come in several flavors:
Health care reform has placed an increased emphasis on patient engagement and patient-centered care. For these philosophies to succeed, patients need access to their PHI so they can make better, more informed decisions about their overall health. That data needs to be aggregated from specialists, hospitals and clinics in addition to a patient's primary care physician. For patients with chronic health conditions such as hypertension or diabetes, that data can also come from blood pressure or blood glucose monitoring devices, with the PHR service analyzing the data for potentially dangerous abnormalities.
Over time, experts see readily available genomic data being incorporated into PHR systems as well, giving patients a clear picture of the conditions they not only have now but also could have in the future.
Beyond patient health, a health care provider's ability to leverage PHR services could provide advantageous when it comes to meeting meaningful use requirements. Under Stage 1 of meaningful use, hospitals and eligible providers are required to give at least 50% of patients a copy of their ePHI upon request. This figure rises to 90% for Stage 3. (Hospitals are further required in Stage 1 to give at least 50% of patients an electronic copy of their discharge instructions upon request, with the figure increasing to 80% for Stage 2 and 90% for Stage 3.) Porting ePHI directly to a patient's PHR service would save health care providers time and money.
Despite the potential advantages, PHR adoption rates remain in single digits -- the California HealthCare Foundation says about 7% of adults use PHR services, while John Moore of Chilmark Research says the true figure is about half of that.
Several technical reasons have been cited for low PHR adoption rates, including concerns about personal health record privacy, the availability of personal health information in an emergency situation if, say, a server is down, and the simple notion that the health care industry's adoption of information technology lags far behind industries such as insurance and banking.
Other explanations are more philosophical.
While the PHR systems themselves are easy to use, the process of gathering personal health records -- paper and electronic -- is a complicated and cumbersome one that could take years.
Healthy patients who infrequently visit a doctor have little ePHI to begin with and, so the argument goes, have no interest in managing ePHI.
Healthy or not, a Massachusetts Health Quality Partners (MQHP) survey has shown that many patients are not aware that PHR services exist, in large part because physicians are not promoting them.
Connecting PHR systems to the electronic health record (EHR) systems used by hospitals and other health care providers remains an obstacle. This decreases the value proposition for PHR adoption, since patient and provider data remains disconnected.
A patient portal is a Web application that lets patients view ePHI that has been uploaded by their physician. Some patient portals also let users schedule appointments, request prescription refills and communicate with physicians via email (for non-emergency scenarios).
That said, patient portal adoption remains low. There are several reasons for this. At the most basic level, there's the digital divide; a patient portal is useless to someone without home Internet access. Simply getting started with a patient portal can be a challenge, too, especially for patients who may not be familiar with Web applications. (Of course, the same is true for PHR services.)
Patient portal functionality is also an issue. Users typically cannot enter or upload information into their own patient portal, nor can they edit erroneous information. Prescription refill requests tend to be the exception, not the rule.
However, numerous surveys have suggested that people are more likely to trust a patient portal provided by their physician than a PHR service provided by an employer, a health insurer or an IT vendor. Such systems -- which include MyHealtheVet, a collaboration of the federal departments of Veterans Affairs and Defense, and Kaiser Permanente's My Health Manager -- also benefit from an existing base of patients to bring online.
The market for PHR services remains uncertain. Both Google and Microsoft have struggled to attract users for their respective ad-based PHR systems. Rumors of Google Health's death have been heard more than once, while Microsoft has openly admitted that HealthVault will not make a profit.
Neither company is giving up, however. The search engine giant has rebranded Google Health as a wellness application that includes a diary and the ability to import data from certain monitoring devices, while Microsoft has developed the HealthVault Connection Center as a way for patients to view and store medical images such as X-rays and ultrasounds within their personal health record.
This type of functionality could give patients access to more of their PHI than ever before and, as a result, could boost PHR adoption rates. Another key factor will be the ability to effectively bring patient and provider data together.
The MQHP survey mentioned above noted that 40% of patients say their primary care physicians are not well informed about the care they have received from specialists. If this trend continues, MQHP leaders predict that patients will start to take a more proactive approach to organizing their PHI, a step which may also include the use of PHR services or patient portals. In turn, physicians able to support such products should find it easier to engage with patients and develop a more complete care plan.
Let us know what you think about the FAQ; email Brian Eastwood, Site Editor.
Dig Deeper on Personal health record software and services