Get started
Bring yourself up to speed with our introductory content.
FAQ: What is a personal health records service?
Personal health records give patients and doctors better access to important medical information than paper files do. This FAQ covers questions commonly asked about PHR services.
A personal health record (PHR) contains information regarding an individual's medical history -- such things as vaccination history, laboratory test results, allergies, medications, surgeries and family history.

Download this free guide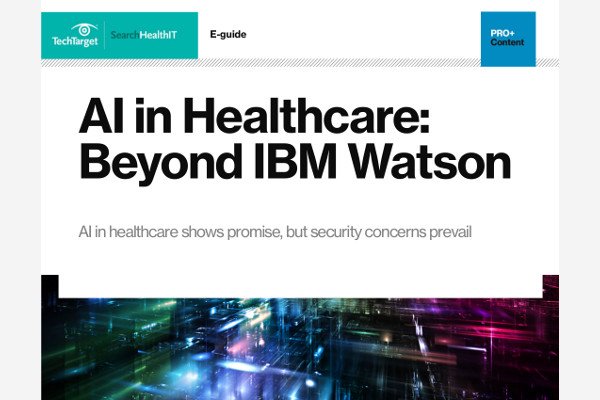 Download Now: Artificial Intelligence in Healthcare
AI in healthcare goes beyond IBM Watson. In this e-guide, discover 4 uses for AI in healthcare – particularly how it can help improve patient engagement – and whether we can overcome security and interoperability concerns surrounding the technology.
In the past, a patient's PHRs typically were paper documents kept on file at a doctor's office. If a patient was in a different city or had a medical emergency, the record might be inaccessible. With the advent of PHR services, however, these files are available electronically, for both doctors and patients themselves. In addition, the use of PHR services is showing promise as a means for large employers to keep rising health care costs in check.
A PHR service securely stores a patient's record at a remote location and provides secure Web access to the patient and to his doctors and other parties he authorizes. Information can be imported to the PHR from health care providers. Information may also come from documents scanned and uploaded by the patient.
It should be noted that an electronic health record is not the same as a PHR. EHRs are created, maintained and owned by physicians or medical institutions for their own purposes. Patient portals may give patients access to these records. A PHR, in contrast, is owned by the patient, although the information in it may come from one or more EHR systems.
Recognizing the power of the Internet and the steadily decreasing cost of storage, such companies as Google Inc. and Microsoft are offering free online PHRs. Thus, Google Health (still in beta as of February 2010) and Microsoft HealthVault are the two best-known PHR services. Both rely on a business model designed to generate advertising revenue.
Another service, from Cambridge, Mass.-based nonprofit Dossia.org, seeks to attract businesses offering corporate health plans to large employee populations. Businesses pay for and encourage employees to use the Dossia PHR service, which is intended to cut health care costs overall by streamlining interactions between patients and health care providers. Wal-Mart Stores Inc., in Bentonville, Ark., is a noted adopter of the Dossia service.
MyMedicalRecords.com charges a family of up to 10 people $9.95 per month or $99.95 per year, prepaid annually. The service is run by MMR Information Systems Inc. in Los Angeles. Like Dossia, MyMedicalRecords.com is seeking to sign up large organizations with many members, and has succeeded in getting the AFL-CIO to sign on.
When researching PHR vendors, pay careful attention to their security policies: Research has shown that PHR privacy and security measures vary, and in some cases, may be insufficient.
PHRs have their roots in the desire to give individuals greater control over their own health care, including information about themselves. The Health Information Portability and Accountability Act (HIPAA), enacted in 1996, gave patients the right to a copy of their health record. The right to a digital health record was codified in the American Recovery and Reinvestment Act of 2009.
However, the presence of complete, accurate and rapidly accessible patient records should be a boon to both patients and practitioners. PHRs give patients a stake in the health care process, and make them responsible for maintaining thorough and accurate records. Doctors stand to gain prompt access to an accurate record about every patient. Doctors also can work with patients to make sure patient records contain relevant and valuable information, particularly the information that will be critical in emergencies.
Some physicians hesitate to rely on PHRs because patients can add or delete information. Patients typically can't touch information that has been entered by a physician, however. In addition, much of the information in a PHR is the same that's requested when a patient checks into a hospital or sees a doctor for the first time.
It would be possible for a patient to open a new health record account at a different service, and construct a new PHR with data imported from the same sources used to populate his initial PHR, but PHR services are not set up to enable rapid switching back and forth. As a patient uses an applet , or mini-application, that comes with a given service -- for example, a graph to chart test results over time -- replicating the experience at another service becomes more difficult.
However, major providers of personal health records services are moving in this direction. According to George Scriban, product manager for HealthVault at Microsoft, both Microsoft and Google are working on tools to move data back and forth between the two services but have yet to release them. Third parties could do the same, Scriban noted. Dossia.org has also committed to allow people to upload data from one system to another, according to Colin Evans, CEO or Dossia.org. The idea is to give users a sense of security by preventing users' data from becoming trapped in one service and possibly lost should that service go out of business, Scriban said.
Vanguard Health Systems Inc., in Nashville, Tenn., a Dossia founder, announced in January, that it's making Dossia's PHR services available to its employees. Wal-Mart, also a Dossia founder, began offering Dossia to its employees in late 2008. The goal is to deliver a benefit to employees and to lower health care costs and thereby lower health insurance premiums. About half of Wal-Mart's employees are on the company's health plan. Employees leaving the company can take their Dossia records with them.
Businesses are interested in promoting the use of PHRs because keeping a lid on health care costs is important to corporate competitiveness. A recent study by research firm Towers-Perrin found that high-performing companies spend about $1,800 less per employee on health care than other companies do. The research firm also predicts the use of PHR technology will nearly double among high performers (which Towers-Perrin defines as companies that are better than others at controlling health care costs, implementing health benefit programs and supporting "good health" initiatives), from 31% today to 60% in 2012.
Let us know what you think about the FAQ; email editor@searchhealthit.com.
Dig Deeper on Personal health record software and services