Get started
Bring yourself up to speed with our introductory content.
FAQ: How should providers handle ICD-10 implementation?
The transition to ICD-10 is catching many health care providers off guard. This FAQ provides an implementation timeline and lists key points to discuss with software vendors.
As the countdown continues to Oct. 1, 2013 and the mandated adoption of the International Statistical Classification of Diseases and Related Health Problems, 10th Edition, in the United States, health care providers and payers are -- or should be -- preparing to make the transition to ICD-10 codes.

Download this free guide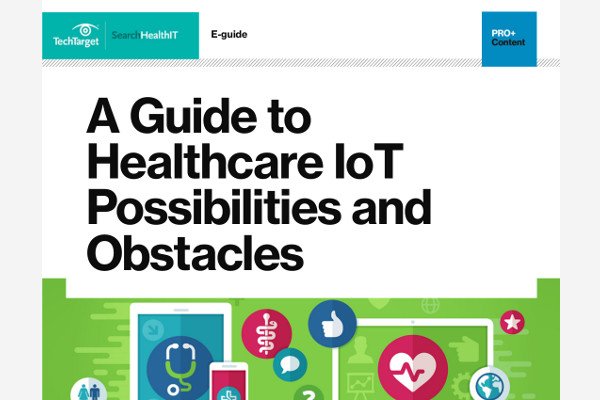 Download Complete Guide to Healthcare IoT Now
Healthcare IoT has the potential to greatly improve patient care – but it's not without its challenges. Download this essential guide in one PDF and learn how to overcome the obstacles: security, data overload, regulations, and more.
For health care providers, ICD-10 implementation requires a methodical approach consisting, in part, of the following steps:
Evaluating all clinical, financial and business systems that currently use ICD-9 codes;
Collaborating with practice management vendors, billing services and payers to ensure that ICD-10 implementation is a priority for them, and
Drafting a budget that adequately covers changes to business processes, changes to software systems and staff training.
The biggest ICD-10 implementation challenge, though, is addressing the tremendous upheaval that the new code set represents. The transition to ICD-10 has been compared to Y2K, and with good reason. If health care providers are unable to submit claims using ICD-10 codes -- as they will be required to do from Oct. 1, 2013 onward -- reimbursements could be delayed, bills could go unpaid and practices could shut their doors.
What should an ICD-10 implementation timeline look like?
The Workgroup for Electronic Data Interchange, or WEDI, released a revised ICD-10 implementation timeline at the end of 2010. (It's a revised timeline because so few health care providers had actually started planning the transition to ICD-10 in January 2009, which was the start date on the original WEDI timeline.)
According to WEDI, providers should have completed the process of organizing the ICD-10 implementation effort by the end of April 2011. This process includes developing a preliminary impact analysis, estimating the budget and mapping out the "cross-functional" effort that the transition to ICD-10 will entail.
Once everything is organized, ICD-10 implementation should proceed thusly, WEDI suggests.
By the end of June 2011, contact all software vendors with systems affected by the transition to ICD-10. (Advice on how to talk to vendors can be found below.)
Conduct impact assessment and requirements development from May 2011 to January 2012. (Deloitte Consulting LLP's Ten Things to Know About ICD-10 Implementation notes that this should involve separate assessments for IT, finance and operations.
Conduct internal system design and development from January to July 2012.)
Conduct internal testing from May 2012 to January 2013.
Conduct external testing and remediation from January to mid-September 2012. Make sure that all software vendors, billing services and payers are involved.
Finally, wrap up implementation by Sept. 30, 2013.
Deloitte recommends at least two years of training "on new clinical documentation requirements and coding nomenclature…for medical staff, nurses and allied health providers." Working backwards, training should begin no later than September 2011.
How should vendors prepare for the transition to ICD-10?
The aforementioned WEDI ICD-10 implementation timeline has a section devoted to vendors. The process of determining product requirements and conducting a product reengineering analysis should have been completed by the end of March 2011, the organization said. The steps that follow are product development (April-October 2011), product testing and validation (July-November 2011), beta testing (late October 2011 to January 2012), installation (January 2012 to January 2013) and customer support (January 2012 onward).
Vendors should be up front with customers about all system upgrades that will be needed to make the transition to ICD-10 and to HIPAA Version 5010, a new electronic transmission standard that accommodates ICD-10 and goes into effect on Jan. 1, 2012. (The move to Version 5010 is necessary because the existing standard, Version 4010, went into effect when HIPAA was passed in 1996 and, as a result, cannot be used with ICD-10).
In addition, a BlueCross BlueShield Association fact sheet points out, customers need to know when upgrades will be ready for testing and implementation. Finally, vendors must be able to demonstrate how their products will support both ICD-9 and ICD-10 code sets both before and after the Oct. 1, 2013 deadline.
How should providers collaborate with vendors on ICD-10?
As the old adage goes, don't assume. After all, Mark Scherling points out, ICD-10 implementation is the responsibility of the provider, not the vendor, which in any event will have vastly different expectations about the end result of the transition to ICD-10.
As Scherling, the Centers for Medicare & Medicaid Services (CMS) brochure on talking to vendors about ICD-10 and the American Health Information Management Association (AHIMA) ICD-10 Vendor Checklist all note, any conversation with a health IT vendor should include the following questions:
How will the vendor, as CMS put it, provide "fully functional, compliant products and services ready in plenty of time to allow thorough Version 5010 and ICD-10 testing"?
Will those products be covered by existing contracts?
How will reimbursement issues be addressed?
Will system upgrades be required in order to accommodate either Version 5010 or ICD-10 implementation?
Does the provider, in Scherling's words, "have any interfaces, reports or programming that I need to remediate as a result of my vendor's update?" <l/i>
Also in Scherling's words, "What will be the impact to business logic that defines workflow in billing/collections?"
Does the vendor have a contingency plan if products cannot go live on Oct. 1, 2013?
In addition, AHIMA tells providers to request a specific project plan, testing plan and training plan -- including a timetable, list of anticipated costs and scope of product change -- for each software application than needs to be upgraded.
What aspects of ICD-10 implementation could be the most difficult?
The United States' clinical modification of ICD-10, known as ICD-10-CM, contains five times as many diagnostic codes as ICD-9-CM. This improved specificity comes at a price, both figuratively and literally.
A cost-impact analysis of the transition to ICD-10 by health IT consultancy Nachimson Advisors concluded that up to 65% of an organization's ICD-10 implementation costs can be attributed to increased clinical documentation. The figurative price, meanwhile, stems from clinical documentation issues for ICD-10, since using the more specific codes for billing purposes means obtaining more specific information during patient encounters. It is not surprising, then, that experts recommend two years of ICD-10 training and education for health care professionals, as noted above.
That, though, may be easier said than done. Health care providers in the United States face myriad mandates -- most notably, the meaningful use of electronic health record (EHR) technology. As a result, ICD-10 implementation is falling behind, and many providers are struggling to even begin the process.
Are there any software applications that can help ensure ICD-10 compliance?
IDC Health Insights' Vendor Assessment: ICD-10 Solutions for Healthcare Payers -- Providing a Platform for Healthcare Reform, published in December 2010, notes that ICD-10 software and service vendors fall into two camps -- traditional consulting and systems integration companies on one side and dedicated health IT vendors on the other side.
Furthermore, the assessment says, there are two types of ICD-10 software on the market. Tactical products simply use data mapping tools to ensure that systems can send and receive ICD-10 compliant formats. Strategic products, meanwhile, conduct a more comprehensive remediation of back-end processes, business models and reporting environments so that an organization's systems can send, receive, and create reports that comply with ICD-10.
Lists of ICD-10 software and service vendors, as well as health IT consultancies and professional organizations, are available from WEDI, the ICD-10 Coders Academy and ICD-10 Today.
Let us know what you think about the FAQ; email Brian Eastwood, Site Editor.
Dig Deeper on Organizing health care staff and networks