Get started
Bring yourself up to speed with our introductory content.
FAQ: How is server virtualization technology used in health care?
Server virtualization technology helps organizations cut maintenance and administration costs while improving performance. But health care providers must keep a few things in mind.
Server virtualization technology -- in which one physical server can be made to act as many virtual servers -- offers a range of benefits, the most obvious of which is reducing the number of physical servers an organization needs. Health care providers, who often face physical constraints when they try to expand data centers, find that appealing; and of course, they welcome the possibility to cut server maintenance and administration costs.

Download this free guide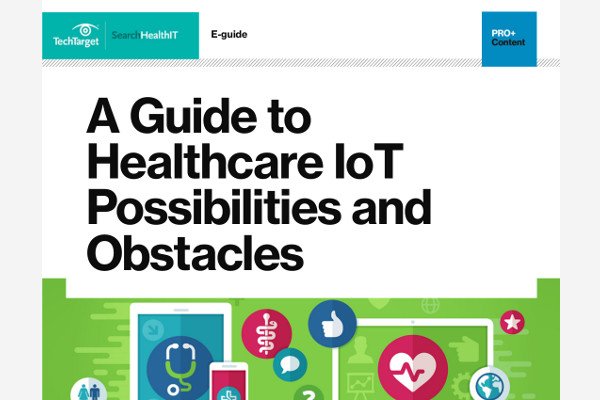 Download Complete Guide to Healthcare IoT Now
Healthcare IoT has the potential to greatly improve patient care – but it's not without its challenges. Download this essential guide in one PDF and learn how to overcome the obstacles: security, data overload, regulations, and more.
However, health care organizations operate somewhat differently from many other businesses -- after all, lives can hang on split-second decisions -- so they have little tolerance for server or application downtime. That risk, as well as the complexity associated with setting up and monitoring a virtual server environment, must be weighed by any health care provider considering server virtualization.
Server virtualization technology makes a single physical server act as many, enabling the use of software in environments separate from the hardware. It allows an organization to get the most out of its hardware, and it provides the flexibility to add and remove virtual servers as needed. Server virtualization technology can be deployed at different levels, including the machine and operating system (OS) levels.
At the machine level, a single physical server acts as a host for multiple guest environments, which operate on a virtual copy of the physical hardware. Virtual machines allow network administrators to create multiple environments using different operating systems. To use the host machine's computing resources, a hypervisor, or virtual machine manager is used to manage the virtual machines' resources.
When server virtualization is done at the OS level, a host machine runs one core OS kernel and distributes functions to guest machines. This leads to performance gains, but it does not offer the same flexibility as server virtualization at the machine level does.
Full server virtualization technology uses a lot of processing power because of the resources the hypervisor needs to manage the guest machines. Paravirtualization, however, enables a reduction in processing demands by modifying guest operating systems to cooperate with the hypervisor.
Server virtualization helps organizations use and administer server resources more efficiently, in the process reducing server sprawl. It lets health care facilities expand server capacity without having to find new space, increase power use, add staff or turn to outsourcers for help.
In addition, server virtualization technology can lead to improved application performance; greater server availability; and improved disaster recovery, testing and development. Centralized virtual server management is considered one of the greatest benefits of virtualization in the health care environment.
Health care providers tend to be stuck with a thorny tangle of stand-alone legacy systems, and server virtualization technology can be especially beneficial in helping to manage and secure them. A virtual environment can provide the flexibility needed to meet the changing demands of a wide range of users, from doctors to administrators to technicians.
The potential financial benefits of server virtualization, with savings in both capital and operating expenses, grow with the size of a hospital's IT operations -- and specifically, with the number of servers under consideration. Hospitals can reduce spending on software licenses, maintenance, support and hardware, because PCs and laptops mapped to virtual servers don't need as much processing power or memory as clients running software on their own.
The following examples point to specific savings that health care providers can attribute to server virtualization technology:
Dartmouth-Hitchcock Medical Center in Lebanon, N.H., saves $3,500 every time it provisions a virtual server.
The Southcentral Foundation in Anchorage, Alaska, needs only four engineers to manage its 120 virtual servers.
The University of Pittsburgh Medical Center saved $80 million in capital and operating costs from 2005 to 2008 while keeping kilovolt-ampere consumption constant.
Emory Healthcare in Atlanta annually spends about $400,000 on desktop replacement, compared to $1.2 million before its server virtualization initiative.
Mount Sinai Medical Center in New York City has consolidated more than 15 applications onto a single blade server.
The Oklahoma Arthritis Center in Edmond consolidated 15 physical servers to five, and saw a 30% performance gain for all virtualized applications.
Because of the critical nature of some health care applications and health care's general intolerance for downtime, it is vital that health care organizations receive assurances from application vendors that they will support a virtual server environment. Health IT experts recommend building redundancy into the virtual environment if the risks associated with a server going down are unacceptable.
Because health care organizations in general are relatively new to the technology, they will have limited expertise available to address the many challenges involved with setting up a virtual server environment, experts caution.
As with physical servers, virtual machines require ongoing monitoring and calibration. Provisioning and configuring a virtual server can be more difficult, however, because virtual servers have more dynamic characteristics and more complex interactions than physical servers do.
The new practices and configurations related to server virtualization technology can leave health care organizations vulnerable to compliance and security headaches, because the dynamic stream of applications among virtual machines and hardware can make it hard to monitor information access and compliance.
Systems that play a critical role in saving lives -- examples are picture archiving and communication systems, or PACS; fetal monitoring systems; and applications for cardiac angioplasty procedures -- are not considered appropriate health care uses of server virtualization technology. Nobody wants to see a life put at risk because a server goes down, and the liability, not surprisingly, is quite high. For that reason, many health care application vendors do not offer support for virtual server environments, though such virtualization companies as VMware Inc. and Citrix Systems Inc. are working with health IT vendors on moving applications to virtual platforms.
What's more, health care providers are subject to a growing body of federal regulations. For example, some clinical systems need Food and Drug Administration approval, a requirement that makes these systems less than optimal for virtualization.
Web servers, application servers and front-end servers -- generally speaking, servers that run business applications or standard clinical applications -- present better opportunities to use a virtual server environment in a health care setting. A database server, on the other hand, could prove to be a resource hog.
Let us know what you think about the FAQ; email editor@searchhealthit.com.
Dig Deeper on Electronic health care systems, data centers and servers