Get started
Bring yourself up to speed with our introductory content.
EHR implementation tutorial: From vendor selection to maintenance
EHR implementation is a long, laborious process, but its impact on efficiency and quality care can pay huge dividends. This tutorial will help health care providers get it right.
Electronic health records (EHRs) are at the forefront of health information technology. Although the sizeable infrastructure changes necessary for electronic health record implementation can be stressful and expensive, the transition from paper records to electronic records aims to create better and faster patient care.

Download this free guide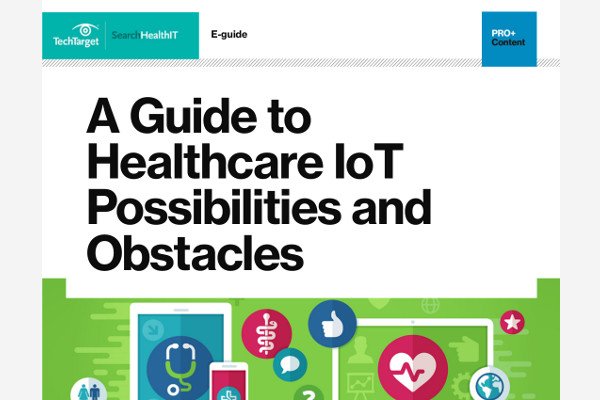 Download Complete Guide to Healthcare IoT Now
Healthcare IoT has the potential to greatly improve patient care – but it's not without its challenges. Download this essential guide in one PDF and learn how to overcome the obstacles: security, data overload, regulations, and more.
This resource answers common questions about planning an EHR implementation, choosing an EHR vendor, and maintaining an EHR system once it is in place. It also identifies the consequences of failing to adopt an EHR system by 2015.
What are the consequences of not using an EHR system?
Under the HITECH Act, health care organizations are required to demonstrate the meaningful use of EHR technology. The HITECH Act, part of the 2009 $787 billion stimulus law, aimed to motivate the industry to invest in information technology as a means of improving health care efficiency while reducing costs.
Failure to adopt an EHR system will result in financial penalties. Eligible providers who are not demonstrating meaningful use by 2015 will see a 1% reduction in their Medicare reimbursement, with that percentage increasing in the following years. And time is of the essence -- the meaningful use criteria only get stricter as the roll out continues.
Eligible professionals under the Medicare EHR incentive program can receive up to $44,000 over a five-year span. Eligible hospitals and Critical Access Hospitals (CAHs) can begin receiving incentive payments from early 2011 to 2015. This includes a $2 million base payment.
Under the Medicaid EHR Incentive Program, eligible professionals can receive up to $63,750 over a six-year period. Eligible hospitals under the Medicaid program may receive incentive payments from early 2011 to 2016.
Some hospitals already have completed the meaningful use attestation process and are collecting incentive checks.
What sort of planning goes into an EHR implementation?
For many physicians, paper remains the primary way to maintain, and exchange, medical records and prescriptions. Reluctance to adopt an EHR system is therefore not uncommon, especially for professionals who have used paper records for their entire medical career. For them, learning electronic processes, or even learning to type, is time that should instead be devoted to practicing medicine.
What's more, adopting the wrong EHR system can wreak havoc on a practice -- productivity losses, increased wait time, speed of referrals and a disgruntled patient population are all possible side effects of EHR use. If the flow of information is not intuitive, or is blocked by excessive pop-up windows, then it's problematic.
Despite the complexity of beginning to use EHRs, providers estimate there are real savings to be seen in using electronic systems. A survey of doctors estimates money can be saved among other ways by fewer chart pulls, decreased use of fax, mail and transcription costs, and improved coding.
Preventive action -- in the form of a clinical workflow analysis that precedes EHR implementation -- can help alleviate the aforementioned productivity issues. Although it is potentially tedious to step back and evaluate clinical workflow, paying close attention to workflow design -- and choosing the EHR system that best matches your existing workflow while also making the most logical improvements -- can improve efficiency and pay dividends in the long run.
Workflow design also highlights the significance of the relationship between a vendor and its customers. If problems persist and need to be corrected, vendors must be willing to collaborate with providers to eliminate the issue -- or at least find a workaround.
How does one choose an EHR vendor?
Once a health care provider has completed a workflow design, it's time to find an EHR vendor with software that best fits that workflow. Hundreds of EHR systems are certified as having met the criteria spelled out in the meaningful use final rule and the standards and certification final rule. As a result, choosing an EHR vendor is no easy task.
Since the HITECH Act was passed, achieving meaningful use often takes precedence among the many motives for undertaking an EHR implementation. EHR vendor guarantees of meaningful use compliance suggest that they understand this. However, providers should see this as a first step, not a final step, and ask for evidence that EHR technology features, such as e-prescribing and health information exchange, not only smooth the process of removing paper from clinical workflows but also fulfill meaningful use requirements. Providers must also ensure that EHR vendors are aware of the relationship between EHR certification requirements and the HIPAA Security Rule.
There is also the decision of what type of EHR system to purchase. Increasingly, small practices are going with Web-based EHR systems, which have little to no sign-on fees and low regular maintenance fees, and do not require hardware upgrades. However, users of these Web-based systems rely heavily on the EHR vendor, since it stores the records and maintains the systems.
Health care establishments large or small should have questions when purchasing an EHR system. Where they turn to voice those questions is of the essence. Conversations with peers and partners are quite beneficial. If a practice is affiliated with another practice or a hospital, that relationship is a valuable way to get discussions moving. Regional Extension Centers (RECs) also are a popular choice for small physician practices seeking advice. Though RECs face many challenges in boosting EHR adoption, including small staffs, limited funding and, especially in rural areas, a lack of high-speed Internet connections, they exist to provide resources and best practices for implementation techniques.
Ultimately, purchasing an EHR is a team decision. Physicians and all other users should evaluate many EHR systems before any final purchasing decision is made. Make sure their input about the application's user experience and workflow design are key considerations.
Why is training the most important step in EHR implementation?
The human factor makes training important. All staff must be on board and ready to immerse themselves in new processes -- and understand it will take time and patience.
In other words, it's more efficient to have an orderly EHR implementation, rather than a hurried one. Trying to rush a process of this scale could result in productivity losses that last months instead of weeks. When NorthShore University HealthSystem, Evanston, Ill., (formerly Evanston Northwestern Healthcare) had to implement an electronic system in the early 2000s, it created a program of eight modules and 51 courses, reaching 7,886 people in the health system community.
Even simple processes cannot be overlooked. For example, don't assume that all staff members understand basic computer skills such as logging in to a computer, typing and creating an email. If the smaller processes cannot be mastered, then the larger processes will carry a more sophisticated learning curve.
Training can differ depending on an organization's size. A large facility -- namely a hospital or medical center -- might consider training one department at a time. Since the number of professionals who will be new to the EHR system does increase the chances of additional questions and concerns, consider supplementary group training sessions, or perhaps a Q&A session to jot down notes. Doctors' offices should focus on slower, one-on-one training.
It's also important to explain the benefits and relevance of a newly established EHR system to the users. Explaining the implications will set a positive tone and improve confidence -- even if those benefits are not seen yet. This will also go a long way to convince users who were at first hesitant to switch to an EHR system.
Above all, don't be afraid to speak up. Communication is essential. The effort required to keep EHR implementation moving must be shared among health care professionals, administrators, IT departments and the EHR vendor. If a concern arises -- from a technical problem to a concern over patient safety to the spotting of a potential security breach -- it's vital to discuss its implications and fix it.
What's the biggest concern for providers after an EHR implementation?
Once an EHR implementation is finished, the focus should turn to maintenance. This will ensure that the EHR system runs smoothly and is compliant with HIPAA enforcement rules.
The real challenge is cost. The price of sustaining any enterprise software application is more expensive than the initial purchase price by a significant margin; EHR system maintenance is no exception.
There are two schools of thought for EHR system maintenance -- in-house management or a contract with an IT service. If a hospital's IT staff is large enough and proficient enough, and if it personally installed the system, it could also maintain the new EHR system in-house. This process would include database administration, filing patient records and data backups, among other processes.
Using an IT service for EHR system maintenance, on the other hand, is common for small practices. They often lack the IT resources, if not an IT team of any kind, to devote to the EHR system. The up-front cost is low, and the service providers can provide 24-hour support, which is critical in the health care industry. For small practices that choose cloud-based, Software as a Service (SaaS) EHR technology, maintenance should be part of the service level agreement.
Additional Resources
These resources answer some additional questions that health care providers may have about EHR implementation and meaningful use.
Let us know what you think about the FAQ; email Craig Byer, Assistant Editor.
Dig Deeper on Electronic health record (EHR) implementation