everythingpossible - Fotolia
How healthcare executives tell if vendors are worth the investment
Healthcare executives purchasing a new product or service would be wise to work with vendors that are flexible in meeting specific business needs.
The question healthcare executives must ask themselves when considering a purchasing decision is this: Whom can they trust? Executives are frequently approached by product vendors and service providers looking to gain their business and assist their technology initiatives. A significant number of vendor emails, selling a product or service that promises to be the next big thing in healthcare, manage to get through spam filters.
Employees tasked with making purchasing decisions have to not only determine which products can provide resolutions for some of the business challenges facing an organization, they must also deduce which service providers and vendors can be relied upon to provide the appropriate resources for a specific project such as an EHR installation.
Traditionally, vendors that had relationships with IT managers and healthcare executives were mostly focused on their specific product offerings and how they aligned with the needs of the organization they were selling to. Over time, many of these vendors shifted from selling to consulting. Now, many vendors do more than sell widgets; they offer a collection of services that cover a wider range of healthcare clients' needs.
From the healthcare provider perspective, it is not always possible to identify which vendors will offer the most overall value without first breaking down the specific business areas where a vendor's tools or services can be of assistance. The following is a list of vendor services and traits that health IT executives should follow when deciding whether a vendor partnership is worth the investment.
Educate sales reps and consultants
Most IT professionals and consumers use the Internet to perform product research. They can identify the features that come with products without sitting through a long sales pitch. A vendor, when asked for information during the buying process, shouldn't read what the product can do from prepared marketing material. This type of sales approach is a waste of time because it shows the vendor is not interested in customizing its product to the prospective buyer's needs.
The right vendor is one that can offer insights into how a product would fit a company's overall infrastructure and align with future business goals. This means the sales rep or account executive should have deep knowledge of the product they're selling and be aware of its healthcare applications and restrictions.
Innovate and update products
It's common to hear health IT executives in the market for a new product seek vendors that are innovative and constantly improving their offerings. Innovation can refer to research and development that results in new technology, or simply enhancements to existing products. Technology is changing the way healthcare is delivered. Getting in business with a vendor that actively updates its products is a way for healthcare executives to help their organizations stay relevant in the future.
Leverage partners and offer health IT experience
It's standard practice for many of today's largest hardware manufacturers and resellers to offer additional services to help healthcare organizations with product installations. By including IT service providers as part of their packages, many vendors have become a one-stop-shop for instituting and managing IT software and hardware. There is added value for hospitals when a vendor is partners with or includes healthcare-specific service providers.
Offer bundled software and hardware
Buying a bundle of hardware, software and other services is an appealing combination for some IT executives. It can also be cost-effective and efficient for hospitals to select a turnkey product when undertaking an IT project, whether it is a virtual desktop infrastructure initiative or the implementation of cloud services. Purchasing a ready-to-use product also reduces the stress and finger-pointing that sometimes comes along with troubled software implementations.
Focus on the big picture, not short-term gains
Within the technology market, a clear line exists between vendors focused on short-term gains and those looking to maintain a long-term business relationship. An honest vendor should be willing to lose a sale if what it's offering would not meet a customer's goals. Fortunately, it is easy to identify a vendor willing to cooperate with its customers. A trustworthy vendor is one will accept that a competing product may be a better fit for some organizations.
IT executives must learn to balance their budgets to work within the funds available to them. They must ensure the highest-priority projects receive sufficient funding. Financial pressures force the IT department to find creative ways to reduce departmental costs, while adding value to the whole organization. Partnering with forthright technology vendors can aid them in meeting these objectives.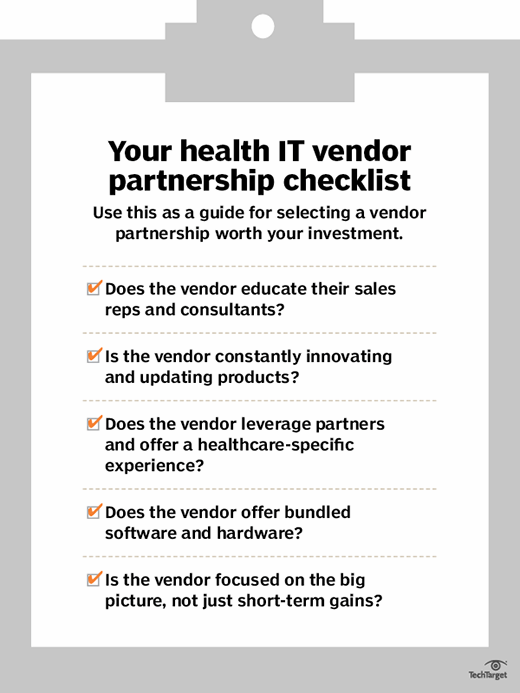 About the author:
Reda Chouffani is vice president of development at Biz Technology Solutions Inc., which provides software design, development and deployment services for the healthcare industry. Let us know what you think about the story; email [email protected] or contact @SearchHealthIT on Twitter.
Next Steps
Healthcare executive discusses personal interoperability struggle
Data centers moving off the radar for healthcare executives
Gap analysis, IT stabilization should be priorities for new healthcare CIOs
Dig Deeper on Client health care computer systems, software and hardware