Manage
Learn to apply best practices and optimize your operations.
List of regional extension centers in the U.S.
The country's 60 regional extension centers aim to help small health care providers select, implement and maintain EHR software. Here, we identify the RECs and how to find them.
The HITECH Act's Health Information Technology Extension Program funded the creation of 62 regional extension centers...
Continue Reading This Article
Enjoy this article as well as all of our content, including E-Guides, news, tips and more.
(RECs). These organizations, which collectively received $642 million, have been given the task of providing educational and technical resources to health care providers as they adopt health IT in an effort to achieve meaningful use.
In addition, many but not all of the regional extension centers plan to name preferred electronic health record (EHR) vendors. Finally, though the RECs will show small and midsized providers how to implement EHR systems, they will not complete the installations themselves.
The table below lists contact information for regional extension centers across the country, including the U.S. territories. The map is divided into regions as defined by the U.S. Census Bureau.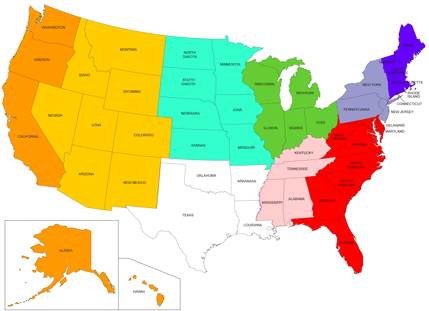 New England

[back to top]

State

REC Name

Contact Information

CT
eHealthConnecticut
1111 Cromwell Ave, Suite 201, Rocky Hill, CT , 06067
(860) 240-5617
MA
Massachusetts eHealth Institute Regional Extension Center (a division of the Massachusetts Technology Collaborative)
75 North Drive, Westborough, MA , 01581
(508) 870-0312
ME
HealthInfoNet
125 Presumpscot Street, Box 8, Portland, Maine 04103
(207) 541-9250
NH
Massachusetts eHealth Collaborative
860 Winter Street, Waltham, MA 02451-1411
(781) 434-7910
RI
RI Regional Extension Center (a service of the Rhode Island Quality Institute)
275 Promenade Street, Suite 225, Mail Stop 3, Providence, RI, 02908
(401) 276-9141
VT
Vermont Information Technology Leaders
144 Main Street Suite 1, Montpelier, VT, 05602
(802) 223-4100

Mid-Atlantic

[back to top]

State

REC Name

Contact Information

NJ
New Jersey Regional Extension Center
211 Warren Street, Newark, New Jersey 07102
info@njhitec.org
NY
NYC REACH (Regional Electronic Adoption Center for Health)
161 William St., 5th Floor, New York, NY 10038
(212) 788-5711
NY
New York eHealth Collaborative (NYeC)
220 Church Street , 5th Floor, New York, NY, 10013
PA
Pennsylvania Regional Extension and Assistance Center for HIT (REACH), East and West (a division of Quality Insights of Pennsylvania)
Central region: 2601 Market Place Street, Suite 320, Harrisburg, PA 17110
Eastern region: 630 Freedom Business Center, Suite 116, King of Prussia, PA, 19406
Western region: Penn Center West, Building II, Suite 220, Pittsburgh, PA 15276
(877) 346-6180

East North Central

[back to top]

State

REC Name

Contact Information

IL
Illinois Health Information Technology Regional Extension Center
Northern Illinois University, Regional Development Institute, 301 Lowden Hall, DeKalb, IL, 60115
IL
Chicago Health Information Technology Regional Extension Center
750 N. Lake Shore Drive, 9th Floor, Chicago, Illinois 60611
(312) 503-2986
IN
I-HITEC (established by Purdue University)
Purdue University, 1435 Win Hentschel Blvd., Suite 215, West Lafayette, IN 47906-4158
(765) 496-1911
MI
Michigan Center for Effective IT Adoption
M-CEITA, Altarum Institute, 3520 Green Court, Suite 300, Ann Arbor, MI 48105
(888) 642-4347
OH
Greater Cincinnati Health Bridge Inc.
11300 Cornell Park Drive, Suite 360, Cincinnati, OH, 45242
(513) 469-7222 ext. 4
OH
Ohio Health Information Partnership (OHIP)
3455 Mill Run Drive, Suite 315, Hilliard, OH 43026
(614) 664-2600
WI
Wisconsin Health Information Technology Center
MetaStar, 2909 Landmark Place, Madison, WI, 53713
(608) 729-2700

West North Central

[back to top]

State

REC Name

Contact Information

IA
Iowa Foundation for Medical Care (IFMC)
1776 West Lakes Parkway, West Des Moines, IA, 50266
(800) 373-2964
KS
Kansas Foundation for Medical Care, Inc. (KFMC)
2947 SW Wanamaker Drive, Topeka, KS, 66614-4193
(785) 273-2552
MN
Regional Extension Assistance Center for Health Information Technology (REACH)
Key Health Alliance, c/o Stratis Health, 2901 Metro Drive, Suite 400, Bloomington, MN, 55425
(877) 331-8783 ext. 222
MO
Missouri HIT Assistance Center
310 Jesse Hall, Columbia, MO, 65211
(573) 882-7560
NE
Wide River Technology Extension Center
1230 O Street, Suite 120, Lincoln, NE, 68508
(402) 476-1700
SD
HealthPOINT (a Dakota State University IT initiative)
820 North Washington Ave, Madison, SD 57042
(605) 256-5555

South Atlantic

[back to top]

State

REC Name

Contact Information

DC
District of Columbia Primary Care Association (DCPCA)
1411 K Street NW, Washington, DC, 20005
(202) 638-0252
DC
National Indian Health Board
926 Pennsylvania Avenue, SE, Washington, DC, 20003
(202) 507-4070
DE
Quality Insights of Delaware, Inc.
3411 Silverside Road, Baynard Building, Suite 100, Wilmington, DE, 19810
(302) 478-3600
FL
The Center for the Advancement of Health IT (AHIT), a regional extension center serving northern and rural Florida (a service provided by Community Health Centers Alliance)
140 Fountain Parkway Suite 210, St. Petersburg, FL, 33716
(727) 573-2422
FL
South Florida Regional Extension Center
9064 NW 13 Terrace, Miami, FL, 33172
(305) 471-8710
FL
University of Central Florida
Central Florida Health Information Technology Initiative (CFHITI), 10151 University Blvd., #281, Orlando, FL 32817
(407) 266-1307
FL
University of South Florida
12901 Bruce B. Downs Blvd., Tampa, Florida 33612
clesko@health.usf.edu
GA
Georgia Health Information Technology Regional Extension Center (GA-HITREC) (an affiliate of Morehouse School of Medicine)
720 Westview Drive, Atlanta, GA, 30310
(404) 756-8960
MD
Chesapeake Regional Information System for our Patients (CRISP) Regional Extension Center
5525 Research Park Drive, Catonsville, MD 21228
(410) 402-9211
NC
North Carolina Area Health Education Centers (NC AHEC) (a program of the University of North Carolina at Chapel Hill)
3200 Chapel Hill/Nelson Blvd., Cape Fear Building, Suite 200, Research Triangle Park, NC 27709
(919) 558-9258
SC
Center for Information Technology Implementation Assistance (CITIA) (established and directed by Health Sciences South Carolina)
901 Sumter Street, Suite 511, Columbia, SC, 29208
(803) 576-5901
VA
Virginia Health Quality Center (VHQC)
9830 Mayland Drive, Suite J, Richmond, VA, 23233
(804) 289-5320
WV
West Virginia Health Improvement Institute
P.O. Box 1782, Charleston, WV 25326
(301) 529-7858

East South Central

[back to top]

State

REC Name

Contact Information

AL
Alabama Regional Extension Center
307 University Boulevard, TRP III Suite 1100, Mobile, AL, 36688
(251) 414-8170
KY
Kentucky Regional Extension Center (housed at the University of Kentucky)
University of Kentucky Research Foundation, 109 Kinkead Hall, Lexington, KY, 40536
(859) 257-9420
TN
Tennessee HIT Regional Extension Center (tnREC)
QSource, 3175 Lenox Park Blvd. Suite 309, Memphis, TN, 38115
(800) 528-2655

West South Central

[back to top]

State

REC Name

Contact Information

AR
HITArkansas (a division of the Arkansas Foundation for Medical Care)
Attention: Arkansas Foundation for Medical Care, 401 West Capitol Ave, Suite 410, Little Rock, AR, 72201
(501) 212-8616
LA
Louisiana Health Information Technology (LHIT) Resource Center (a division of the Louisiana Health Care Quality Forum)
Louisiana Health Care Quality Forum, 8550 United Plaza Blvd., Suite 500, Baton Rouge, Louisiana 70809
(225) 334-9299
MS
Mississippi Regional Extension Center (operated by eQHealth Solutions)
8591 United Plaza Blvd., Suite 270, Baton Rouge, LA, 70809
(888) 557-1926
OK
Oklahoma Foundation for Medical Quality
14000 Quail Springs Parkway, Suite 400, Oklahoma City, OK, 73134
(405) 302-3238
TX
North Texas Regional Extension Center
250 Decker Drive, Irving, TX, 75062
(972) 719-4900
TX
CentrEast Regional Extension Center
400 Harvey Metro Centre, 3833 Texas Avenue, Suite 150, Bryan, Texas 77802
(979) 862-5001
TX
Gulf Coast Regional Extension Center (coordinated by the University of Texas Health Science Center at Houston)
7000 Fannin, Suite UCT 600, Houston, TX 77030
(713) 500-3657
TX
Texas Tech University Health Sciences Center
3601 4th Street, MS 6271, Lubbock, TX, 79430
(806) 743-4569

Mountain

[back to top]

State

REC Name

Contact Information

AZ
Arizona Health-e Connection
810 W. Bethany Home Road, Phoenix, AZ, 85013
(602) 288-5130
CO
Colorado Regional Extension Center (CORHIO)
3773 Cherry Creek N. Dr., Suite 615, Denver, CO 80209
(720) 285-3200

ID
Washington & Idaho Regional Extension Center (WIREC)
Qualis Health, PO Box 33400, Seattle, WA 98133-0400
(206) 364-9700
MT
Health Technology Services (a division of Mountain-Pacific Quality Health)
3404 Cooney Drive, Helena, MT, 59602
(406) 457-5888
NM
New Mexico Health Information Technology Regional Extension Center (in collaboration with LCF Research)
LCF Research, 2309 Renard Place SE, Suite #103, Albuquerque, NM, 87106-4264
(505) 938-9900
UT
Health Insight
348 East 4500 South, Suite #300 Salt Lake City, UT, 84107
(800) 483-0932

Pacific

[back to top]

State

REC Name

Contact Information

AK
Alaska eHealth Network
PMB 1143, 2440 East Tudor Road, Anchorage, AK, 99507
(907) 729-3934
CA
California Health Information Partnership & Services Organization (CalHIPSO)
1231 I Street, Suite 400, Sacramento, CA, 95814
(510) 285-5723
CA
CalOptima Foundation
1120 West La Veta Avenue, Suite 200, Orange, CA 92868
(714) 246-8500
CA
HITEC-LA
555 West 5th Street, 29th Floor, Los Angeles, CA, 90013
(213) 694-1250
HI
Hawai'i Pacific REC (a program of the Hawai'i Health Information Exchange)
345 Queen Street, Suite 601, Honolulu, HI, 96813
(808) 791-7830
OR
O-HITECH
707 SW Washington Street, Suite 1200, Portland, OR, 97205
(503) 943-2617
WA
Washington & Idaho Regional Extension Center (WIREC)
Qualis Health, PO Box 33400, Seattle, WA 98133-0400
(206) 364-9700

US Territories

[back to top]

State

REC Name

Contact Information

PR
Ponce School of Medicine Regional Extension Center
388 Zona Industrial Reparada 2, Ponce, PR, 00716
(787) 840-2575
Additional resources:
Regional extension centers face challenges in boosting EHR adoption rates
Money for regional extension centers announced, but will it be enough?
This tip was updated on January 19, 2011 to reflect changes in REC names and website addresses.
Let us know what you think about this story; email editor@searchhealthit.com.