gekaskr - Fotolia
Healthcare collaboration platform can unite employees, patient data
Healthcare employees could soon be using a new collaborative platform from Microsoft to virtually meet with each other and interact with health information.
GigJam may sound like the name of a new Silicon Valley startup or somewhere musicians gather to play music, but most people in the technology field know it as the platform that Microsoft introduced last year. The application, which is currently in an exclusive preview period, is a collaborative platform that allows users to connect to multiple services and see and interact with data from multiple sources at the same time.
Its ease of use and intuitiveness may make it the collaborative platform choice for many companies and users. It may also enable healthcare collaboration by enabling communication between care teams. The easiest way for GigJam to accomplish this is by reducing the common technical obstacles that many physicians face when attempting to cooperate with other caregivers that operate on different systems.
For healthcare providers, working with multiple enterprise applications can be overwhelming at times. Also, many of the available healthcare collaboration platforms are still segmented. As a result, patient health data lives in a number of different systems.
To try and overcome the challenge of isolated data, some of today's collaborative platforms rely heavily on screen sharing capabilities, rather than pushing for actual data sharing between systems. In addition, most platforms tend to require different sets of tools to establish a true, virtual, interactive roundtable. There are very few single tools on the market that consistently and effectively enable video, audio and data sharing.
Microsoft recognized that healthcare faces some of the same challenges that most other enterprise organizations do when it comes to professional collaboration. So the company set out to build a tool set that would not only natively support audio and videoconferencing using Skype for Business (SfB), but also offers data sharing and connectivity to a collection of data sources.
In healthcare, GigJam can be a platform physicians, nurses and other patient case workers use to discuss and seamlessly interact with data. The tool presently allows for direct connections to a few different data sources including Dropbox, Trello and customer relationship management software. Information can be added to GigJam's virtual board, and users can add their devices and interact with stored data.
Production is still in the early stages. During my initial testing, the platform appeared to have some valuable capabilities that may separate it from other collaborative platforms. For example, the ability to natively support cloud connectivity and communication standards with SfB is valuable because many enterprise clients today are using SfB.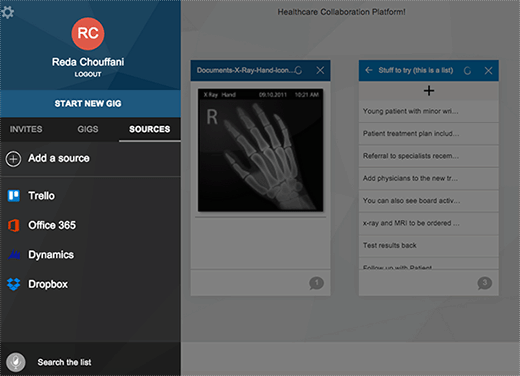 With the recent push for EHR vendors to become more interoperable, GigJam may soon have an easier path to accessing patient health data. Until then, the tool can leverage standards such as Fast Healthcare Interoperability Resources, which offers a set of application programming interfaces to bridge the interoperability gap.
The examples in the accompanying photos show how different data sets can be represented on the GigJam interface. Information from different systems such as X-rays, medical notes, prescription data and the phone number of a patient can be shown on the virtual board. Meeting invitations can be sent out through GigJam, and new data can be introduced during the meeting in real time. Another feature of the product is its use of natural language processing, which enables the user to request different commands by speaking.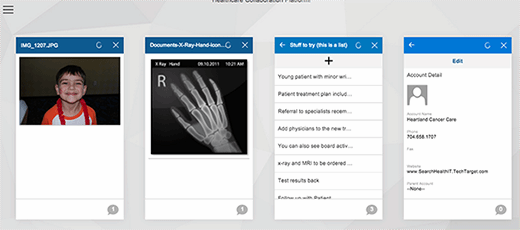 While GigJam is still in its early stages, and the reaction of consumers is still to be measured, its capabilities seem to illustrate that it is different from other collaborative tools presently on the market. In trying to make GigJam appeal to customers seeking healthcare collaboration capabilities, Microsoft will face the familiar challenges of security and data connectivity. If Microsoft continues to improve its tool, and offer more customizable connectivity capabilities, then this application may one day become the gold standard for how enterprise users interact with their associates.
Dig Deeper on Workflow and process management software and systems