Search
Health
IT
Claim your copy and find out:
* Where are health IT budgets being spent this year?
* What are the top drivers of IT change?
* In what security tech do your peers plan to invest?
* And more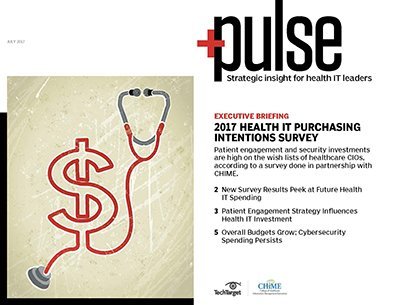 Each year in partnership with CHIME, we poll hundreds of health IT and clinical professionals to learn what technology investments their organizations are prioritizing. Improving the quality of patient care is the top reason for health IT change in 2017 -- but what else is going on?
Inside, find out how your peers answered questions like:
How will your IT budget change in 2017 compared to 2016?

What are the top drivers of IT changes for your org in 2017?

In what security technologies or services does your organization plan to invest?

What types of cloud services are you using or planning to use?

And many more
Boosting Patient Engagement
As a result of a more-focused patient engagement strategy, 67% of respondents indicated they will invest in patient portals. Find out what other tech investments round out the top 8.