HIT Squad visits Epic, IBM Watson Health booths at HIMSS 2016
The HIT Squad took to the HIMSS 2016 exhibition floor, mic in hand. Among the booths they visited were Epic and IBM Watson Health.
LAS VEGAS -- The SearchHealthIT HIT Squad took to the exhibition floor at HIMSS 2016, exploring the various innovative health technologies.
Shaun Sutner, news and features writer for SearchHealthIT, and Kristen Lee, news writer for SearchHealthIT, first explored MedAssets-Precyse, where they spoke with Chris Powell, president, health information management at MedAssets-Precyse.
Precyse, a health information management (HIM) company based in Wayne, Pa., and MedAssets, a revenue cycle management (RCM) company based in Alpharetta, Ga., recently announced their merger.
"What the industry has missed is [HIM and RCM] coming together," Powell tells the HIT Squad at HIMSS 2016. "This marriage brings a complete revenue cycle offering to health systems, whether it's technology or services. We have both."
Powell explains the MedAssets-Precyse partnership not only provides technology that supports both RCM and HIM, but they are also able to provide services to make sure their customers are getting the full value.
"That's the biggest thing in healthcare," Powell says. "One place to come with all these solutions."
As the HIT Squad continued to explore the exhibition floor, Sutner and Lee stumbled upon the infamous Epic Systems Corp. booth. Although they were not able to speak with an Epic media contact, they were able to observe Epic's "fire place" -- or, more accurately, its fast healthcare interoperability resources "(FHIR) place" -- and get a feel for the theme of the booth, something Epic does every year at HIMSS . This year's booth was decorated with various animals, including horses, goats and butterflies hanging from the ceiling. Above the FHIR place was the fake head of a wolf.
"This is an eclectic Epic theme. It's kind of our personality and culture," says Phil DeSantis, revenue cycle specialist and team lead at Epic, based in Verona, Wis.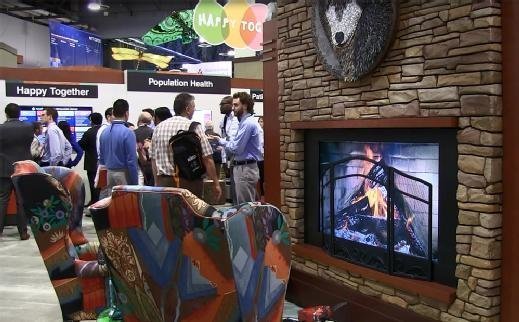 Finally, the HIT Squad visits the IBM Watson Health booth, where they spoke with Anil Jain, M.D., co-founder, senior vice president and chief medical officer of Explorys, an IBM company in Cleveland.
The merging of Explorys and IBM Watson Health was announced at last years' HIMSS, Jain says. "I remember having folks come by that knew me and knew the company, and say, 'Congratulations and condolences,'" Jain says. "And what they really meant was you know you're going to be consumed by this big, big group, and it turns out that, for the most part, it's been an incredible experience."
Jain explains that with this partnership, Explorys now has the benefits of the scale and stability of IBM Watson Health -- something their customers are expecting from an organization like Explorys as they mature, he says -- and also the benefits of still remaining somewhat small.
"So, Watson Health, even with the Truven analytics acquisition, will only have 5,000 people," Jain says.
He adds that once the acquisition of Explorys was made, they immediately created and dedicated a team to the integration of Explorys and Watson Health.
"Explorys brings a rich history of being able to integrate vast amounts of disparate data across the healthcare ecosystem, bring it into a common cloud-based platform and then standardize, harmonize all that information so that downstream analytics both on the pop health side and the research side can be done as efficiently as possible," Jain says.
He explains that this reduces "the time-to-value of some of the most pressing challenges that healthcare systems have, which is integrating disparate data, analyzing the data for looking for patterns of improving population health, and then, finally, taking that insight and delivering it at the point of care so that engage-able decisions can be made with the provider and the patient."
Editor's note: This article was updated to correct Chris Powell's title and that the formation of MedAssets-Precyse is a merger.