News
Stay informed about the latest enterprise technology news and product updates.
CES gadgets promote data mining in health care, consumer analysis
Health IT leaders might not have come away from CES with much, but vendors are getting creative with personal data mining in health care.
Health was a focal point at this year's International Consumer Electronics Show (CES) in Las Vegas, with some vendors' devices bringing data mining in health care to the forefront. Not only did personal health gadgets have their own pavilion on the CES exhibition floor, insurer United Health Care had its own massive presence as it struggles to reinvent itself amid changing health care payment models that some observers feel may make traditional insurance companies obsolete.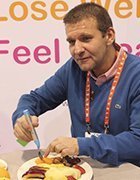 TechTarget colleague Wendy Schuchart of CIO-Midmarket.com attended the show, checking out the health-related exhibits and events for SearchHealthIT.com, and sat down to discuss her observations with SearchHealthIT News Director Don Fluckinger. While not every gizmo packed the promise of the weight-reducing HAPIfork ("happy fork," get it? Pictured at right and discussed at length in the podcast below), many did point the way to a future where patient-worn sensors mine for data that could be useful to physicians in the future. For now, the sensors are marketed mainly for personal use, Schuchart notes.
Let us know what you think about the story; email Don Fluckinger, Features Writer or contact @DonFluckinger on Twitter.