News
Stay informed about the latest enterprise technology news and product updates.
Connected medical devices seek a place in clinical setting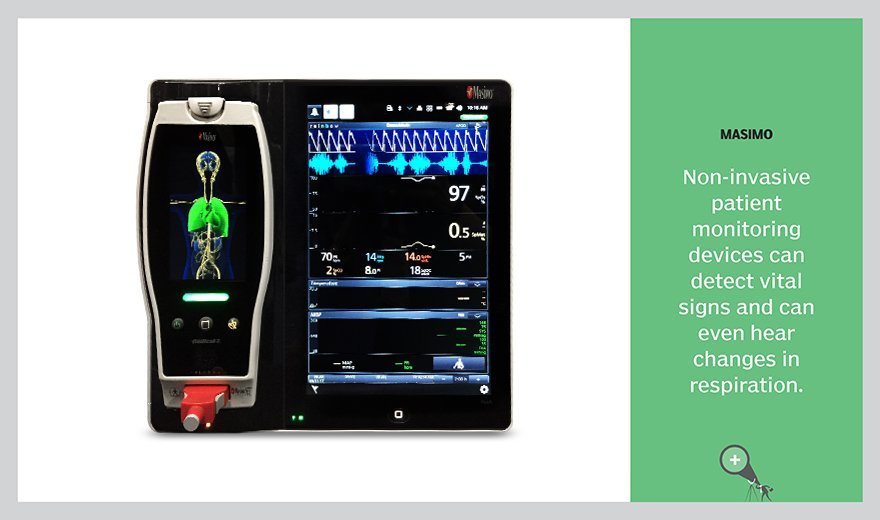 Visual Editor:
Megan Cassello
Consumer wearable technologies may monitor certain aspects of a person's activities, such as heart rate, steps and sleeping patterns. But for wearable technologies to provide value in a clinical space, other vital signs need to be monitored and detected.
This often can't be done non-invasively. Masimo aims to change that.
Masimo offers a range of products, including wearable technologies such as the Radius-7, a wearable device that can hear changes in respiration, as well as connectivity platforms such as Root, a patient monitoring and connectivity tool. Root and the Radius-7 can be paired together.
Root also has a USB port, as well as open connect ports, enabling other companies' technologies to be displayed on the Root device. In addition, Root has ports on the back so that information can be transferred directly into an EHR.
Masimo also offers the Rainbow technology, which is able to track, in real time and non-invasively, changes in hemoglobin, hypoxia hemoglobin and various parameters, in addition to pulse oximetry.
However, when it comes to outpatient use, data can be downloaded via an application the patient has on his phone. This enables a patient to email his data or history to his doctor via a CSB file.
Masimo also offers outpatient devices, such as the MightySat, a fingertip pulse oximeter, for personal health.
Photo: Kristen Lee/TechTarget
View All Photo Stories