News
Stay informed about the latest enterprise technology news and product updates.
Connected medical devices seek a place in clinical setting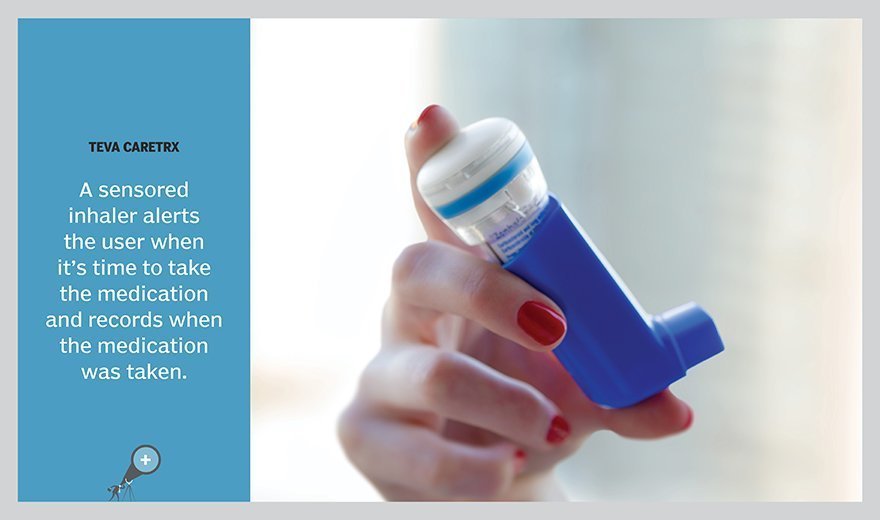 Visual Editor:
Megan Cassello
When someone is diagnosed with asthma, a doctor prescribes him an inhaler or, if he has a more severe case of asthma, the doctor prescribes a controller, which is a maintenance medication usually taken once or twice a day. Despite this, many people still struggle with their asthma.
Teva's CareTRx aims to fix this problem with a sensor that is affixed to the inhaler. This inhaler sensor performs a number of tasks: It alerts the patient when it's time to take a puff, it records when a patient takes a puff and it pairs to the patient's phone, where the data is recorded in a mobile application where the patient's physician, care team and family can view the patient's adherence.
There is even a gamification aspect to it, with patients having the ability to earn badges based on the use of their inhaler.
CareTRx also helps to detect if a patient is experiencing a problem. If a patient is having an asthma attack, the inhaler sensor detects the inhaler being used over and over again, and that data is logged in the mobile application, where the patient's physician and caregivers see it. This helps the patient's physician to figure out what is needed to get that patient's asthma under control, and therefore avoid a visit to the ER.
Furthermore, a report of the data collected from the inhaler sensor over a span of three months can be generated on one page and put into the patient's record.
Photo Courtesy of Teva
View All Photo Stories