News
Stay informed about the latest enterprise technology news and product updates.
Connected medical devices seek a place in clinical setting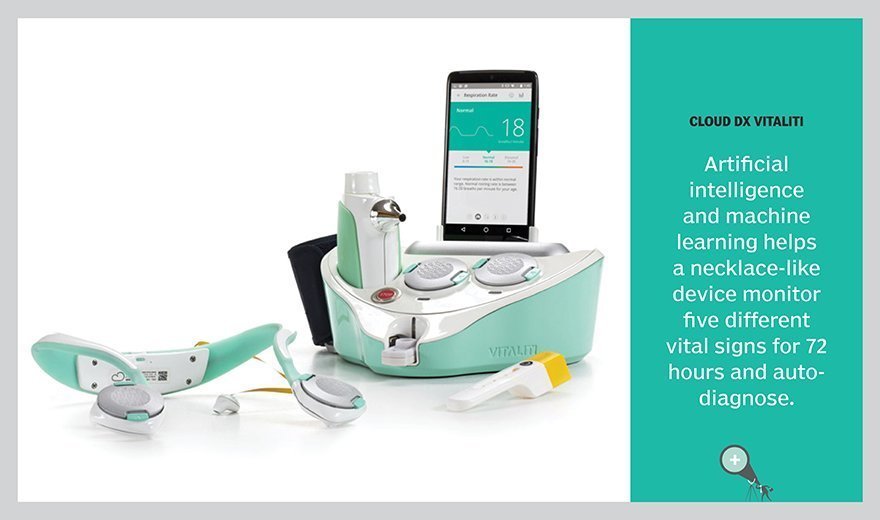 Visual Editor:
Megan Cassello
Wearables don't track only the number of steps a person takes and his sleeping patterns and heart rate. Wearables now exist that, with the help of artificial intelligence (AI), can diagnose medical conditions.
One such wearable -- that also integrates with several other wireless devices, as well as a mobile application -- is Cloud DX's Vitaliti device. This wearable vital signs monitor, a device worn around the neck like a necklace, can monitor five different vital signs for 72 hours and can also auto-diagnose 19 different conditions with the help of AI and machine learning.
The 19 conditions Vitaliti can auto-diagnose are anemia, UTI, Type 2 diabetes, atrial fibrillation, sleep apnea, COPD, pneumonia, otitis media, leukocytosis, the absence of conditions, hypertension, mononucleosis, HIV, tuberculosis, influenza, asthma, bronchitis, upper respiratory infection and respiratory syncytial virus.
By tracking five different vital signs for a period of time, trends and patterns start to emerge. AI compares those patterns and the new data to data that it has already collected, enabling the platform to auto-diagnose users.
Patients can use this wearable vital signs monitor anywhere to continuously track these vital signs.
Healthcare organizations that may be interested in this wearable vital signs monitor include providers, payers and pharmaceutical companies.
Vitaliti is currently in clinical trial and will be available next year.
Photo Courtesy of Cloud DX
View All Photo Stories