News
Stay informed about the latest enterprise technology news and product updates.
Hot in 2016: Data blocking and patient access to personal information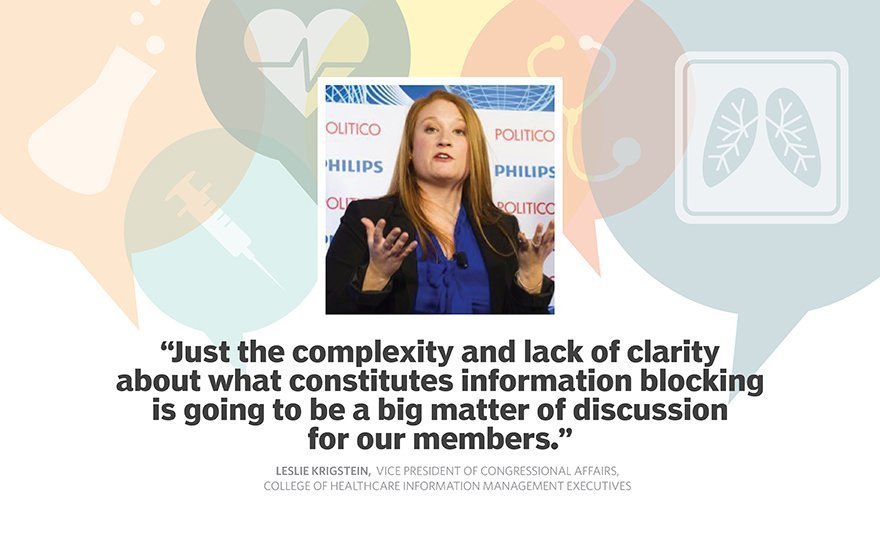 MACRA rules on healthcare data blocking have drawn criticism from health IT groups that have otherwise looked fairly favorably upon the new Medicare legislation.
The Medicare Access and CHIP Reauthorization Act of 2015 starts to ramp up quality reporting and reimbursement for physicians in 2017, but influential groups such as the College of Healthcare Information Management Executives (CHIME) and the American Medical Informatics Association (AMIA) have been wary, at best, about MACRA rules on the alleged practice of information blocking.
"Just the complexity and lack of clarity about what constitutes information blocking is going to be a big matter of discussion for our members," Leslie Krigstein, vice president of congressional affairs at CHIME, told SearchHealthIT in May 2016. "The challenge is whether the definition is too narrow or too broad. There are so many unanswered questions."
Here's how ONC defines information, or data blocking: "When persons or entities knowingly and unreasonably interfere with the exchange or use of electronic health information."
Jeff Smith, vice president of public policy at AMIA, is another notable information-blocking skeptic.
Smith told SearchHealthIT that AMIA has been troubled about how the issue has been framed since ONC in 2015 submitted to Congress a wide-ranging report critical of unnamed health IT vendors and healthcare providers that allegedly practice data blocking.
"I don't think there was a box to attest to not information blocking before this year. Now, there will be," Smith said. "They really need to flesh out what information blocking is."
Later in the year, the Department of Health and Human Services, which oversees ONC and the Centers for Medicare and Medicaid Services -- the two agencies that primarily oversee health IT and would enforce MACRA rules on data blocking -- appeared to ease up a bit in the in final MACRA rule.
The information blocking wording was relaxed to recognize that "healthcare providers should not be held responsible for adherence to health IT certification standards or other technical details of health IT implementation that are beyond their expertise or control," acknowledged Mari Savickis, vice president for federal affairs at CHIME.
View All Photo Stories