News
Stay informed about the latest enterprise technology news and product updates.
Hot in 2016: Data blocking and patient access to personal information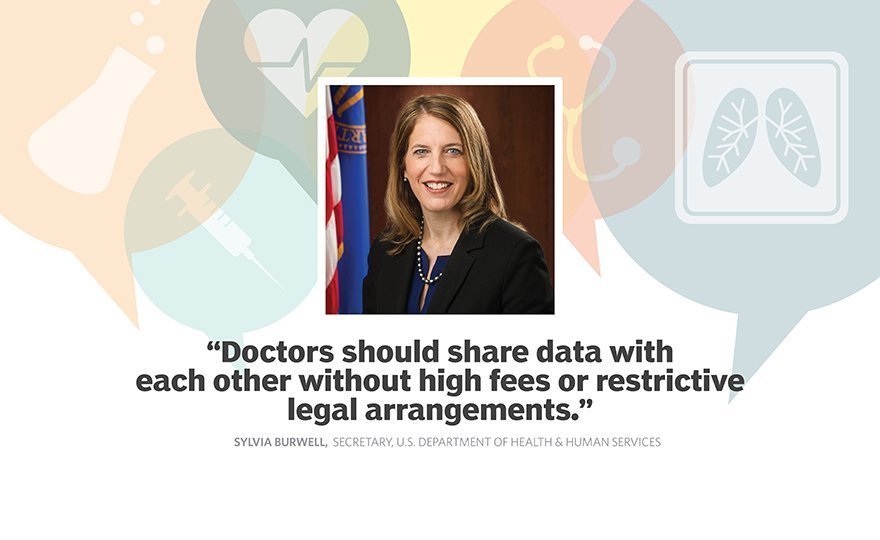 Department of Health and Human Services Secretary Sylvia Burwell took direct aim at the alleged practice of healthcare information blocking. Then she blasted away.
The setting was a Las Vegas hotel ballroom packed with an influential audience of more than 1,000 healthcare CIOs and technology vendors gathered for Healthcare Information and Management Systems Society (HIMSS) 2016, the nation's biggest health IT conference.
"Information is too often knowingly [or carelessly] blocked," Burwell, who during her tenure in the Obama administration oversaw the Centers for Medicare & Medicaid Services and the Office of the National Coordinator for Health IT (ONC), the key government agencies that deal with health IT, declared about information blocking. "We must demand interoperability."
Burwell spoke the last day of February 2016.
But nothing less than an uproar about the alleged practice (many in the health IT provider and vendor worlds maintain it doesn't exist or is exaggerated) had already been boiling since 2015 when ONC reported to Congress about information blocking and appeared to implicate some vendors without identifying them.
There are two big suspects among those who are convinced that some vendors and providers are purposely stymieing the free and easy exchange of patients' health data and so degrading the quality of healthcare.
They are Epic Systems Corp., the dominant developer and vendor of EHRs for large healthcare systems and their clinics, and eClinicalWorks (eCW), probably the leading ambulatory EHR vendor.
There are plenty of other suspects. Yet, few speak their names.
At HIMSS, Burwell also unveiled a wide-ranging sort-of "we pledge to refrain from information blocking" compact originally signed by 17 vendors (but not eCW); 16 major healthcare systems; and 16 medical, consumer and interoperability organizations.
In her widely quoted keynote, Burwell also tied information blocking to practitioners' long-standing complaints about the lack of health data interoperability in many popular health IT systems.
"We need to work together to unblock data," Burwell said. "Doctors should share data with each other without high fees or restrictive legal arrangements."
Let's see how a health IT landscape with less or no information blocking looks in 2017 and beyond.
View All Photo Stories