News
Stay informed about the latest enterprise technology news and product updates.
Five new telemedicine devices and systems shown at ATA 2016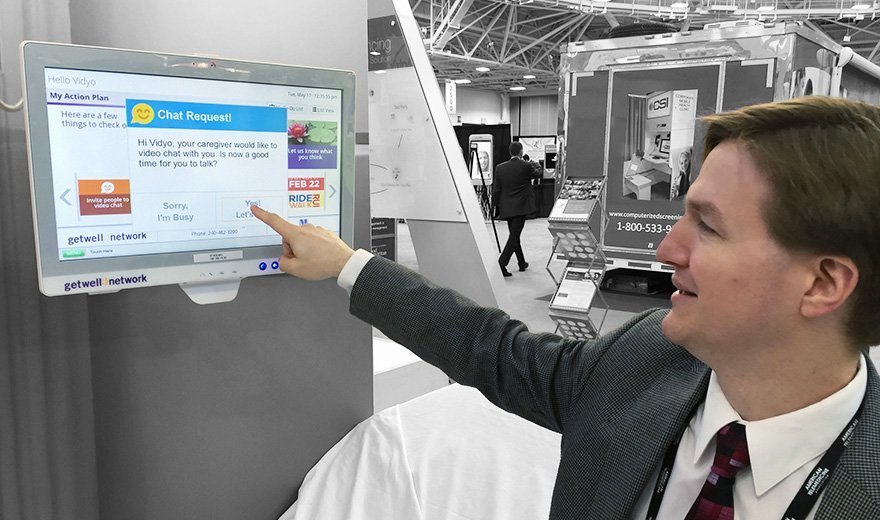 Source:
Shaun Sutner/TechTarget
Visual Editor:
Sarah Evans
Multipoint healthcare video conferencing has become ubiquitous, with the underlying video technology becoming increasingly reliable.
One of the dominant vendors in the healthcare video conferencing market is Vidyo, but unlike one of its biggest competitors, Zoom Video Communications, Inc., you'll rarely see Vidyo's corporate moniker on the telemedicine system it powers.
For example, as Mark Noble, Vidyo vice president of telehealth business development, showed a booth visitor at ATA 2016 a Vidyo application, he gestured toward a monitor screen emblazoned with the name of his company's customer: telehealth provider GetWellNetwork, Inc.
Like Zoom, Vidyo is active in a host of industries, not just healthcare. Among them are education, financial services and government. But Noble said healthcare now accounts for about 30% of the company's business.
"We're a platform play, where we're integrated into the workflow," Noble said.
The cloud-based system runs on broadband, 4K and other wireless networks.
"We adapt to the bandwidth that's available," Noble said.
View All Photo Stories