News
Stay informed about the latest enterprise technology news and product updates.
Five new telemedicine devices and systems shown at ATA 2016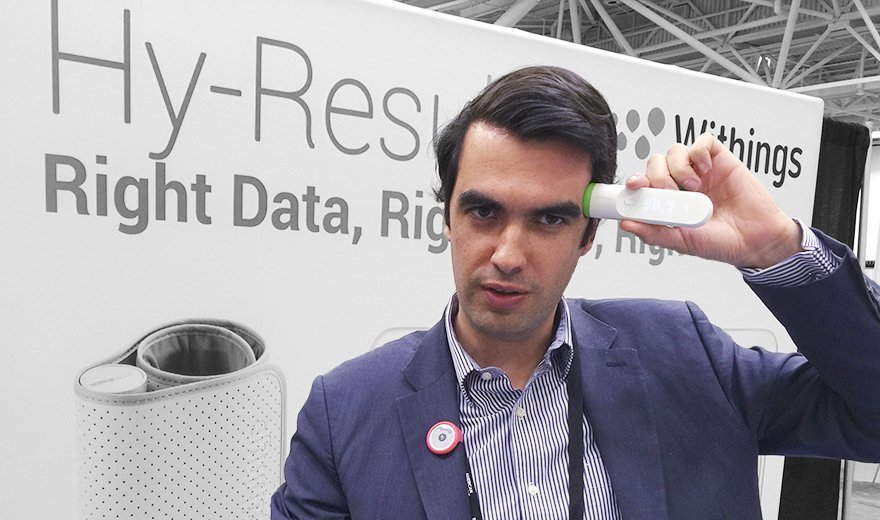 Source:
Shaun Sutner/TechTarget
Visual Editor:
Sarah Evans
Withings, the France-based manufacturer of consumer fitness and wellness devices, is known for its stylish design.
The consumer health company, which was recently acquired by Finnish tech giant Nokia, wants users to enjoy not only how its connected devices work -- devices which range from a blood pressure cuff and smart scale to trendy smartwatches and fitness trackers -- but also how they look.
Withings' latest offering, the Thermo wireless thermometer, uses 16 infrared sensors to enable users to take accurate temperature readings by non-invasively swiping the device over their temple. Results sync over Wi-Fi or Bluetooth to a dedicated Thermo app and can be shared with healthcare providers.
Alexis Normand, Withings' healthcare development director, told SearchHealthIT that Withings -- like its competitor in the thermometer space, ARC Devices Ltd., and other device vendors -- sees remote patient monitoring as the next step in consumer health. Home care is one example.
Normand said Withings is expanding the scope of some of its corporate wellness data analysis projects and is running trials using some of its devices, including the wireless thermometer, for use in remote patient monitoring programs.
View All Photo Stories