News
Stay informed about the latest enterprise technology news and product updates.
Five new telemedicine devices and systems shown at ATA 2016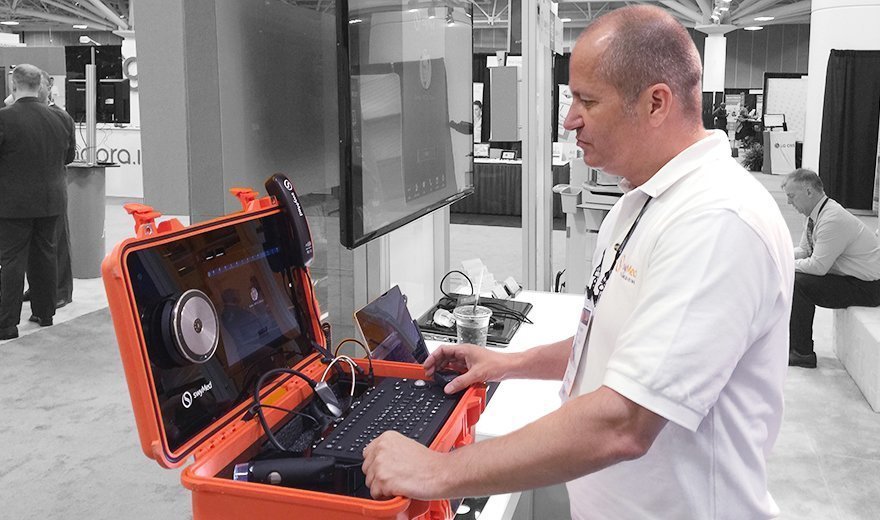 Source:
Shaun Sutner/TechTarget
Visual Editor:
Sarah Evans
Telemedicine video technology can be embedded in a futuristic disaster medicine kit or it can underpin a remote pathology lab on a cart.
This telemedicine video technology is a satellite-based telemedicine video platform from swyMed built on technology first developed for satellite data transmission for the 1996 Olympic Games.
SwyMed evolved the technology and positioned it for the telehealth market to provide encrypted asynchronous or real-time video for ambulances, remote medicine or home health in locations without established broadband service.
At ATA 2016, John Kroon, swyMed's vice president for European operations, demonstrated a ruggedized orange plastic case he designed to house a suite of remote medicine diagnostic tools, including a pulse oximeter, dermascope, iriscope, otoscope and stethoscope.
"It's an array of different peripherals connected to software that can be used in real time for point-to-point care," Kroon explained.
Users of swyMed's systems generally put the technology to use running in the background under their own branded systems.
Customers include urban-based healthcare systems with rural-dwelling patients who can benefit from telehealth services.
View All Photo Stories