News
Stay informed about the latest enterprise technology news and product updates.
Five new telemedicine devices and systems shown at ATA 2016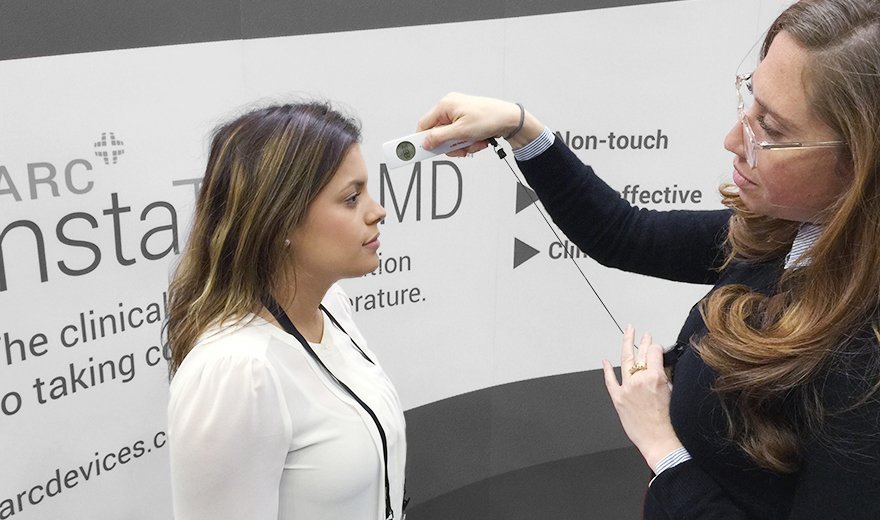 Source:
Shaun Sutner/TechTarget
Visual Editor:
Sarah Evans
Elizabeth Gross, director of marketing and communications for ARC Devices Ltd., reached across her company's ATA 2016 booth and performed a graphic demonstration of ARC's flagship product. She waved ARC's clinical grade, no-touch thermometer over the forehead of ARC sales support manager Isa Morales.
The Boca Raton, Fla.-based vendor is now selling its FDA-approved Class 2 InstaTempMD device to healthcare systems and a consumer version, the InstaTemp, to consumers online on Amazon.com and through Rite Aid, CVS and other retailers. Both are based on medical grade infrared sensors and proprietary algorithms.
The latest move for the startup, which was founded in Ireland, is a wider health IT market, which it is targeting with a new partnership with telehealth vendor VSee to adapt the clinical, no-touch thermometer for remote patient monitoring (RPM) and to embed it in RPM kits.
"We're at the precipice of remote patient monitoring," Gross said. "Someone who's being treated at home, you have to have the proper temperature for chemotherapy, for example."
View All Photo Stories