News
Stay informed about the latest enterprise technology news and product updates.
The five most innovative technologies at Connected Health Symposium 2015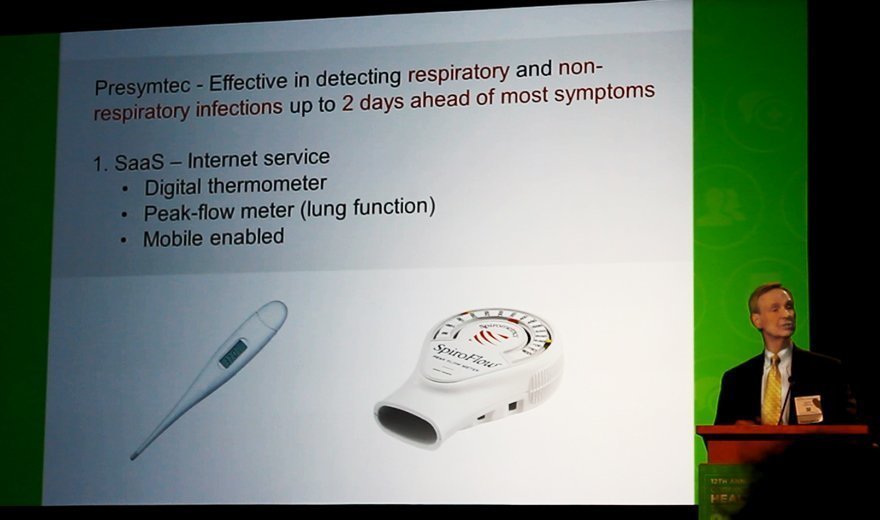 Using discrete health monitors such as digital thermometers and peak flow meters, Presymtec Medical in Exton, Pa., runs algorithms to predict sickness before symptoms appear and is a daily monitoring and alert service.
"We can actively predict sickness in advance," said Larry Walters, president and CEO at Presymtec Medical. "In fact, up to two days before most symptoms, and that can make a significant difference in the lives and health of those with chronic diseases."
Also got to hear about @Presymtec ! Here's a pic of their new monitor! @connectedhealth @SearchHealthIT pic.twitter.com/ixPedMkxpJ

— Kristen Lee (@Kristen_Lee_34) October 30, 2015
Patients can use Presymtec's Internet service in conjunction with a thermometer and peak flow meter to predict when an infection will occur, Walters said. Also, patients will eventually be able to use Presymtec's wireless hand-held monitor that the company is developing.
Currently, patients can record their developing symptoms online and receive a color-coded report on their status. Orange and red colors indicate an alert, Walters said.
"Our algorithms have been validated through three prior studies," Walters said. Two were conducted in Asia and another in Pennsylvania. "Presymtec is a decision support tool. It engages patients [to] help them better self-manage their health," Walters said. "Our objective: Evidence-based alerts change patients' behavior. We can accelerate care by getting them to the doctor two, three, even four days before they normally would go based on symptoms alone."
Walters said the goal is to reduce the cost in complications of those with chronic diseases like chronic obstructive pulmonary disease, which is the third leading cause of death in the United States, affects 8% of the population and costs $32 billion to treat today -- but is projected to cost $49 billion by 2020, according to the Centers for Disease Control and Prevention.
"We spend approximately $16 billion in infection-induced exacerbations that lead to hospitalizations, and that number has inflated to almost double in five years," Walters said. "If we could save only two [people] out of 10, we could save our healthcare system $3 billion, and hopefully we can do even better."
View All Photo Stories