News
Stay informed about the latest enterprise technology news and product updates.
Five innovative examples of mHealth and telehealth technologies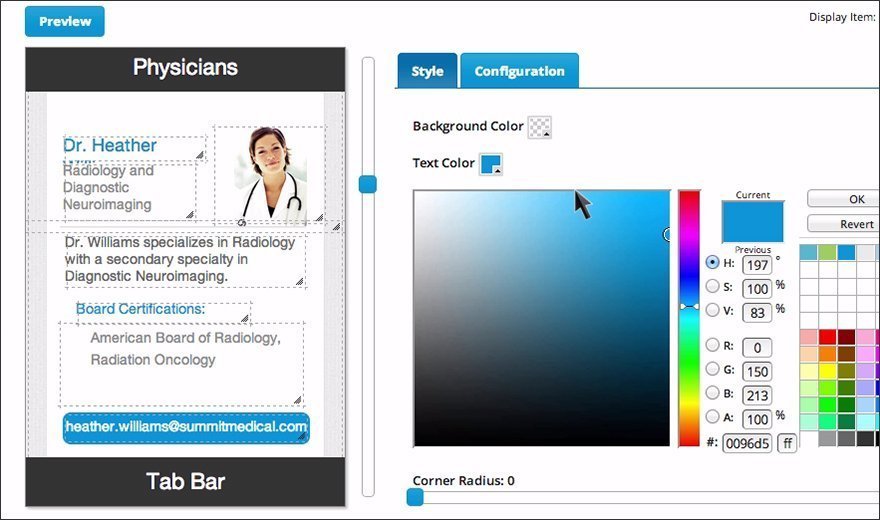 Source:
Courtesy of MobileSmith
Visual Editor:
Sarah Evans/TechTarget
MobileSmith in Raleigh, N.C., is a mobile app platform based in the cloud. It is a tool that anyone, including nonprogrammers, can use to create a custom mobile app with a custom user interface and then publish it natively to Android or iOS, said Janna Badalian, marketing director at MobileSmith.
"Lots of custom use-cases are possible," Badalian said. "We work with major U.S. healthcare organizations … Basically any person with an app idea within an organization can prototype it in a matter of hours and release it to app stores within a matter of weeks."
MobileSmith helps organizations interested in creating a mobile app from idea to launch. "We empower these people with ideas to prototype their ideas quickly without having to wait for their IT department to provide the bandwidth and resources which tend to be expensive," she said.
Hospitals, doctors and physicians already know that patient engagement in healthcare is important, Badalian said. And mobility is an important piece to improving patient engagement in healthcare.
"In healthcare, one succeeds in patient engagement if one succeeds in the mobile space," Badalian said. "Therefore, people with ideas should be empowered with quick prototyping and quick development tools that do not require them to burden their IT department, [which] is burdened enough with implementing more hardcore back-end systems. And we do integrate with back-end if necessary."
UCLA Health in Los Angeles has released two applications through MobileSmith: a general UCLA health app that provides a physician directory, information about wait times, billing and insurance information, and an app for their birth center called UCLA Baby.
View All Photo Stories