News
Stay informed about the latest enterprise technology news and product updates.
Five innovative examples of mHealth and telehealth technologies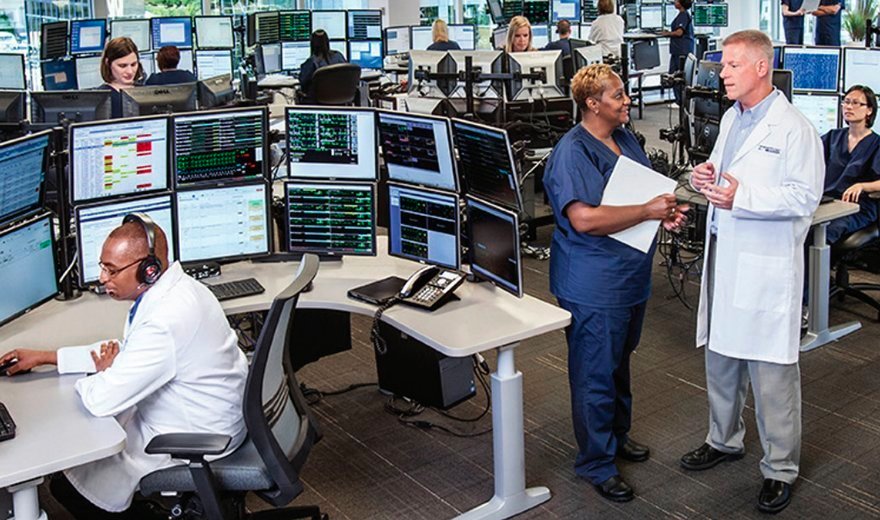 Source:
Courtesy of Advanced ICU Care
Visual Editor:
Sarah Evans/TechTarget
Advanced ICU Care pairs a constant stream of patient information with around-the-clock intensivist oversight by using Philips eCareManager, third-party teleconferencing, and its own proprietary software, said Lou Silverman, Chairman CEO at Advanced ICU Care in St. Louis.
"We do remote monitoring of intensive care units around the country. We've got 65 or so hospitals under contract. We have about 900 [wired beds]," Silverman, said. "We have technology that we use to filter and feed [data] to our clinicians: Data that comes from the individual patient rooms and the hospital information systems. Each room has audio-video capability as well as an emergency button if something is really… getting difficult in a room. Someone can just hit the button and we camera in right away."
The technology that enables Advanced ICU Care to collaborate with hospitals and provide 24/7 care is Philips IntelliSpace eCareManager -- made possible by acquiring Visicu, which used to provide medical services and systems for hospitals' ICUs, in 2007 -- and third-party teleconferencing equipment. These technologies have been augmented with Advanced ICU's own proprietary software, Silverman said.
"This technology stack enables our seamless interface with the wide variety of bedside patient monitoring and hospital information systems that our clients use, and streamlines the array of patient data we receive for efficient and effective use by our intensivists and critical care advanced practitioners and RNs," Silverman said.
Advanced ICU Care utilizes a collaborative care model, Silverman said. "We're not displacing bedside clinical teams but we're augmenting the care that they provide."
He added that Advanced ICU Care also collects data and then is able to point out to various healthcare clients' areas in which they can improve the quality of care.
"The ICU, as you may know, is the location in the hospital where only about 10% of the beds or patients are, but it's up to about 30% of the cost," Silverman said. "So it's an important place to have a focus on the quality of care and as much expertise as you can."
Advanced ICU Care staffs and services multiple locations around the country, including St. Louis, New York, Southern California and soon in Houston. The company's operation centers include intensivists, critical care nurses and nurse practitioners. All of Advanced ICU Care's clinicians and physicians are U.S. board-certified and experienced in the ICU, Silverman said.
View All Photo Stories