RSNA 2015 features fun, cosmopolitan radiology technology
RSNA 2015, the biggest North American healthcare tech conference, featured the latest radiology IT and hardware tools -- as well as fun, benign chaos and an international flavor.
CHICAGO -- RSNA 2015 was more than a conference. It was a happening.
The country's biggest healthcare tech conference and exposition, the Scientific Assembly and Annual Meeting of the Radiological Society of North America (this year was its 101st edition), is ostensibly about radiology technology.
But the proportion of health IT stuff at the RSNA event -- which is traditionally even bigger than the annual Healthcare Information and Management Systems Society (HIMSS) show in terms of sheer numbers -- has been rising markedly in recent years.
One former health IT journalist I know who went to RSNA shows at least five times this decade pegged the percentage of IT vendors and panels at 20 to 30% and rising. A colleague who attended this year put that number at closer to 40%.
In other words, in addition to the latest expensive MRI and molecular imaging machines, RSNA 2015 flaunted massive amounts of cloud and noncloud imaging analytics, storage and retrieval, workflow automation, quality assessment and precision medicine software systems.
To be fair, without the big hardware vendors -- of which GE Healthcare; Fujifilm Medical Systems, U.S.A., Inc.; Hitachi, Ltd.; Royal Philips; Samsung; Siemens Medical Solutions USA, Inc.; and Toshiba America Medical Systems were just a few -- there would be no images to analyze, share, retrieve or assess.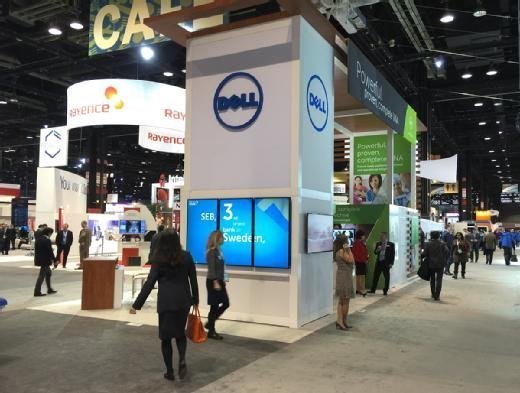 As for the role of VNAs …
Meanwhile, let's address vendor neutral archives (VNAs) for a moment before we move onto the fun and sometimes wacky parts of RSNA 2015.
VNAs have been the next big thing for a few years. There were plenty of vendors selling VNAs at RSNA 2015, among them Merge Healthcare Incorporated, TeraMedica Inc., Carestream Health and Lexmark Healthcare.
The technology came in a delightful and bewildering number of international flavors.
But there is still little consensus about how to define VNAs as opposed to their supposed predecessors, picture archiving and communication systems (PACS), whether the market for VNAs remains hot, and whether VNAs will really supplant PACS or instead coexist indefinitely with them.
One respected imaging consultant who I interviewed at the show, Michael Gray, told me some 300 U.S. healthcare providers have installed VNAs. That leaves a heck of a lot of room for growth.
Many at the show even postulated that imaging analytics, workflow and decision support systems are sort-of post-VNA, and certainly work as layers sitting atop VNAs and PACS.
RSNA 2015 proves to be a global affair
No matter the species of technology, however, it came in a delightful and bewildering number of international flavors.
RSNA 2015 organizers will release attendance stats and number of countries represented after an audit a few weeks post-show.
Last year, though, vendor employees, panel speakers and other attendees came from 129 countries. RSNA 2014 also was attended by 56,026 people. This year's version appeared on track for that amount, and its 651 registered vendors and other healthcare organizations surpassed last year's total.
It was a busy, fun spectacle, even chaotic at times, as executives, buyers and developers scurried madly around the vast spaces of McCormick Place, the convention center on steroids that pushed everyone's smartwatches and wearable trackers to their step-counting limits.
When I spoke with Jeroen Tas, the charming Dutch CEO of Philips' Healthcare Informatics Solutions and Services division, I was amused by his wearable strategy: the new Philips smartwatch -- not released yet in the U.S. -- around his right wrist, an Apple Watch around his left.
You could hear French being spoken widely in the Dutch-owned Philips booth, which, by the way, is not really a booth, but rather a nearly football field-length minicity complete with its own map.
And I heard Italian voices in the Japanese companies' similarly gigantic booths, and ubiquitous German, especially in the German-owned Siemens booth, naturally.
Some booths served custom smoothies, others espresso. I literally tripped a few times on the deep, plush white pile carpeting in the GE installation, er, booth.
Amid the clatter of the voices and footsteps, I could also imagine the sounds of a lot of money being made.
More importantly, I could picture a world in which patients' health is being improved dramatically by remarkably swift advances in technology.
We are living in that world now. RSNA 2015 brought that reality to life on a big stage.
Next Steps
Enterprise imaging was on the menu at the HIMSS 2015 conference
Health IT vendors use cloud to entice customers
A healthcare consultant offers tips for replacing imaging systems
Dig Deeper on RSNA conference and annual meeting