gekaskr - Fotolia
Patient retention strategies must go beyond mobile check-ins
Healthcare organizations will have to go beyond traditional approaches to patient retention if they want to keep their patients. Personalized recommendations are one place to start.
In some major U.S. cities, hospitals continue to face the reality of reduced reimbursements, political uncertainty and fierce competition. Many are constantly looking for ways to drive more traffic to their network and keep their patients. The patient retention strategies hospitals use have not changed much over the years, but for some it won't be enough to keep patients from making a switch. Hospitals may be able to take some lessons from unlikely sources, such as Starbucks. Taking a page out of the coffee giant's playbook on customer retention could be the fresh perspective healthcare executives need as they look to thrive in this highly competitive arena.
Starbucks proved that smartphone-based ordering reduced wait times and unnecessary interactions for coffee lovers on the go. The success of Starbucks has been the result of pushing the envelope and playing in the blue ocean, based on the marketing theory written by W. Chan Kim and Renée Mauborgne. Hospitals would have to go beyond what may be the common goal today -- such as mobile check-in -- and bring other changes to the patient experience. Fortunately, there are several technologies available today that can reduce the friction patients experience when dealing with healthcare.
One way to improve patient satisfaction and retention is for hospitals to offer shorter wait times and same day appointments. These capabilities would not have been possible if hospitals didn't adopt modern technologies and adjust the workflow in certain departments. But there are still many areas that can use improvement. Here are four patient retention strategies healthcare should consider.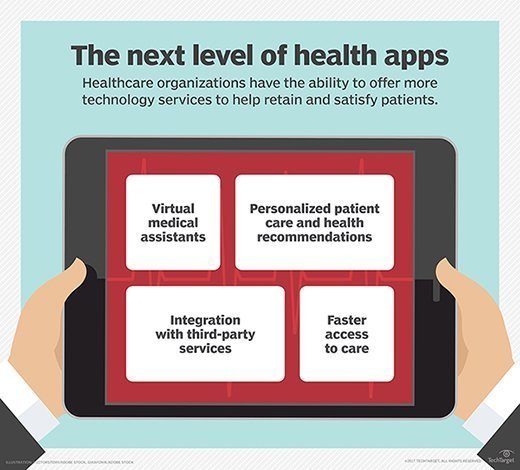 Instant access to care providers
Offering immediate access to care providers is certainly one of the most popular patient requests. With the availability of telehealth services, hospitals should consider this one of the best patient retention strategies. While some hospitals already offer e-visits, payers and other retail providers have started to compete with hospitals on this front -- and some believe they might be taking business away from hospitals.
UnitedHealthcare has partnered with HealthiestYou to offer its beneficiaries access to physicians through a mobile app and that seems to appeal to many patients. This model, however, does not allow patients to speak to the same care provider every time, so hospitals may have an advantage over retail clinics and other third-party providers by being able to access the patient's health record. If more hospitals adopt these services and offer quick access to health providers using telehealth services, patients can be confident that the care provider assisting them can see their health record.
Patients welcome recommendations
The Starbucks mobile app offers drink and food item recommendations based on the customer's profile and preferences. This is the result of the data collected from the customer's purchases. Hospitals can consider a similar approach when it comes to making frequent recommendations for patients with specific conditions.
One approach would be to use the hospital's mobile app to engage patients in daily interactions around medication reminders, healthy food recommendations and motivational quotes. Hospitals can create personalized recommendations for patients based on their medical history.
Integration with third-party services
When you combine a non-English speaking elderly patient with no mode of transportation who is in need of healthcare services, the thought of a hospital app that integrates with third-party transportation services and translation would help solve this situation and many similar others. A patient in this case can open their mobile app, request assistance and voila -- a notification could pop up when the car is waiting for them outside. This is just another example of how a hospital mobile app can integrate with other services to offer valuable services to patients.
There are several other possibilities in which patients would be ecstatic to experience, such as integration with pharmacies with healthcare apps to notify patients when their medication is ready for pick up.
Simplifying and demystifying costs of care
Paying for coffee has never been this easy -- hit a quick reload button in the Starbucks app and the funds are ready to be used. Eliminating the time needed to run a credit card reduces wait time and enhances customer service.
From a healthcare perspective, patient billing is one of the most complex -- and at times unpredictable -- experiences patients face. If hospitals are looking for additional areas to reduce friction for patients, simplifying the billing process and offering ways to deliver accurate estimates for treatment options based on a patient's insurance plan is a good place to start.
From a technical perspective, hospitals can use the existing availability of claim adjudication and other services to determine potential reimbursements covered by the insurance company based on a submitted set of procedure codes. While that's easy to define for common standard procedures, more complex ones may still have to be estimates.
Virtual assistants at your service
When patients have questions around services offered by the healthcare organization, one option for hospitals to consider is the use of AI. Assisting patients with some of their requests would certainly enhance their experience and address some of the most basic needs and inquiries without tying up additional resources in the hospital.
Increasing patient loyalty starts by reducing the friction they experience every time they interact with their healthcare service provider. If hospitals are looking to keep their patients and attract new ones, then taking advantage of mobile devices and the use of innovative services will offer one of the best patient retention strategies to meet the organization's goals.