everythingpossible - Fotolia
ONC: Healthcare IT issues are EHR usability, interoperability
For ONC, the top healthcare IT issues that need to be addressed by the industry are interoperability and EHR usability. The national coordinator lays out three influencing factors.
WASHINGTON, D.C. -- Lisa Lewis' grandfather was a coal miner and a World War II veteran and she promised when he...
Continue Reading This Article
Enjoy this article as well as all of our content, including E-Guides, news, tips and more.
got older she would take care of him.
"The time came when he needed help," Lewis, the deputy national coordinator for operations at the Office of the National Coordinator for Health IT (ONC), said at the 2017 ONC Annual Meeting. "Our journey very much followed the journey and progression of health IT."
Their journey reflects the struggle many patients and physicians face in the current healthcare landscape with the current healthcare IT issues.
Lewis explained that when she first began to help her grandfather with his health, everything was paper-based and the wait for the only primary care doctor in the area where her grandfather lived in West Virginia was never less than an hour.
Eventually, Lewis' grandfather moved to Washington, D.C., to live with her and EHRs had mostly been implemented at that time. Lewis said she saw an improvement -- to a point.
"I always like to say he came to live with me, but his medical record didn't quite make the journey," she said. "So when he got here we had to recreate his medical record."
However, once his medical record was digitally recreated in Washington, D.C., it followed her grandfather to whatever healthcare institution he visited. In D.C., that is.
Don Rucker, the national coordinator at ONC, explained at the ONC Annual Meeting that the healthcare IT issues that Lewis' grandfather experienced -- not being able to bring his medical record with him to a new state and lack of interoperability -- is one of the major tasks health IT professionals face today.
The other health IT issue to address: the usability of EHRs, Rucker said.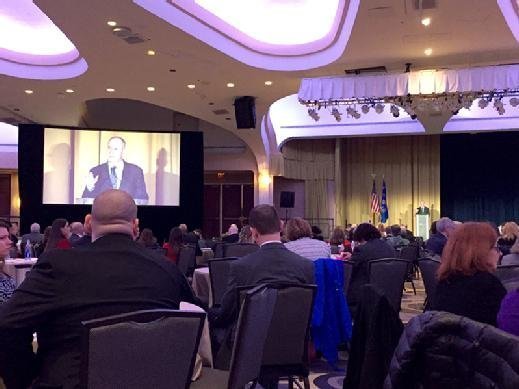 The collective national healthcare IT mission
"As we look at our collective national healthcare IT mission, I think it is defined by [EHR] burden reduction/usability and interoperability," Rucker said.
This is largely influenced by the 21st Century Cures Act, he said, and these two healthcare IT issues are very complex.
Usability of EHRs is complex because it involves complex workflows and "every clinician basically has dozens of workflows," Rucker said.
What makes interoperability a challenge is biological complexities, he said.
As we look at our collective national healthcare IT mission, I think it is defined by [EHR] burden reduction/usability and interoperability.

Don Ruckernational coordinator, ONC
In other words, "if I'm an internist for an emergency department doctor, the way I look at [a patient's record] might be very different or will be different than a urologist or an orthopedist or a respiratory therapist or a nurse in the ICU or a pharmacist," Rucker said. "Everybody has very different tasks that they need represented [in the EHR]."
The implementation of EHRs hasn't empowered patients, hasn't lowered the cost of care and hasn't created interoperability, he added.
"We have spent tens of billions of dollars on medical records and we haven't quite gotten what we paid for," Rucker said.
Three use cases define future direction
Rucker believes that three use cases will define and shape what happens next on the journey to interoperability and EHR usability:
Patient empowerment: "How do we empower patients? How do patients own their medical record?" Rucker said. There has been the use of patient portals, for example, but Rucker said smartphones are really the devices pointing to true electronic ownership of data.
Rucker said ONC is working to figure out what the interfaces need to be and what the tools are that will allow patients to not only control their care but shop for their care and own their data, which means patients would be 100% free to seek care elsewhere if they wanted to.
Population-level interfaces: "Why should we reinvent care patient by patient when we have extraordinary computational tools [like] artificial intelligence [and] machine learning that can look at all of this collectively?" Rucker said.
He used Amazon as an example: "If we could use some of this brilliant machine learning to help us spend money on Amazon and other online retailers, couldn't we use machine learning to help us collectively, in this automated fashion, get better healthcare?"
Open APIs: Not just open APIs, Rucker said, but "open APIs without special effort."
This means that any ordinary programmer should be able to use APIs to enable access to any application. "That needs some common application programming interfaces, common techniques," Rucker said. And the "open" part of open API's "means there should not be tollgates."
Dig Deeper on Federal health care policy issues and health care reform