Fotolia
Healthcare payer-provider links sweeping into industry
Health IT vendors and healthcare providers and insurance payers gathered at Chilmark Research's Convergence 2017 conference to discuss payer-provider partnerships and other deals.
BOSTON -- Healthcare payer-provider alliances that are sprouting across the country, along with employer-provider deals, will require more advanced health IT systems to manage and analyze complex data undergirding value-based care.
That general consensus emerged here at health IT market research firm Chilmark Research's Convergence 2017 conference.
Attendees from provider, payer, employer and vendor organizations also agreed that the shift from fee-for-service to value-based care is firmly underway and that big data and analytics, data governance, wellness platforms and healthcare approaches like remote patient monitoring are key to the transformation.
Health IT to handle big data
"On the technology side we've been looking for a solution that brings everything together," keynoter John Bulger, D.O., CMO for population health at Geisinger Health and CMO at the Geisinger Health Plan, said during a panel discussion. "We have so much data, claims data on the health plan side and EHR data on the clinical side. The reality is there isn't one solution."
Providers and payers need to converge together to deliver a health service.

John MooreCEO and founder, Chilmark Research
As for "convergence," the inspiration for the Oct. 5 to 6 Chilmark conference, the firm's inaugural forum, the emerging term flowed easily and appeared to be an apt concept to describe the evolving healthcare payer-provider landscape.
SearchHealthIT and its publisher, TechTarget, are media sponsors of the event, which drew about 125 first-day attendees and was sponsored by the biggest EHR companies -- Allscripts, Cerner Corp. and Epic Systems Corp. -- among other vendors. Major healthcare and insurance industry groups and providers were also represented.
Chilmark CEO and founder John Moore said in his intro keynote that convergence is going on already, in the form of providers becoming their own payers, but more widely in alliances, partnerships, joint ventures and simply more collaboration between the longtime adversarial sides.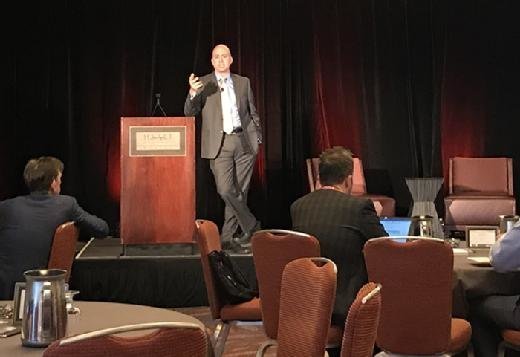 Healthcare payer-provider convergence happening
However, the trend is still in the early stages, just as the move to value-based care is occurring slowly and, amid political turbulence, sometimes erratically.
"Providers and payers need to converge together to deliver a health service," Moore said.
Convergence 2017, Moore said, was a way to spur a stronger healthcare payer-provider bond, a trend he said has potential to improve healthcare quality and lower costs for consumers.
"We wanted to bring together some key thought leaders that are really at the cutting edge of looking at this concept of convergence and get the conversation going," he said. "There really are not a lot of shared best practices. How do we do this?"
Bulger, in his keynote, said his sprawling health system has moved to value-based contracts in 70% of its business and does not intend to go back to volume-based care. In its take on convergence, Geisinger insures most of its own 30,000 employees, mostly on a value basis under which the provider side now also takes on risk instead of collecting as many fees as possible.
One major challenge to making both convergence and value-based care produce better care and lower costs is the current widespread variability and lack of interoperability of health information, Bulger said. Those barriers make it hard for both sides to see the true costs of care, he said.
"You have to show people across systems the data. Clinical providers need to see what the healthcare spend is on the health plan side," he said.
Tech doesn't always work as described
Another trained physician and Convergence 2017 panelist was Sachin Jain, M.D., president and CEO of CareMore Health System, a subsidiary of payer giant Anthem and a nationwide provider of managed care for Medicare and Medicaid patients with chronic medical conditions.
Describing himself as a "recovering health IT guy," Jain said that to work effectively in value-based care, providers should move slowly and deliberately on evaluating and obtaining the technologies they need.
"Most health IT solutions don't actually do what they say they do," said Jain, a former top official in the Centers for Medicare and Medicaid Services and the Office of the National Coordinator for Health IT. That's the reality."
Nevertheless, CareMore recently acquired a secure texting system for its clinicians, and is planning on moving to CRM technology in the near future to better manage communication with patients.
Amid all the talk of closer healthcare payer-provider relationships, one speaker and panelist, healthcare tech venture capitalist Jessica Zeaske, sounded notes both of caution and optimism about the financial viability of the convergence sector.
"There's an enormous opportunity here," Zeaske said. "But when you actually get down to the actual addressable market of some of these companies, it's smaller than you think."
Dig Deeper on Federal health care policy issues and health care reform