Denys Rudyi - Fotolia
News
Stay informed about the latest enterprise technology news and product updates.
HL7 standards work slowed by lack of financial support, leaders say
Leaders of HL7, the international health IT standards organization, say HL7 standards development is being held back by lack of financial support from some industry organizations.
HL7 standards development is being held back because not enough healthcare industry organizations are financially supporting the health IT standards group, according to Health Level Seven International leaders.

Download this free guide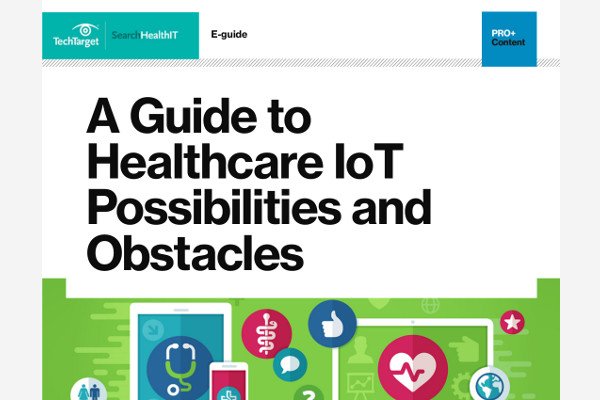 Download Complete Guide to Healthcare IoT Now
Healthcare IoT has the potential to greatly improve patient care – but it's not without its challenges. Download this essential guide in one PDF and learn how to overcome the obstacles: security, data overload, regulations, and more.
While the HL7 Fast Health Interoperability Resources (FHIR) specification is becoming a de facto standard, the open API-based tool still is not considered fully stable and is still deemed a draft standard that's not expected to be granted full or "normative" status until October 2018 at the earliest.
The newest of a group of HL7 standards for health data interoperability, FHIR is available free to vendors, hospitals and anyone developing health IT applications or exchanging health data. The latest version, Release 3, came out March 22.
Also, many healthcare providers and vendors have for many years used, and continue to use, older health data exchange standards known as HL7 versions 2 and 3.
HL7 standards development needs more support
A key drag on the advancement of FHIR is the failure of some in the business, particularly provider organizations, to join HL7 and contribute membership dues that help fund HL7 standards work, asserted Dave Shaver, founder and CTO of middleware vendor Corepoint Health, based in Frisco, Texas, as well as co-chair of the HL7 FHIR Governance Board and a board member of the HL7 Foundation.
"The first thing CIOs should know about FHIR is it's part of the HL7 family of standards, and if that CIO works in an organization, they should support their hospital by becoming an organizational member of HL7," Shaver, who is also co-chair of the HL7 Infrastructure and Messaging Committee, told SearchHealthIT.
"It is right that CIOs demand that we should have more standards, but the flip side is they have to be paid for somehow," Shaver said. "Write the check and help the organizations build standards."
Matt Weinstock, spokesman for the College of Health Information Management Executives, the main health IT CIO group, declined comment.
CIOs comment on HL7
John Halamka, CIO of Beth Israel Deaconess Medical Center in Boston and a noted FHIR promoter, said while BIMDC is not currently a member of HL7, he encourages healthcare organizations to support the organization.
"As reimbursement moves from fee for service to value-based purchasing, the need for care coordination and care management increase[s]. By joining HL7, provider organizations can influence the trajectory of interoperability," Halamka said. "It makes great sense for providers to join HL7 and be a part of the team shaping the future."
It is right that CIOs demand that we should have more standards, but the flip side is they have to be paid for somehow.

Dave Shaverfounder and CTO, Corepoint Health
Halamka said due to budget austerity measures at BIMDC in 2017, the health system cut membership fees for all organizations, including HL7. "We would be [an HL7 member] if we had the budget," he said.
Another prominent healthcare CIO and interoperability advocate, Marc Probst of Utah's Intermountain Healthcare, which holds the most expensive benefactor membership, said HL7 membership is worthwhile for providers, but growing provider membership "will really require some changes to HL7."
"They are a highly competent and technical group, but their meetings bog down way too quickly into detail," Probst said. "HL7 should tailor the organization to leverage the advice, knowledge and skills of CIOs. They can discuss policy, discuss business needs and discuss strategy, then let the really smart folks go off and do the technical design and specs."
HL7's CTO, Wayne Kubick, acknowledged that while HL7 has traditionally been oriented toward technical-minded standards developers, the organization now "has recognized the need to reach out more directly to senior business executives and professional clinicians and researchers whose organizations ultimately benefit from their use of HL7 standards."
Kubick noted that HL7 has recently branched from some FHIR forums focusing more on business outcomes than on writing software.
These include meetings with senior executives from clinician, payer and biopharma organizations to discuss using FHIR collaboratively; an FHIR applications roundtable to show healthcare decision-makers how customers and vendors are using FHIR; and events like this month's Value-Based Care FHIR Summit.
Meanwhile, David Chou, vice president, CIO and chief digital officer at Children's Mercy Hospital in Kansas City, Mo., which is not an HL7 member, said membership is "good, but it's not on my radar at the moment."
"Membership allows organizations to vote and change the standard landscape, such as FHIR. But if you look at the FHIR standard, this has been in discussion for a few years, and while it has picked up traction, it is still not the standard," Chou said.
Chou added that FHIR's progress is part of a bigger challenge of moving away from legacy programming language-based EHRs toward widespread use of open APIs.
A look at HL7 membership
HL7, a nonprofit ANSI-accredited standards organization based in Ann Arbor, Mich., maintains various tiers and pricing for organizational membership, depending on size and whether organizations are vendors, providers, payers or government bodies, professional associations or universities.
Healthcare providers, who make up the smallest major class of HL7 members -- 111 as of April 2017 -- are in the third membership tier. Providers with $100 million or more in IT expenditures pay $13,300 a year; those with $50 million to $100 million in IT expenses pay $10,800, and so on. A big vendor with $100 million in annual healthcare revenue pays $21,600 a year to belong to HL7.
By comparison, there are 207 vendor members, some of them paying extra to become top-tier "benefactors." Nonprofits account for 129 memberships. Consultants and consulting firms number 55.
Some of health IT's biggest vendor names -- from Epic Systems Corp. and Cerner Corp. to GE Healthcare and InterSystems -- buy the pricy $35,000 annual benefactor membership.
A few major providers are benefactors, too, paying $28,000 for the top membership class. In addition to Intermountain, they are Kaiser Permanente, Partners HealthCare and Tenet Healthcare.
HL7 has about 12 full-time employees and several part-time developers working on standards, along with many volunteer developers.
The organization had $5.1 million in expenses and $5.6 million in revenues -- including $2.9 million from membership dues -- in 2015, according to HL7's form 990 tax filing for that year, the most recent that is publicly available.
HL7 CEO Charles Jaffe, M.D., was paid a salary of $489,280 in 2015, according to the filing.
HL7 chief: FHIR development strains resources
Jaffe, in an interview, echoed Shaver's position on the need for health IT organizations to join HL7 and support the group whose technology they routinely use.
"There are many benefactors of HL7, which over three decades have provided us with the support that we need, and we continue to rely upon them," Jaffe said. "Our commitment is to make FHIR the best we can, regardless of the resources available, and certainly the demands that FHIR have put on our budget are a challenge."
Grahame Grieve, the Australia-based developer who is considered the inventor of FHIR, is a part-time employee of HL7 and is listed on the HL7 website as FHIR product director.
"Yes, the hype is out ahead of where implementation is," Grieve tweeted about FHIR in early March, just ahead of the introduction of FHIR Release 3. "Our focus is ensuring that there's substance there."
Dig Deeper on Establishing interoperable electronic health systems