sommai - Fotolia
News
Stay informed about the latest enterprise technology news and product updates.
Experts say how Trump presidency might affect the future of health IT
What will the future of health IT be under the new Trump administration? Health IT experts offer up predictions and reassurances for the future.
In what many news organizations are calling a stunning political upset, Donald Trump, the Republican nominee, was elected the 45th president of the United States late Tuesday night. While many are left reeling and wondering what it means for the country, many in health IT are also wondering what changes lie ahead.

Download this free guide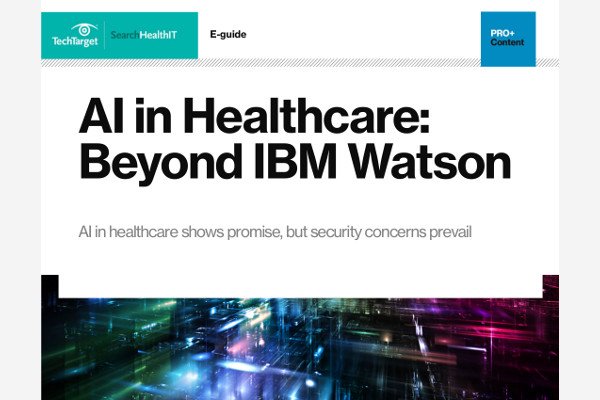 Download Now: Artificial Intelligence in Healthcare
AI in healthcare goes beyond IBM Watson. In this e-guide, discover 4 uses for AI in healthcare – particularly how it can help improve patient engagement – and whether we can overcome security and interoperability concerns surrounding the technology.
On his website, Trump said, "On day one of the Trump Administration, we will ask Congress to immediately deliver a full repeal of Obamacare." Now, many are speculating what this may mean for the future of health IT.
The future cannot be predicted, an Office of the National Coordinator for Health Information Technology (ONC) spokesperson said.
However, Jeff Smith, vice president of public policy at the American Medical Informatics Association, based in Bethesda, Md., speculated in an email that possible areas where Trump's policies could affect the future of health IT are with the following initiatives:
Cancer Moonshot, which is an initiative championed by Vice President Joe Biden to accelerate cancer research that includes the use of health IT;
Precision Medicine Initiative, which President Barack Obama launched in an effort to gather research on new ways to treat disease, such as the use of genomics; and
BRAIN Initiative, which is a presidential initiative that aims to further understanding of the brain through the development and application of innovative technologies.
"These are all efforts sparked mainly by an openness and an interest at the highest levels of the White House, and it's unclear as to whether the House and Senate will provide funding needed to sustain the work, or if the Trump administration would prioritize these projects," Smith said.
Some have concerns that the progress made toward value-based care so far may be in jeopardy, given Trump and his administration plan to fully repeal the Affordable Care Act, a federal statute that resulted in many value-based care initiatives.
Smith said he doesn't believe this will happen, because "there's strong support for much of the value-based care agenda already underway."
Amy Leopard, a partner who deals with health IT matters at Bradley Arant Boult Cummings LLP in Nashville, Tenn., agreed with Smith. Leopard said when it comes to new regulations like MACRA, which pushes healthcare toward value-based reimbursement, she does not expect to see any dramatic changes. "Namely because there was such strong, bipartisan support for the MACRA/MIPS changes to meaningful use of EHR and reliance on quality and performance reporting to transform the Medicare physician payment system," she said in an email. "Those transformative changes are well underway for a Jan. 1, 2017, implementation with the final rule published by CMS last month and point toward continued heavy reliance on the use of EHR/health IT."
It's unclear as to whether the House and Senate will provide funding needed to sustain the work, or if the Trump administration would prioritize these projects.

Jeff Smithvice president of public policy at the American Medical Informatics Association
Smith does, however, believe one area of concern could be the CMS Innovation Center, "which has come under fire recently," he said in the email. "The Innovation Center is vital to continued learning in healthcare, but again, will Congress see the value? We'll see."
But no matter what happens, health IT leaders and organizations like ONC and the College of Healthcare Information Management Executives (CHIME) are reminding everyone that the future of health IT and their mission is to improve the delivery of healthcare, and that will not change.
"As the nation moves past a divisive election season, we must continue working together to build a better healthcare delivery system," Russell Branzell, president and CEO of CHIME, said in a release. "The federal government and providers have invested billions of dollars and countless hours to deploy complex information systems and digitize healthcare. We've reached a stage where we are seeing the fruits of that labor; health IT is pushing us toward better, safer, more efficient care."
The ONC spokesperson said the organization's mission will continue to focus on improving the health and well-being of individuals and communities through the use of health IT and to make it accessible when and where it matters most. The spokesperson added that ONC leaders will work to make sure the transition to the next administration is smooth.
Dig Deeper on Federal health care policy issues and health care reform