Brian Jackson - Fotolia
Healthcare blockchain ideas swirl at government conference
Proponents and skeptics of blockchain for healthcare came together at a workshop hosted by NIST and ONC to work out proposals and problems with this new technology.
GAITHERSBURG, Md. -- Despite a host of skeptics, healthcare blockchain technology has arrived, if still mainly in the conceptual stages.
Healthcare blockchain proponents -- ranging from major corporate players, such as IBM and Accenture LLP, to thinkers from the MIT Media Lab and Mayo Clinic -- gave detailed proposals for the technology in health IT at a government workshop this week.
The two-day conference, co-sponsored by the Office of the National Coordinator for Health Information Technology (ONC) and the National Institute of Standards and Technology (NIST), was held at the wooded NIST headquarters in the suburbs of Washington, D.C., and drew nearly 200 attendees.
While healthcare blockchain advocates touted the technology as a transformative route to improved health data interoperability, security and privacy, critics said blockchain is still too computing-resource-intensive and sluggish. Skeptics also said blockchain security has been overstated.
Shahram Ebadollahi, vice president of innovations and chief science officer for IBM's Watson health group, listed some potential healthcare blockchain use cases, including:
Patient consent management and health data access;
Provenance and traceability for counterfeit drug detection and healthcare asset tracking;
Medical payments and claims;
Clinical trials; and
Smart contracts.
IBM -- a founding member of the Linux Foundation's Hyperledger Project -- has grouped its healthcare blockchain activities around the Watson cognitive computing engine, its Bluemix platform-as-a-service offering and blockchain features for business on z Systems mainframes.
While IBM does not yet have any commercial healthcare blockchain applications, Ebadollahi said blockchain's encrypted distributed-ledger capabilities are well-suited for health IT because of the technology's potential to streamline transactions and provide privacy and security.
Blockchain gives "transparency and a single source of truth," Ebadollahi said.
[Blockchain gives] transparency and a single source of truth.

Shahram Ebadollahivice president of innovations and chief science officer for IBM's Watson health group
"Access to data is provided only to those who are authorized to participate," he said. "It assures controlled identification."
IBM's proposal, in which the company said it is making significant investments in healthcare blockchain, was one of 15 healthcare blockchain plans chosen by ONC as finalists in a challenge grant proposal over the summer that drew 77 entries.
The Accenture consulting firm and government contractor, another finalist that presented at the NIST-ONC event, focused on integrating existing health IT systems with permissioned blockchain distributed-ledger technology and aligning blockchain with ONC's health IT goals, such as interoperability.
In healthcare blockchain circles, Accenture's and IBM's choice of a private, permissioned -- rather than permissionless, or public -- blockchain approach has been somewhat controversial, because in permissioned systems, only selected organizations or individuals can participate.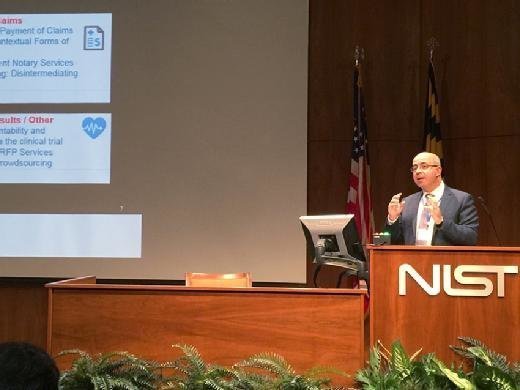 In permisionless systems, such as bitcoin -- the blockchain-backed cryptocurrency that has popularized blockchain -- anyone can participate in transactions on the system, and advocates of permisionless blockchains said that approach fulfills the democratic, decentralized ideal of the technology.
Accenture views the permissioned system as a "consortium" approach, similar to how the banking industry is exploring blockchain technology. In this scenario, organizations that already trust each other can dispense with what some see as the cumbersome proof-of-work step in permissionless systems, making the blockchain work faster.
Brian Kalis, managing director for the Accenture health unit, called healthcare blockchain a big deal, and he outlined uses that align with ONC's Interoperability Roadmap, including secure identity authentication, trusted health records and patient consent management.
"It's putting the patient in control" of his or her health data by giving the patient exclusive rights to the data, Kalis said.
Meanwhile, ONC and NIST tried to "level set" the healthcare blockchain landscape by including cautionary voices, such as that of Mance Harmon, a software architect and businessman associated with hashgraph, a competing distributed consensus platform that supporters say is faster and safer than blockchain.
Harmon asserted that blockchain, as embodied by bitcoin, is CPU- and memory-intensive and plagued by high latency and low throughput.
"In the market evolution, it started with bitcoin blockchain, and everyone understands and knows that it's slow," Harmon said. "It's got problems. It requires the equivalent of a supercomputer."
Steve Wilson, an analyst with the Constellation Research Inc. consulting firm, said the same advantages promised by blockchain might be liabilities in healthcare, where too much access to patient information connected to too many computing nodes might compromise confidentiality.
"The radical transparency of blockchain is something we have to think about," Wilson said.
In any case, the federal government, including not only NIST and ONC, is taking blockchain seriously. The Department of Homeland Security has also been funding some independent blockchain research.
"This has been an organic experience for us that really exceeded a lot of our expectations relative to the intersection of healthcare and blockchain," Steve Posnack, director of ONC's Office of Standards and Technology, said as he kicked off the workshop. "We're very surprised and excited and happy about the amount of papers that got submitted."
Dig Deeper on Establishing interoperable electronic health systems