Infographic: Epic leads Cerner in battle for EHR market
Epic continues to dominate archrival Cerner in the inpatient and ambulatory EHR markets, according to recently updated meaningful records from CMS.
While Epic Systems Corp. is the undisputed leader of the EHR market, second-place Cerner Corp. is as close as it's ever been to its archrival.
The vendors have been locked in a sometimes bitter fight for EHR supremacy for more than three decades, but the rankings have long remained the same: Epic is No. 1 and Cerner is No. 2.
And while Epic continues to dominate most phases of the EHR market, Cerner has kept its foe within its sights and is even ahead by some indices, according to recently updated meaningful use attestation numbers from CMS.
This infographic, based on SearchHealthIT's analysis of more than 1 million lines of CMS data from 748 vendors, shows Epic boasts the most attestations in 22 states, with Cerner No. 1 in 15 states, based on combined inpatient and ambulatory stage 1 and stage 2 numbers.
But never underestimate Cerner, which some observers think has surpassed Epic in total market share after its $1.3 billion acquisition last year of Siemens AG's former Soarian EHR unit.
The publicly traded Kansas City, Mo.-based company leads Epic 6 to 5 in the 11 states in which the competitors rank first and second in attestation rankings.
However, Epic is dominant in four of the five most populous states: California, New York, Pennsylvania and Texas. Cerner leads in Florida.
The infographic also illustrates how Epic, which is privately held and based in Verona, Wis., owns the top ranking in its home state and Cerner controls Missouri.
Notably, though, the foes have made sure their presence is known on their opponents' home ground, with Cerner second in Wisconsin and Epic second in Missouri.
Meanwhile, Cerner has enjoyed robust growth beyond the Siemens acquisition, outpacing Epic financially by about 2-1 with 2014 revenues of $3.4 billion. Epic had an estimated $1.7 billion in revenues last year, founder and CEO Judy Faulkner has stated publicly.
One thing is certain: The two EHR titans' rivalry is not about to end anytime soon.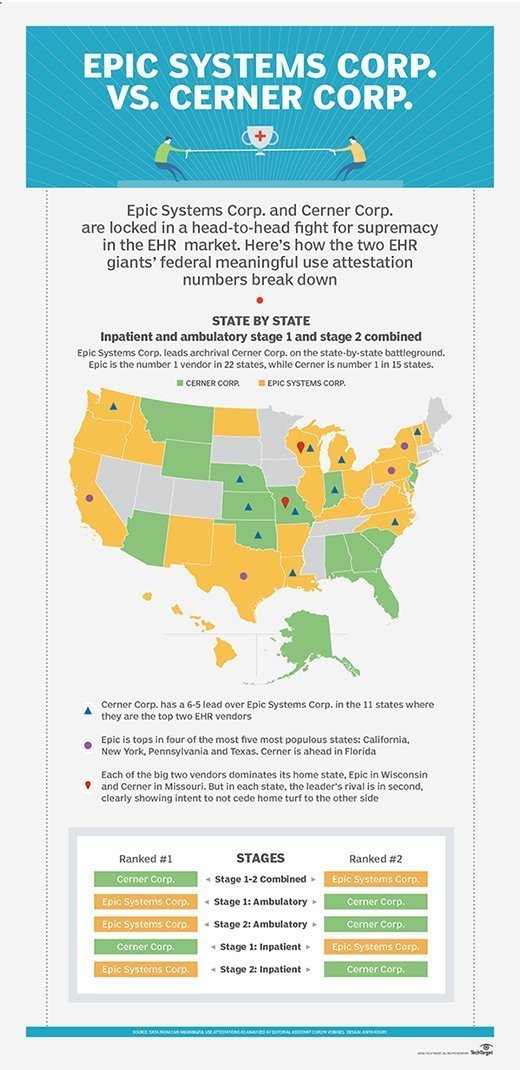 Editor's note: This story has been updated to include Cerner Corp.'s correct revenues for 2014.
Let us know what you think about the story or the EHR market; email Shaun Sutner, news and features writer, or contact @SSutner on Twitter.
Dig Deeper on HITECH Act and meaningful use requirements