News
Stay informed about the latest enterprise technology news and product updates.
Can value-based care models cut costs? Yes, they can
While value-based care efforts can be hard to implement and aging technology services don't always support them, these efforts are gaining a foothold and saving money.
Nearly 25 years after value-based care models began, Change Healthcare's just-released survey showed 100% of respondents...
Continue Reading This Article
Enjoy this article as well as all of our content, including E-Guides, news, tips and more.
are saving money using those principles.
The survey of 120 insurance company payers is Change Healthcare's third effort since 2012 to understand what works -- and what doesn't -- when it comes to value-based care models.
The universality of savings was a surprise to Andrei Gonzales, M.D., director of value-based reimbursement initiatives at Change Healthcare, a provider of payment, data analytics and a variety of other healthcare platforms based in Nashville, Tenn. "We expected medical cost savings," Gonzales said, "but to have 100% say they achieved savings and with almost 25% having cost savings of over 7.5% was surprising. We've seen savings in our own work, but we wanted a more objective and quantifiable view of the impact of these programs."
But Gonzalez wasn't surprised payers were struggling to innovate and to move quickly. Just 21% said they could roll out a new value-based care model in three to six months, while 13% said they needed a full two years.
"Agility in healthcare is difficult, but it is possible," he said. "With more experience, this should get easier."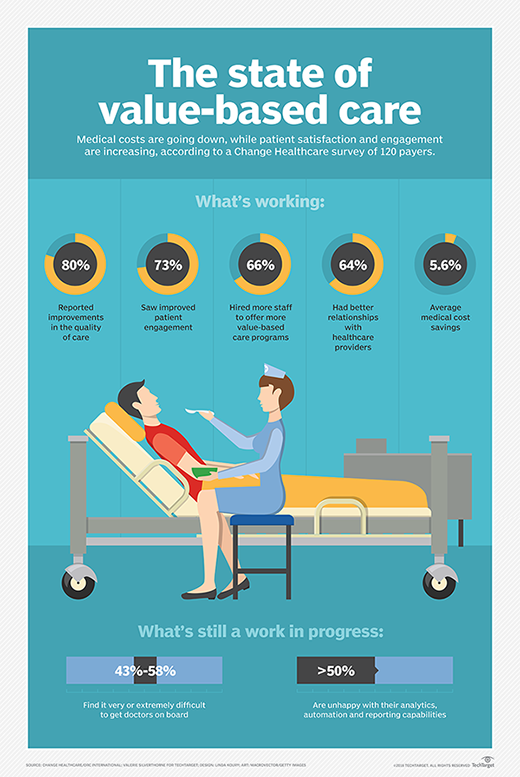 Payers were also frustrated with the technology underpinnings of their value-based care models, Gonzales said. More than half of those surveyed said their analytics, automation and reporting capabilities just weren't doing the job. In many cases, these tools were custom-built specifically for the value-based care models, Gonzales explained. But as more and more initiatives roll out, the services can struggle to keep up.
Agility in healthcare is difficult, but it is possible.

Andrei GonzalesM.D., director of value-based reimbursement initiatives at Change Healthcare
The other struggle is to get hospitals and physicians on board with value-based care models, he said. "It's not surprising to us how difficult it can be to engage providers in a value-based care model," he said.
Busy doctors and staff can do a good job with patient care in their particular silo, but have a hard time looking across the spectrum of care, he said.
"But once they understand the problem and can see the data that they're not doing as well as a competitor is doing and that they have to compete for patients, then they start to understand. That's really where the work is right now."
Dig Deeper on Health care IT management and organization