VNAs find audience, SearchHealthIT survey shows
Though they aren't a replacement for PACS, VNAs are becoming a popular vehicle for medical image sharing, according to a SearchHealthIT survey.
While perhaps not yet a wholesale replacement for picture archiving and communication systems, vendor neutral archives appear to be gaining traction as a way to improve medical image sharing, boost clinical workflow efficiency, and reduce overall IT costs and inefficiencies.
Those findings highlight a recent SearchHealthIT survey of 110 health IT executives, managers and clinicians about their use of and purchase plans for vendor neutral archives (VNAs) and picture archiving and communication systems (PACS). The survey also revealed the challenges they face with the technologies. Nearly three out of 10 respondents (29.1%) said they want to learn more about VNA systems, which is a significant sampling that VNA vendors will seek out.
Experts concur with some study findings
Two independent experts on medical imaging systems said the results are consistent with what they observe in the marketplace, including slow but steady adoption of VNAs and continued use of PACS.
"VNAs will replace the image storage portion of PACS, but they're never going to replace PACS," said Joseph Marion, principal of Healthcare Integration Strategies LLC in Waukesha, Wis.
"We're definitely learning that it's still a growing market," said Matt Terry, research director for medical imaging technology at KLAS Enterprises LLC, in Orem, Utah.
Most of the respondents (60%) in the December 2014 survey reported they had one to three PACS in their organizations, while 16.4% had four to six; 8.2% had seven to nine; and 15.5% had 10 or more.
VNAs gain momentum
As noted earlier, 29.1% of respondents want to learn more about VNAs. VNA experience varies among the rest of those surveyed, as 42.7% said they don't have a VNA while 21.8% use such a system. Also, 6.4% said they are in the process of buying their first VNA.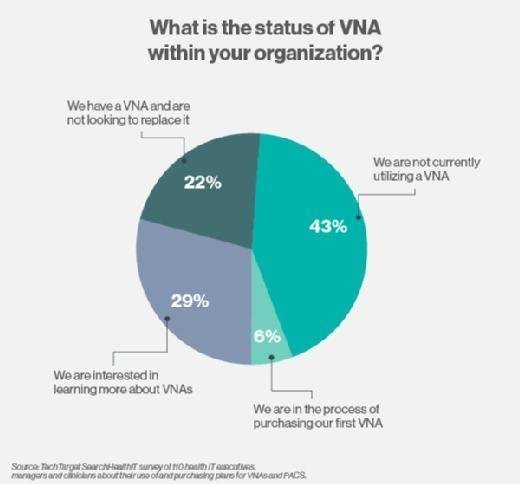 When asked about their various needs for a VNA, 56.4% of indicated a desire for image sharing within their organization to increase efficiency or improve clinical workflow. For 41.8%, another VNA driver is to reduce IT costs and efficiencies.
Respondents also pointed to data backup and business continuity as other reasons to turn to VNAs.
KLAS is in the process of conducting a large-scale survey of the enterprise imaging market, which includes looking at VNAs. The report is expected to be released to KLAS clients by summer.
Large healthcare systems that are part of integrated delivery networks (IDNs) are a robust market segment for full-scale VNAs, Terry said.
He added that VNA vendors propose to solve two long-term problems by, giving providers a place to put their images and determining the cost of migrating the images.
Technical challenges
VNAs will replace the image storage portion of PACS, but they're never going to replace PACS.

Joseph Marion, principal, Healthcare Integration Strategies LLC
Regarding technical challenges with VNAs, 14.6% of respondents said usability and user interface concerns present a problem, while 12.7% cited customer support, and training and scalability. Other technical issues mentioned include connectivity to PACs, interoperability and support for analytics.
The SearchHealthIT survey also examined attitudes about cloud versus enterprise approaches to VNA. This is a key issue for buyers of VNA systems deciding whether to let outside vendors host hospitals' images in a proprietary cloud, or to essentially lock down their own MRIs, CT scans, and medical studies and images on their own on-premise servers.
Cloud versus enterprise
Of those surveyed, 26.4% said they will always host their own VNA, but that group was bigger by only a small margin (24.6%) than another group , which said it would consider contracting with a cloud vendor to host a VNA. The survey revealed that 11.8% said they would combine on-site VNA hosting and cloud outsourcing.
For Marion, a consultant, the survey's findings -- which suggest a balanced choice between cloud and enterprise models for implementing VNA systems -- reflects real-world realities.
For some healthcare systems, a cloud strategy offers incremental storage that moves images progressively off site, freeing up space on local servers, before images either expiring after a certain number of years or move off to yet another cloud, Marion noted.
"Some also see the cloud as a buffer and a form of disaster recovery," Marion said.
The converse strategy -- which has mostly large IDNs buying, maintaining and upgrading at least their own hardware storage systems -- is partly influenced by security worries in the wake of breaches of major cloud systems such as Google's and Apple's. It's also driven by HIPAA issues, such as patients' rights to timely access to their data, Marion said.
Terry, of KLAS, noted that larger IDNs also have the staff and financial resources to design their own systems, so many want to keep their image inventory completely under their control, partly out of worries about image retrieval speed and ease.
"With the cloud, I think that's where we're heading," Terry said. "But there's hesitancy. There's the feeling that we need to manage our own data."
Let us know what you think about the story; email Shaun Sutner, news and features writer or contact @SSutner on Twitter.
Next Steps
Siemens' radiology information system intrigues Cerner
Thousands of exhibitors gathered at RSNA 2014
GE executive talks image sharing technology
Dig Deeper on PACS (Picture archiving and communication system)