Share this item with your network: Strategic insight for health IT leaders

everythingpossible - Fotolia
Manage
Learn to apply best practices and optimize your operations.
19 more surprises from meaningful use attestation data
CMS meaningful use attestation data set reveals 19 more surprises after Cerner buys Siemens' health IT division and ONC discontinued "complete EHR."
By
Hannah Pullen-Blasnik and Don Fluckinger
Complete EHR, we hardly knew ye.
The latest ONC EHR certification rule update does away with the "complete EHR" definition, in an effort to streamline the rules for vendors that enable physicians and hospitals to qualify for federal EHR incentive payments.
Who were the big players in this sector? We continue our analysis of CMS' latest data set of meaningful use attestation numbers, which combines stages 1 and 2 (though, stage 2 is a statistical gnat on the windshield). While our first piece on meaningful use attestation surprises did cover ONC-certified complete EHRs, we'll start this sequel with some more findings from our analysis of that data:
eClinicalWorks LLC is a significant player in the ambulatory complete EHR attestation sector -- it recently won a Department of Homeland Security contract to install its cloud EHR system at 23 U.S. Immigration and Customs Enforcement detention facilities, spanning 200,000 patients a year and about 1,000 docs. As of May 30, some 35,939 eligible providers (EPs) had attested to meaningful use using eClinicalWorks.
That's good enough for third place among complete EHR vendors sorting by either EPs in general or ambulatory in particular. Only Epic Systems Corp. and Allscripts Healthcare Solutions Inc. rank ahead of eClinicalWorks in this space.
Don't blink or you'll miss this one: Massachusetts-based Partners HealthCare had its own certified complete EHR, which enabled 4,969 ambulatory providers to attest to stage 1. Since complete EHRs are going away, and Partners is changing to Epic, those numbers will soon be added to Epic's nearly 114,000 ambulatory providers attesting as of May 30 with a complete EHR.
How well do you know CPSI, aka Computer Programs and Systems Inc.? You should know it pretty well, because among eligible hospitals (EHs) attesting with complete EHRs, it ranks third with 894 attestations, just a few hundred behind Meditech and Epic. It's not going anywhere, either, as the company's EHR earned 2014 ONC certification in July 2013.
Siemens Medical Solutions USA Inc. accounted for 340 of the complete EHR attestations among inpatient providers, which means the company ranks 10th among vendors for that category of providers.
Cerner Corp. accounted for 1,959 attestations in that sector, good enough for third place, nestled between General Electric and Meditech. Add to that the 340 Siemens attesters thanks to Cerner's recent $1.3 billion acquisition of Siemens' health IT division, and what? It's still third fiddle to Epic and GE Healthcare by a long shot.
If you slice the data among attesting EHs using complete EHRs -- a smaller market than the overall inpatient market -- the Cerner-Siemens merger boosts Cerner from fourth place to second, leapfrogging Meditech and CPSI.
Looking at combined numbers for complete and modular EHR attestations, Cerner led all inpatient attestations with 9,690; Siemens was 10th with 474. Added together it widens Cerner's lead in that sector but doesn't quite double second-place Epic's 5,717 attestations.
Narrowing to all EH attestations (combined complete and modular EHRs), Cerner is first with 3,262. Add Siemens, previously in eighth place with 458 hospitals, and maybe Epic is an underdog, as its president Carl Dvorak recently remarked in an ONC advisory committee's hearing. That puts Cerner up more than 3,700 hospital attestations total, with Meditech and Epic lagging in second and third at 3,191 and 1,285, respectively.
Who is e-MDs? This little vendor that could is ranked 17th among all EP attesters, with 6,413 successful meaningful use incentive recipients.
Eye doctors, represent! Eyefinity Inc. for optometrists and ophthalmologists ranks 14th overall among all EP attesters, with 7,447 attesters.
Emergency departments, represent! T-System Technologies Ltd. and its specialty EHR is seventh overall among modular EHRs in the EH space.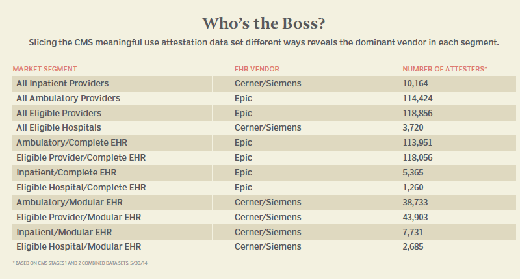 Redmond, represent! Believe it or not, Microsoft's HealthVault is certified to ONC's 2014 standards. It ranks No. 20 among EP attesters using modular EHRs, with 591 providers on the path to incentives.
You just asked yourself "What does that mean?" Well, here's a yardstick statistic offering context to Microsoft's market share: Among all eligible providers attesting, regardless of whether they're using the recently discontinued classification of complete EHR or a modular EHR, AmazingCharts.com Inc.'s 3,924 EP attestations is ranked 20th. On that overall list, Microsoft would rank much lower.
Where does McKesson rank? Looking at EHs, fourth (1,180 attestations); overall inpatient, sixth (1,294); among all EPs, 12th (12,257).
Practice Fusion Inc., the free, Web-based EHR bankrolled by the pharmaceutical industry machine, ranks 10th among all EP attesters, with 13,130 meaningful users.
Athenahealth Inc.'s Web-based EHR system ranked 11th with 12,445.
Add those two together, and the 25,575 attesters show the power of the cloud. While some subset of other vendors' EP attesters no doubt use cloud offerings, too, just adding up athenahealth and Practice Fusion vaults "cloud users" ahead of a lot of old-line EHRs, such as Greenway Medical Technologies Inc. and McKesson -- combined, and right behind big dog NextGen Healthcare.
It will be interesting to see how healthcare systems that certify their own proprietary EHRs keep up with the times. In the last attestation analysis we pointed out that Intermountain Healthcare, Utah's attestation juggernaut, will disappear from the rankings as it replaces its own EHR system with Cerner, and Partners will go to Epic. But will Sharp HealthCare, Tenet, HCA Information Technology & Services Inc. (which is its own flavor of Meditech) and Tenet Healthsystem Medical Inc. keep up with ONC certification as we move through stage 2 and beyond? Or will the Epics, Cerners and McKessons of the world absorb these, too (Meditech, likely, in the case of HCA)? Because the certification process, we know, isn't free and instantaneous.
Let us know what you think about the story; email Don Fluckinger, news director or contact @DonFluckinger on Twitter.
Dig Deeper on HITECH Act and meaningful use requirements