japolia - Fotolia
News
Stay informed about the latest enterprise technology news and product updates.
ONC's Karen DeSalvo kicks off National Health IT Week
National Health IT Coordinator Karen DeSalvo, M.D., christens National Health IT Week with a patient engagement keynote; debuts her Walking Gallery jacket.
WASHINGTON, D.C. -- Politicians, economists and Robert Heinlein fans may debate the very existence of a free lunch, but federal health IT coordinator Karen DeSalvo, M.D., kicked off National Health IT Week by wearing her personal history -- which involved growing up at times in poverty and receiving free breakfasts and lunches at school -- proudly on her back. She told attendees of the 4th Annual Consumer Health IT Summit how the program helped sustain her through tough times, ultimately driving her to a career in public health.
DeSalvo joined the ranks of Regina Holliday's "Walking Gallery," whose members wear the artist's depictions of their personal stories and ties to health IT painted on business suit jackets. Many attendees at health IT events wear Holliday's artwork to raise awareness of patient advocacy and to remind software vendors and healthcare executives that bits, bytes and bottom lines must take a back seat to improving U.S. patient care access and quality.
At her blog, Holliday tells the full story behind DeSalvo's jacket painting, titled "The Legacy of a Free Lunch." The bumper sticker: Sometimes, it takes someone coming from an underserved patient population to serve that group in Washington.
DeSalvo, talking about Holliday's illustration, said it symbolizes "Coming from a place where you can feel voiceless in a broader society, a place where those who need the most help are sometimes likely the least to get it – it's something I get up thinking about every day."
DeSalvo said she will continue to work on health IT initiatives that will meet patients' needs on both sides of the digital divide, including the side where technologies that many of us carry -- and take for granted -- aren't as accessible or affordable.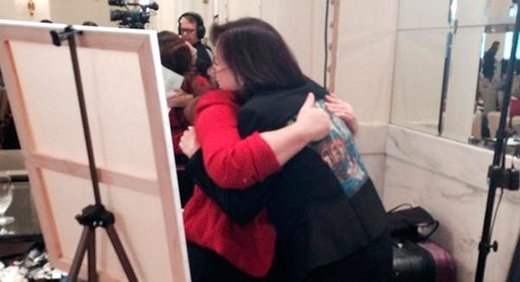 Public and private initiatives that open access to digital health data and make it usable, she believes, can "democratize" healthcare in new ways that were impossible in the era of paper. Ultimately, she said it could transform the system to better meet every patient's expectations.
Interoperability is the key to patient engagement
DeSalvo has spent her first nine months in office doubling down on health data interoperability and evangelizing its importance. Interoperability, she said in her keynote, can enable patients to take control of their healthcare, instead of it being the stew of missed connections, unnecessary duplicate treatments and sometimes conflicting goals between care providers. Those are some of today's challenges as the U.S. healthcare transitions from paper to electronic records.
Those who need the most help are sometimes likely the least to get it -- it's something I get up thinking about every day.

Karen DeSalvo, M.D., national coordinator for health IT
"Today's lack of interoperability in health IT systems results in gaps," DeSalvo said. "Missed handoffs can cause unnecessary inconvenience; it causes children to be stuck twice [with immunizations]; people to lose work because they have to have repeat tests; in some cases, it might even cause harm to consumers."
DeSalvo shared findings from an ONC data brief drawn from a survey of 2,000 patients, which revealed that 1 in 3 respondents experience gaps in their health data. Addressing those gaps is difficult, because only 3 in 10 respondents said they had electronic access to their medical records.
What are patients doing with digital access? They're monitoring their health, handing it off to a family member or care provider such as a specialist, downloading it to their personal devices, or aggregating it in a health record of their own.
"What we do know is that when people have access to their health information online, they find it useful, they want more of it, and they will use it for multiple purposes," DeSalvo said.
The next steps for ONC, DeSalvo said, will be continuing to push interoperability among vendors and emphasizing data access for patients. She hopes the result will give U.S. patients access to all of their health data in a usable form, as well as the capability to make their own additions to their medical records.
That will eventually include data from personal wearables such as Fitbits or other monitoring devices, as well as genomic data. "Health information beyond electronic health records," she concluded.
Let us know what you think about the story; email Don Fluckinger, news director or contact @DonFluckinger on Twitter.
Next Steps
Can one vendor lead the interoperability charge?
KLAS report examines Epic's reputation, performance
Interoperability to come with innovative EHR systems
Dig Deeper on Establishing interoperable electronic health systems