Luis Louro - Fotolia
News
Stay informed about the latest enterprise technology news and product updates.
Reader/CHIME survey reveals 12 ICD-10 delay surprises
SearchHealthIT survey results show varied responses, and measures the financial impact of delaying ICD-10 until 2015.
As varied as one can imagine the providers in the U.S. healthcare system, so is the impact of Congress's forcing CMS to levy an ICD-10 delay. While some welcome the extra time, others find Congress's gambit onerous in cost and inconvenience, according to survey results conducted over six weeks in July and August.
The SearchHealthIT reader survey, in cooperation with the College of Healthcare Information Management Executives (CHIME) drew 326 responses, 269 of them were IT workers at healthcare providers as well as 57 more from payers and accountable care organizations.
Some of the surprises may catch even seasoned ICD-10 experts and observers off-guard, as they reveal a healthcare system quite divided over the implementation of the diagnostic coding language:
1. More than 59% of respondents indicated they have not begun testing.
2. Of that 59%, more than three quarters have not yet completed software upgrades on their networks to support ICD-10.
3. The good news: 11% of respondents indicate they're ready for ICD-10.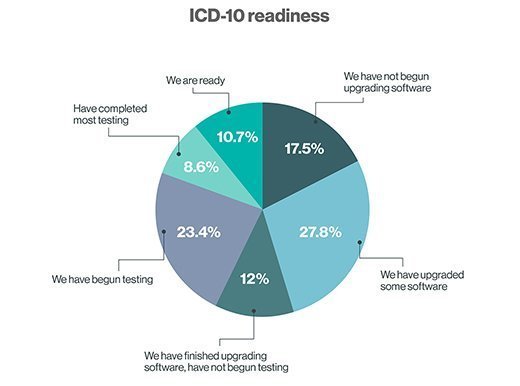 4. The ICD-10 delay will incur additional consultant retainer costs for 41% of respondents, which will take away resources from other health IT implementation initiatives because there was no budget for such cost runovers.
5. How much will that cost? While 10% of respondents indicated less than $10,000, 45% said more. Gauging the final tally won't happen until much later, as another 45% couldn't yet estimate what the delay will add up to in dollars.
6. Respondents are divided on whether the ICD-10 helps or hurts. Some 37% said it would help, 23% said it will worsen preparedness efforts and a full 40% said it will neither help nor hurt.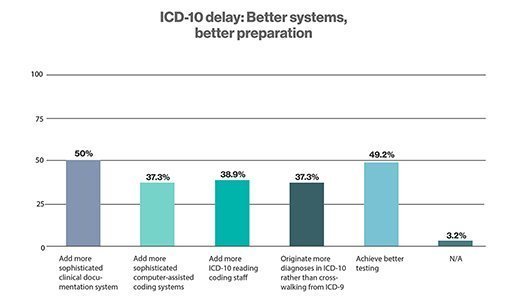 7. Similarly, 55% said the ICD-10 delay won't allow for IT staff to implement more IT systems for better documentation, coding, etc. But 45% will.
8. For the 45% that indicated it will help them implement ICD-10 more thoroughly, half said clinical documentation systems would be improved, and half said they would be able to conduct more sophisticated ICD-10 testing.
9. Happy about the delay? Then you're with the majority of respondents -- but it's not a landslide by any means (56%-44%).
10. Two-thirds indicated the ICD-10 delay will not negatively affect meaningful use stage 2 attestation.
11. However, 31% said they will consider skipping a year of stage 2 incentives to make ICD-10 work, because there aren't enough resources to accomplish both.
12. Respondents were split 52%-48% as to whether or not they believe ICD-10 will be further delayed beyond 2015. The "yes it will be delayed again" camp squeaked out a slim majority.
Let us know what you think about the story; email Don Fluckinger, news director or contact @DonFluckinger on Twitter.
Dig Deeper on ICD-10 implementation and training