Share this item with your network: Strategic insight for health IT leaders

iSTOCK/GETTY IMAGES
News
Stay informed about the latest enterprise technology news and product updates.
23 surprises from CMS' meaningful use attestation data
Wondering which vendors net the most meaningful use attestation incentive checks for their customers? Here's a complex breakdown of CMS data.
By
Hannah Pullen-Blasnik and Don Fluckinger
CMS recently updated its meaningful use attestation data, revealing some interesting trends about which vendors are providing the software and services that earn those incentives.
Here are 23 things you may not know about the EHR vendors behind the attesters, starting with statistics that span both stage 1 and stage 2. Later, we conclude with some data points from stage 2 attesters that, granted, comprise a very small sample at this time.
When going through these numbers, remember one hospital may account for multiple attestations -- depending on the topography of its network and the software applications clinicians use -- which can change quickly in this era of provider and health system mergers and acquisitions, and as physician alliances change as they form accountable care organizations. Also, know that these stats represent only meaningful use incentive checks; they may not always render a perfect reflection of market share. We suggest you use these data points for entertainment only, not as investment advice.
Surprises from stages 1 and 2 combined
1. Epic Systems Corp. is #1 on the ambulatory side, whether you slice it by eligible provider (118,856 attestations) or by attesters using certified ambulatory products (114,424).
2. Cerner Corp. is top on the inpatient side, whether you slice it by eligible hospital (3,262) or inpatient (9,690).
3. Epic is #2 if you sort by inpatient, with 5,717 attestations.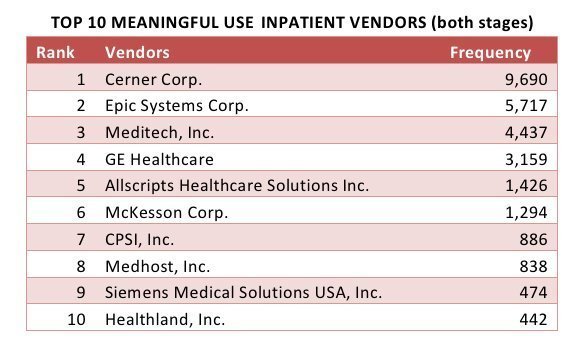 4. Meditech Inc. is the third-place inpatient product vendor, with 4,437 attestations.
5. That stat includes HCA Information & Technology Services Inc., which is Meditech-based, but has its own meaningful use certification.
6. Among eligible hospitals (EH) overall, however, Meditech is in second place, with 3,191 EH attestations. That's just 71 shy of top dog Cerner.
7. However, if you add HCA's 819 attestations to Meditech's 3,191, that makes Meditech the clear EH leader with a grand total of 4,010.
8. Intermountain Healthcare certified its own homegrown EHR for meaningful use. It accounted for 25,396 ambulatory attestations, which if we counted it would be #7 in that top 10. Also, it accounted for 168 inpatient attestations, which shows up at about #15 in the nation on that list.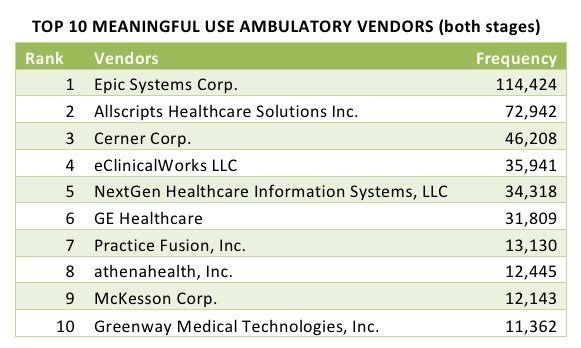 9. We don't count Intermountain, because SearchHealthIT readers outside of Utah can't buy that system, anyway.
10. Furthermore, Intermountain plans to rip out its homegrown system and replace it with Cerner over the coming months.
11. Intermountain's transition to Cerner, if everyone can make it to stage 2, could very well alter the EHR market share landscape. It's hard to predict the final impact, because if smaller vendors drop out of the certification process, go bust or merge as some analysts predict, that will further complicate the final outcome.
12. Among EPs attesting with an ONC-certified complete EHR, Epic dominates, with 118,056 payments. That's more than double the nearest competitor, Allscripts Healthcare Solutions Inc.
13. Epic also edges out Meditech for EHs attesting with a complete EHR, 1,260 to 1,011.
14. Cerner owns the modular attestations among EPs with almost 44,000 attestations to Allscripts and subsidiary Jardogs' combined 19,000-plus.
15. But like the situation above in #7, Meditech owns EH modular attestations when HCA is factored into its number. Otherwise, Cerner would be #1 in that category, too.
16. Yet, if you look at overall inpatient attestations, Cerner doubles Meditech, and that's rolling HCA attestations in with Meditech's.
17. Healthland Inc., which caters to rural hospitals in general and rural Critical Access Hospitals (CAHs) in particular, is asserting its presence among attesters. It ranks as the #7 complete EHR vendor among eligible hospitals and 10th overall among inpatient attesters.
Stage 2: First CMS data factoids
18. Looking at stage 2, there have been 518 attestations overall through May 31, combining EPs and EHs.
19. That's 0.079% of EPs and 0.21% of EHs, overall.
20. 287 EPs used athenaClinicals, accounting for more than half of the stage 2 attestations so far.
21. No EH has attested with Epic through May 31. However, 97 EPs have attested on EpicCare Ambulatory 2014 Certified EHR Suite.
22. The first EH stage 2 attesters have, however, attested to stage 2 with products from Cerner, Allscripts, Meditech, Computer Programs and Systems Inc. and McKesson Corp. Who's missing? You do the math. The longer a vendor stays off the list, we're guessing the shorter the list of potential culprits precipitating hardship exceptions will be.
23. There have been no stage 2 attesters from Utah or Idaho. You can also say that about a number of other states and territories, such as Wyoming, Vermont and Hawaii, but because of Intermountain's influence, many health IT observers are watching Utah more closely.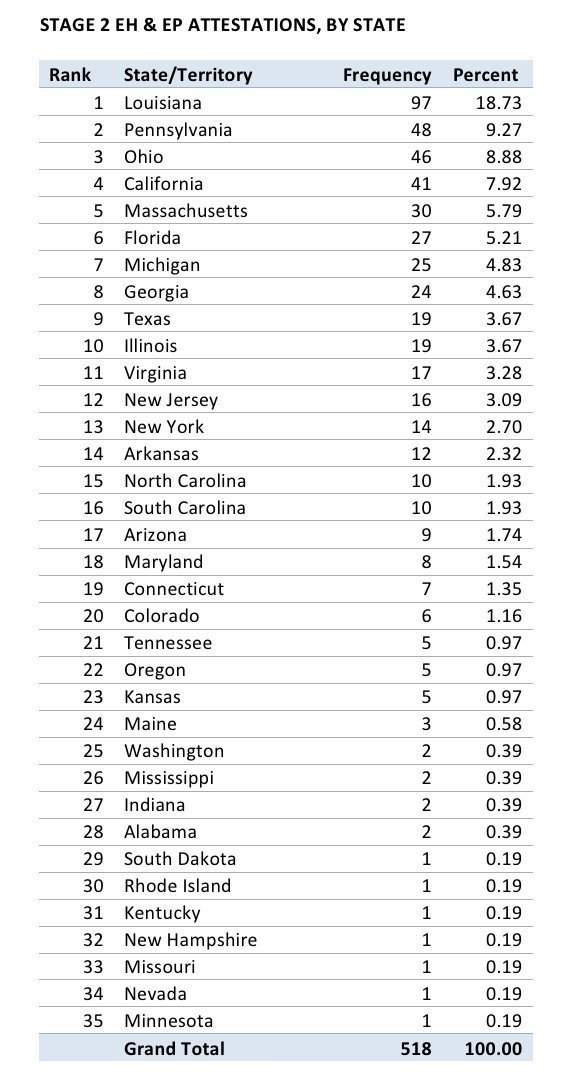 Let us know what you think about the story; email Don Fluckinger, news director, or contact @DonFluckinger on Twitter.
Dig Deeper on HITECH Act and meaningful use requirements