News
Stay informed about the latest enterprise technology news and product updates.
ONC looks to make Blue Button public, boost patient engagement
Following the implementation of Blue Button among veterans, policymakers bring patient engagement tools to the public.
Blue Button may have started as a patient engagement tool that allows veterans to access their health information electronically, but government IT officials are looking to bring this type of functionality to civilian patients, too.

Download this free guide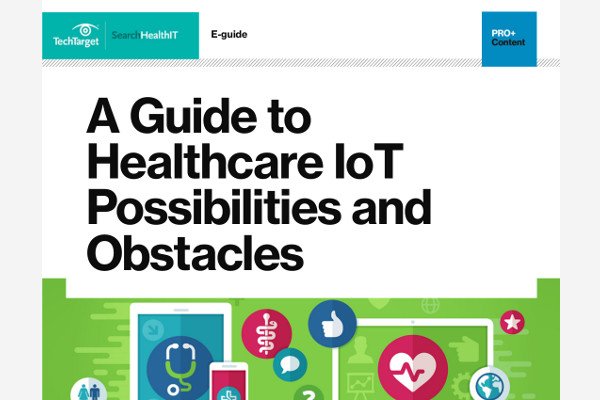 Download Complete Guide to Healthcare IoT Now
Healthcare IoT has the potential to greatly improve patient care – but it's not without its challenges. Download this essential guide in one PDF and learn how to overcome the obstacles: security, data overload, regulations, and more.
Transforming the concept of "blue button" into an action any patient can do to access their information was a major theme of the Office of the National Coordinator for Health IT's (ONC) Consumer Health Summit, held Sept. 10.
Farzad Mostashari, national coordinator for health IT, said aspects of the stage 2 meaningful use rules and other initiatives from his office will play a role in making it easier for patients to be engaged in their own care. Right now, the ONC is encouraging technology developers to include Blue Button-type functionality in their products and for data holders, such as physicians, hospitals and payers. The agency hopes to make data more available to patients.
Blue Button was an initiative launched by the Department of Veterans Affairs in 2010. It allows veterans to log on to a secure site and download their entire medical history by clicking a blue button. The concept has caught on among veterans, with more than half a million veterans having downloaded their records. Now health IT policymakers see it as a model for getting all patients more engaged in their own care.
Todd Park, federal chief technology officer, said at the summit boosting patient engagement is key to achieving quality and cost improvements in the nation's health care system. He described patients as the "most underused and potent resource in all of health care." When patients have timely access to their records, they can spot errors and omissions, which improves treatment outcomes and helps them avoid unnecessary procedures, Park said.
"Getting access to your own data isn't an abstract thing. It can literally make the difference between life and death," Park said.
Mostashari said progress is being made to make it easier for patients to access their information. He pointed to growing electronic health record (EHR) adoption rates by physicians, which makes it easier for doctors to put information in electronic formats for patients to download. Additionally, the stage 2 meaningful use rules support enhanced data transfer and patient engagement, which Mostashari said will help get patients more involved in their own care.
He also explained one of the more controversial stage 2 meaningful use rules. Ever since the regulations were proposed, the health care industry voiced strong opposition to provisions requiring a percentage of a physician's patients to download their records. The threshold for this requirement was cut from 10% to 5% between the time the rules were proposed and the publishing of the finalized legislation, but commentators said making physicians' meaningful use compliance contingent on patient behavior would be impactful, regardless of the threshold.
In meaningful use stage 2 we said maybe if hospitals and doctors feel more accountable for the use of the tools by the patients, they would include it as something that is not just available, but that is encouraged."

Farzad Mostashari, national coordinator for health IT
Despite this criticism, Mostashari said the regulation is necessary. He pointed to the stage 1 rules that included provisions requiring providers to make virtual records easily accessible to patients. However, he said, more than two-thirds of hospitals who attested to complying with this provision reported no patients took advantage of record availability. In order to change this, providers need to be responsible for the engagement of their patients, Mostashari said.
"In meaningful use stage 2 we said, maybe if hospitals and doctors feel more accountable for the use of the tools by the patients, they would include it as something that is not just available, but that is encouraged," he said. "It's a big step forward not only in capabilities, but also in terms of changing culture."
Mostashari added that federal lawmakers are considering ways to give patients more control over their data. Currently, if patients access their health records electronically, it is probably through a patient portal or personal health record that is tethered to a particular provider's office. However, he said patients should be the ones in possession of their health data and be able to choose with whom to share it.
It will likely take some work to achieve this level of patient engagement. Lygeia Ricciardi, the acting director of the ONC's Office of Consumer eHealth, said patients need to be more willing to ask their doctors for their records and to speak up when they think something is not right.
She pointed to a recent Deloitte survey, which showed that nearly two-thirds of patients said they would like to have access to their records. This shows patients do want their data, but they do not necessarily feel comfortable speaking up to their health care providers. "Part of what's going on is there's a disconnect," Ricciardi said.
However, she added, no government regulations can make patients engage in their care. The ONC can steer providers to put in place technology that facilitates access to data, but physicians and other private-sector health care partners need to help patients understand the importance of participating in their own care.
Let us know what you think about the story; email Ed Burns, News Writer or contact @EdBurnsTT on Twitter.
Dig Deeper on Personal health record software and services