News
Stay informed about the latest enterprise technology news and product updates.
SaaS solution helps medical supplier manage contacts
Is using a SaaS solution better than building in-house? This case study follows a medical supply distributor's venture into the world of Software as a Service.
Supplier management software from RollStream helped PSS World Medical keep its vendor contact lists up to date and consistent across departments, which before the software implementation had maintained separate lists. In this case study, read about the other benefits that PSS World Medical has realized.

Download this free guide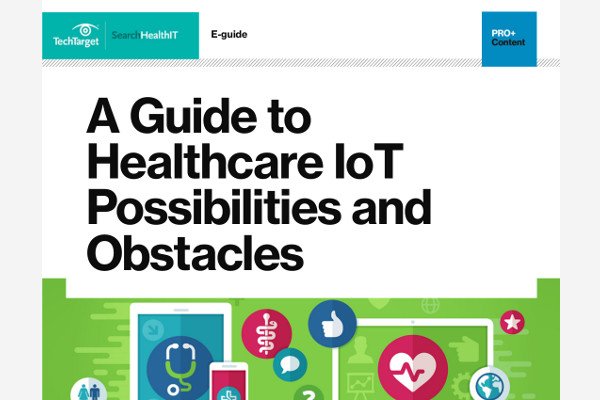 Download Complete Guide to Healthcare IoT Now
Healthcare IoT has the potential to greatly improve patient care – but it's not without its challenges. Download this essential guide in one PDF and learn how to overcome the obstacles: security, data overload, regulations, and more.
PSS World Medical, a distributor of medical supplies and equipment to office-based physicians and providers of long-term health care, needed a simple, easy to update, and consistent way to track its 3,000 vendor partners.
Company offices and departments created and maintained their own Microsoft Excel spreadsheets, said Jennifer Sutton, project manager for supplier management. Employees updated their own files when vendor contacts or product lines changed; that created a confusing, inconsistent hodgepodge of supplier information throughout the company, she said.
"If one person, say someone in our purchasing department, realized a contact wasn't the same, they'd change their own spreadsheet; but there was no way to update every spreadsheet," Sutton said. "We tried a couple of different things [first], like Sage [Software Inc.'s] ACT, and tried to house all our contacts in there, but we really needed an online program that would maintain itself."
Taking it to the Web
About eight months ago, Sutton attended a trade conference hosted by the Health Industry Distributors Association, and briefly visited RollStream's booth. Upon her return to the office, she contacted the software developer and arranged for an on-site meeting to learn about its Web 2.0-based Software as a Service (SaaS) offering for business-to-business collaboration.
"We've always been looking for a Web-based software solution, but we until we found RollStream's Supplier Community Management, there wasn't anything out there," Sutton said. And, after RollStream's demonstration, the company saw no need to look at anything else, and immediately signed a contract.
Because Supplier Community Management is a SaaS solution, PSS World Medical did not have to purchase additional hardware, storage, security, or networking products or services, Sutton said.
Data scrubs yield clean files
To prevent garbage in, garbage out, Sutton collected vendor contact spreadsheets from various divisions and sent them to RollStream, which scrubbed the data, removing duplicate entries and noting instances where one vendor contact had conflicting phone numbers or email addresses.
After receiving the scrubbed data back from RollStream, Sutton assigned a customer identification number to each supplier, and communicated with the vendor contacts for whom she had multiple phone numbers and email addresses. That process took about two to three weeks: "It was a really good turnaround," she said.
"From the day we bought RollStream to the day we went live, to sending emails to all our suppliers asking them to update their profile, was a month and a half," Sutton added. "It was relatively painless."
PSS World Medical could use the software to manage such processes as dispute resolution, feedback management and partnership information.
After implementation, a snowstorm prevented Fairfax, Va.-based RollStream from attending a live kick-off seminar in the Sunshine State, so the software company hosted a Web-based training session that provided ample tools and education, Sutton said. Training since then has been hands-on and as-needed, she added.
PSS World Medical now sends profile-update requests to its vendors once every six months or so, Sutton said. The response rate ranges from 40% to 50%, which is "pretty good with a new program we're trying to get people to use," she said. It can take a few phone calls to walk vendors through the process, but they are willing participants, she added: "Medical suppliers have a lot of competitors, and they want to keep us happy so we don't want to go to their competitors."
From there, Sutton or another administrator -- about seven use the software -- centrally updates changes to the contact list. This gives all PSS World Medical sales or support people the most current contact information, she noted.
Eschewing distribution lists, improving collaboration using a SaaS solution
In addition to using RollStream as a contact management program, Sutton has stopped using Microsoft Outlook as a mass communications tool, and now uses RollStream. This eliminates the need to set up distribution lists, and cuts the time spent sending an email to multiple people.
"I think we've probably scratched the surface of what we can do with [RollStream]," Sutton said. She speaks to a dedicated account representative every two weeks or so, to discuss current and upcoming projects and ask any questions.
For example, RollStream can manage multiple aspects of a business-to-business relationship, the software company says. PSS World Medical could use the software to manage such processes as dispute resolution, feedback management and partnership information.
In addition, Sutton is learning how to use RollStream "as a housing common drive for scanned price sheets or scanned distribution agreements, keeping a PDF copy under one profile page," she said, adding, "It is a lot of work."
Avoiding the perils of rolling one's own software
Despite the work, Sutton is glad PSS World Medical opted for RollStream's system instead of one developed in-house, she said.
"There's a process here. If you want something developed, it could take a year," Sutton said. "It was easier to go ahead and buy a Web-based program that someone else was going to maintain, so we could use it right away."
Contacts now are current and updated instantly. This has yet to translate into cold, hard cash savings, but PSS World Medical expects a long-term payoff from its investment, Sutton said.
"We didn't have to buy anything through our IT department. RollStream did it all," Sutton concluded. "We may have been able to do it cheaper [in the] long run in-house, but the process to set it up would [have] take[n] longer."
Dig Deeper on Health care cloud applications and services