News
Stay informed about the latest enterprise technology news and product updates.
How to form alliances with health care IT providers
Forming partnerships with health care IT providers can be a great benefit to small and medium-sized organizations. Learn best practices for outsourcing health IT.
Members of the health care industry, long accustomed to calling in outside experts for assistance with tasks ranging from billing to specialized medical procedures, are teaming up with health care IT providers to hasten and expand their adoption of technologies to cut management and hosting costs, and to manage everyday maintenance.

Download this free guide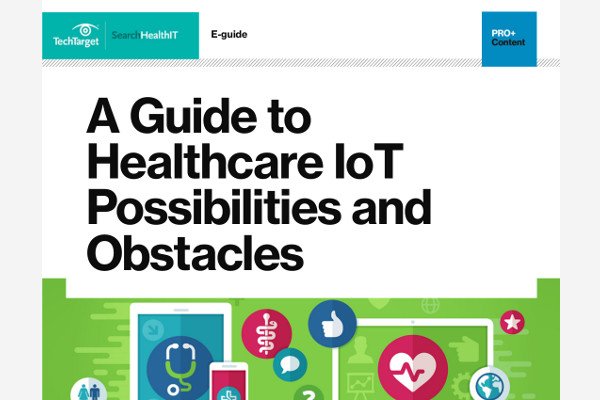 Download Complete Guide to Healthcare IoT Now
Healthcare IoT has the potential to greatly improve patient care – but it's not without its challenges. Download this essential guide in one PDF and learn how to overcome the obstacles: security, data overload, regulations, and more.
By submitting your personal information, you agree that TechTarget and its partners may contact you regarding relevant content, products and special offers.
You also agree that your personal information may be transferred and processed in the United States, and that you have read and agree to the Terms of Use and the Privacy Policy.
Some hospitals tap consulting firms to provide them with CIOs to oversee long-term strategy and infrastructure projects or step in during the facility's search for a permanent IT executive. Other times, medical professionals bring in a solution provider or value-added reseller (VAR) for a specific purpose, such as recommending or implementing an electronic medical record (EMR) system and training staff on it. These arrangements allow facilities to expand their access to IT expertise without incurring the expense and difficulty of finding a full-time employee for each specific need.
"Especially in small-to-midsized health care communities, they've got very good generalist expertise, but they don't have the ability to bring the resources to bear on their IT organizations that large companies have," said Ashley Leonard, CEO of consultancy NetworkD Group, a Sparxent company, who has worked with such clients as Gwinnet Hospital System, Baptist Health and Sharp HealthCare.
Determining when to hire outside assistance -- and what to look for in a health care IT provider -- is critical to the success of these relationships.
Where to find health care IT providers

When considering a partnership, health care organizations can choose from among independent solution providers. These software specialists may focus on health care as a whole or a specific aspect of this market -- dental, EMR or prescription drug management, for example. Others address specific technologies, such as security, networking, managed services or telecommunications. The alternative is to team up with the service organizations within a software or hardware vendor.
Whether considering large vendors such as IBM and McKesson or smaller developers, health care providers typically seek referrals from colleagues, affiliated hospitals, business publications and trade groups to winnow down the vast list of potential partners. Speaking to other end users gives a realistic snapshot of potential hurdles, benefits and timing, said IT professionals who focus on the health care market.
"If you're able to build trust and deliver your expertise in a cost-effective way, you'll succeed," Leonard said of health care IT providers.
These firms should offer client contact information, in-person demonstrations and answers about such topics as the specific software, integration issues, training, post-sales support and the company's future development plans.
Roger Gudenkauf, owner of Rocky Mountain Microfilm and Imaging Inc., recommended that health care professionals speak to existing clients, asking questions such as these:
How are they doing it?
What works?
Do they do what they promise they'd do?
Is the system really saving time and money?
How is it saving time and money?
Have they come out with big increases every year?
"Talk is cheap. There are a lot of [health care IT providers] who promise a lot, but you need to know the company produces," added Gudenkauf, whose Denver-based electronic document management firm specializes in Digitech Systems and helps clients such as Yuma District Hospital eliminate paper files.
Crafting an implementation plan with health care IT providers

When it comes to one-off projects, health care organizations often hire external assistance to help meet deadlines. This allows the medical provider's internal IT staff to focus on day-to-day operations or other projects they are better suited to do themselves.
"[M]ost hospitals implement, choose or plan a system once every seven or so years, so, for most of our clients, that's something they need to do in only a few instances," said Gerard Nussbaum, director of technology services for the Health Care Group at Kurt Salmon Associates.
Furthermore, many health care organizations simply lack the personnel to maintain and upgrade the systems they have purchased and installed, said Julie Dillenbeck, vice president of marketing at consulting firm Global Capacity.
As a result, hiring an outside partner for ongoing IT support also can be more cost-effective than recruiting and retaining a well-qualified employee. Such health care IT providers can audit an organization's existing infrastructure to ensure each component is being used for maximum efficiency.
"Most hospitals, especially small and midsized ones, don't have large CTO roles or infrastructure executives. If you compare them to a financial services organization, they have less people to do the same amount of work [and] they don't have the same pay scale. If you can't afford to pay the best, it's kind of hard to recruit the best," said Jeff Laurinaitis, a sales director at RKON Technologies, which provides IT services to Children's Memorial Hospital in Chicago, among other medical clients.
Further compounding the matter is the fact that most hospitals are 24-hour operations but lack the funding to keep the IT department staffed around the clock, Laurinaitis added: "When something breaks, people get paged in the middle of the night."
Proven benefits of working with health care IT providers

By talking to other executives, reading case studies and hospital profiles, or requesting VAR referrals from software vendors, medical professionals can find plenty of partnership success stories.
For example, when the Yuma Hospital District hired Rocky Mountain Microfilm to transfer its paper patient documentation into digital, electronically stored records, it did the following:
In addition, data retrieval now is done in less than five minutes, compared with an hour. Finally, secondary payment processing grew by three to four claims per day, thereby improving the hospital's cash flow.
Many health care organizations simply lack the personnel to maintain and upgrade the systems they have purchased and installed.

Julie Dillenbeck, vice president of marketing, Global Capacity
"We find a lot of lost admissions in a hospital. You're not human if you don't file stuff wrong every once in a while," Gudenkauf said. "That's been a big asset to the electronic medical office. The more electronic, the easier it is to find information."
Iredell Memorial in Greensboro, N.C., now saves about $40,000 per month in write-offs from lost medical records, after VAR OneSource Document Solutions implemented a Laserfiche document imaging system at the regional facility.
For its part, Upson Regional Medical Center credits its careful selection of health care IT providers for the quality of its disaster recovery plan, said George Curtis, director of information systems at the Thomaston, Ga., organization. Recognizing the IT department could not single-handedly create an ongoing solution that would support the medical center in the case of a natural or man-made disaster, he and his team researched their options.
"We have a rock-solid disaster recovery plan in place, [and] we test it every year. If the hospital was wiped off the face of the earth in the next 10 minutes, my team could have . . . data restored, clinicians accessing it off-site via wireless VPN in an Iron Mountain facility in Boston . . . within 12 hours," Curtis said. "Prior to that, I didn't sleep well at night."
Conclusion: Taking the pulse of your IT needs

Researching a new technology and partner is time-consuming, but it is far more affordable than inking a deal with the wrong health care IT provider. Discussing upcoming IT investments and partnerships is a critical step in medical facilities' decision process. Asking questions -- and not accepting vague answers -- is a preventive step to avoid spending unwanted dollars and hours on a placebo, not a cure.
Dig Deeper on Organizing health care staff and networks