iQueue software for data analytics helps infusion centers schedule
LeanTaaS' data analytics software is helping infusion centers solve two common problems: Overbooking of chairs in the middle of the day and under-utilization of assets.
Each month, the editors at SearchHealthIT recognize an innovative software, service or technology approach. LeanTaaS Inc.'s iQueue software for Infusion data analytics is our October 2015 selection.
Product: iQueue software for Infusion
Release date: September 24, 2015
What LeanTaaS does
Many hospitals and healthcare organizations face the same daily challenge: Scarce assets. Hospitals are stretched thin when it comes to doctors, available infusion chairs, MRI machines, CAT scans, surgery suites, beds and more. Not only are these assets limited, they are often overbooked, Mohan Giridharadas, CEO and founder of LeanTaaS Inc., said. "[This] leads to wait times and difficulty getting access -- it takes three months to schedule a surgery, for instance -- yet they are underutilized and empty for many hours of every single day." More specifically, this underutilization occurs at the beginning and end of each day.
Giridharadas decided to use mathematics and lean thinking to solve this operational paradox by founding LeanTaaS, a healthcare software as a service (SaaS) provider based in Silicon Valley, and creating iQueue, a data analytics software designed to help solve scheduling and operational performance problems using advanced data science and sophisticated optimization algorithms.
"The way it works is we get historical appointment data, we get operating constraints, how many chairs, what are the hours, what are the nurses, etcetera," Giridharadas explained. "From the historical data, we run pattern recognition analytics and figure out what the clusters of appointments should be: How many one-hour [appointments], how many two-hour, how many three-hour, etcetera [then] translate all the operating parameters into mathematical equations into iQueue."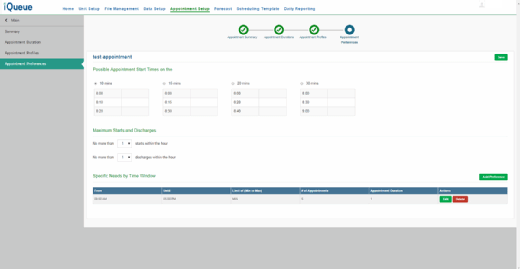 This helps hospital staff because iQueue software for data analytics provides them with information that enables them to make scheduling decisions based off which patients came before, which patients usually come at the same time, and which patients are likely to come after a specific appointment.
Brian Shields, CPPS, process improvement engineer/Oncology service line at University of Colorado Health (UC Health) -- which recently started using iQueue -- explained that before this technology, "each patient [would come] in to the scheduler one at a time over the course of many weeks. So [the schedulers are] kind of adding each patient onto the schedule on the fly and trying to make it fit."
Why LeanTaaS matters
Giridharadas said that after speaking with 50-plus infusion centers in the last six to eight weeks, he discovered they all have the same two problems: Wait times are long in the middle of the day and chairs in the infusion centers are underutilized in the morning and at night. This happens because no one wants to start a nine-hour chemo treatment at three in the afternoon and everyone wants to avoid rush hour, he explained. This is where LeanTaaS' iQueue software can help.
"The idea is to slot patients," Giridharadas said. "Think of each patient as a card in a deck of cards. We can mathematically shuffle the deck so the patients are filled up in the right order and if you get the mathematical magic correct, you reduce wait time, you improve your satisfaction, your unit costs go down and you can see more patients, and you defer the need for adding to the infusion center."
Stanford Health Care has been using LeanTaaS' various products since August 2010 and has been a beta tester for iQueue since 2014. It has enabled them to take on 21% more patients in the same operating hours with a 17% reduction in unit cost, Giridharadas said, adding that wait times during peak hours are now 31% shorter and nurses don't miss meals anymore.
"That's the magic of what we've built," Giridharadas said.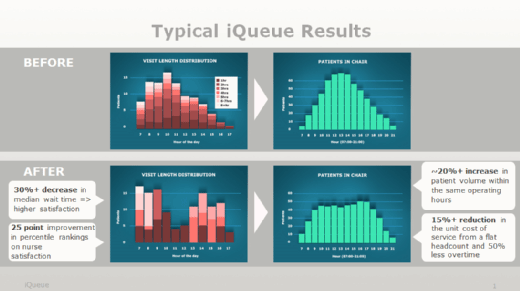 What a user says
Although UC Health only just implemented LeanTaaS and the scheduling template in September of this year, Brian Shields said "it's already provided greater transparency to what types of patients are on our schedule and we're using that information to try to be proactive about overcoming obstacles throughout the course of the day."
Shields said UC Health was attracted to what LeanTaaS had to offer because of three major benefits.
The first benefit was the seamless integration with their existing EHR, which in UC Health's case is provided by Epic Systems Corp.
"So our schedulers literally use exactly the same workflow that they always have," Shields said. "There really wasn't any change … it was literally just a change [of] what times of day they were scheduling our patients for and doing that in an optimized fashion."
The second benefit UC Health saw in LeanTaaS' product was their use of data analytics, Shields said. This means staff members in charge of scheduling in the infusion center are being provided feedback on a daily basis, "so that we weren't just kind of creating an optimized schedule and setting and forgetting it," Shields said. "It really was something that we would monitor over time and continuously tweak as conditions changed."
And the third benefit, Shields said, is that the technology gives them the ability to book additional appointments during openings in the schedule. This allows UC Health's infusion center to see more patients over the course of the day as well as be more flexible in terms of add-on patients, Shields said. "[This] ultimately allows us to take care of more people, and to provide great care."
Drilldown
Giridharadas explained when it comes to deployment, LeanTaaS doesn't need much IT support, they run all the mathematical analytics, build forecasts and optimize themselves. Then LeanTaaS helps whatever healthcare organization they're working with translate everything into the healthcare organization's existing EHR. "We don't have to interface directly with their existing EMR systems at all," Ghiridharadas explained.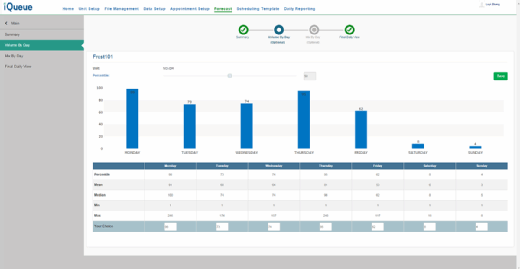 Using Epic Systems as an example, Giridharadas said LeanTaaS then helps the healthcare organization take LeanTaaS' fingerprint and put it into Epic slots. This means basically nothing changes for scheduling staff; they feel as though they are still working with Epic. "Except that instead of having slots that were made by human judges and best intentions, slots are designed based on real mathematics," Giridharadas said.
Once LeanTaaS' iQueue software is implemented, "we monitor and give them updates continuously," Giridharadas said. "What we can do is make sure that they are complying to it, that it refreshes and stays current, and the performance is moving from [overbooked in the middle of the day to efficiently utilizing time and space]."
Pricing
"The cost is very low. What we do is we price the initial setup based on the number of chairs and that's a one-time charge to do all the configuration and design, and then we've got a low monthly subscription for, depending on the size of the center, it ranges from a few thousand dollars a month," Giridharadas said. "So in terms of ROI [return on investment], it's not a big issue and because we're trying to get to 100 centers over the next year, we give people the opportunity to get multi-center discounts on a sliding scale."
Let us know what you think about the story, or share your experiences with data analytics software; email Kristen Lee, news writer, or find her on Twitter @Kristen_Lee_34.
Dig Deeper on Health care business intelligence systems