Zipnosis uses virtual care technology to boost provider efficiency
Virtual care vendor Zipnosis aims to help healthcare providers deliver more efficient medical services by prescreening patients and directing them to the right doctors.
Each month, the editors at SearchHealthIT recognize an innovative software, service or technology approach. Zipnosis' virtual care platform is our July 2016 selection.
Product: Zipnosis platform
Release dates: Released in 2008 as a direct-to-consumer product. Relaunched in 2014 as a business-to-business system.
What Zipnosis does
Zipnosis calls its brand of health IT "virtual care."
While Zipnosis often is associated with telemedicine because it uses asynchronous store-and-forward technology, the Minneapolis-based vendor's virtual care approach is agnostic about where physicians are located and how patients get connected with them.
Indeed, the Zipnosis virtual care platform, a cloud-based software as a service (SaaS), revolves around a structured text-based medical interview that patients complete, usually on a mobile device, before they talk to or see a healthcare provider.
"It assumes that data and devices are going to dominate the future of healthcare, and that's what we've designed the product to be," CEO and co-founder Jon Pearce said.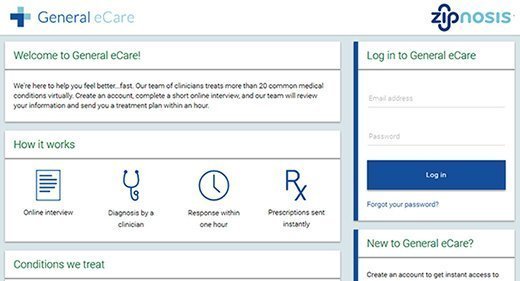 Based on the results of the interview, Zipnosis algorithms and provider policies determine whether a telephone, real-time video or in-person physician consult is needed to treat a variety of urgent care and primary care conditions ranging from strep infections to ear pain.
Usually, the provider electronically issues a simple treatment plan and a prescription if needed via the Surescripts network.
Zipnosis is a "white-labeled" technology that is branded with the user's name or co-labled and integrated with the healthcare or lab test provider's electronic health record.
Why Zipnosis matters
Zipnosis executives say the virtual care service creates dramatic efficiencies and opportunities for rapid diagnoses for providers.
In the meantime, the system reduces wait time for patients or eliminates the need for an emergency room or urgent care visit, according to Zipnosis.
"You can take a 10, 15-minute clinical encounter and turn it into a two-minute [event] that can be done in the margins of their day," Pearce said.
Unlike many telemedicine services, Zipnosis doesn't start with video or phone connections. Rather, the interview automatically compiles a concise clinical note that is relayed to the provider as structured data via HL7, secure text or other interoperability format.
Video and audio links are built into the system, and in-person lab tests or clinician visits (ordered with a "ZipTicket"), but are all secondary options to the adaptive interview.
"When's the last time you ordered something from Amazon with a video call?" Pearce said.
Also differentiating Zipnosis from other telemedicine vendors is that the company doesn't refer to its own roster of clinicians, but rather embeds its service in partnerships with established health systems.
What a user says
At Fairview Health Services, a large Minneapolis-based healthcare network, the system is called "Fairview Zipnosis" and is available at a flat rate of $25 per consult, for both Fairview and non-Fairview patients.
Fairview guarantees delivery of treatment plans within an hour. The service is available around the clock, seven days a week.
If in-person treatment is mandated, say for a strep culture, Zipnosis issues a ZipTicket that entitles the patient to an immediate lab appointment.
Dang Tran, M.D., vice president for medical practice, Fairview Medical Group, oversees the Zipnosis program.
"The true advantage is efficiency for the patient and the healthcare system," Tran told SearchHealthIT at the American Telemedicine Association's 2016 Conference and Trade Show. "As a physician, you can do it on your time schedule and your terms, and even from home. It's a very efficient and high quality way of providing telemedicine."
Zipnosis also offers the ability to upload patient-generated photos.
With some conditions, such as pink eye, for example, "a smartphone is good enough to make a diagnosis," Tran said.
Fairview uses Zipnosis about 25 times a day, though it's typically busier during flu season, he said.
Drilldown
Zipnosis' adaptive interview process is built with what Pearce calls quasi-expert system technology. It relies for diagnostic and treatment information mainly on publicly available best practices developed and endorsed by medical specialty groups.
The interview script branches out to new question stems based on patient responses, a diagnostic process that mimics in-person patient-doctor encounters, according to Zipnosis.
For providers, Pearce called the treatment information in the platform "organic clinical decision support," meaning the user doesn't have to go outside the system for evidence-based guidance.
"They're clinical algorithms in a really smart system," Pearce said. "It's just built-in. It doesn't feel intrusive to the providers."
For the record, the company's breezy name derives from a substantive underpinning.
"Zip" means fast. "Nosis" is an abbreviated form of the Greek word "gnonis," for knowledge.
Zipnosis: fast knowledge.
Pricing
Zipnosis' SaaS pricing model is based on the scope of the project and services provided.