With mobility, par8o boosts patient referral process
In tandem with mobile devices, par8o's patient referral software helps hospitals and physician practices more carefully monitor referral activities.
Each month, the editors at SearchHealthIT recognize an innovative software, service or technology approach. The par8o Healthcare Operating System is our July 2015 selection.
Product: Par8o Healthcare Operating System
Release date: 2013; as of January 2015, $10.5 million in expansion funding raised
What par8o does
Here's a familiar scenario: A patient goes to a primary care physician for a chronic injury, and the doctor recommends seeing a specialist. The patient receives a slip of paper with a scribbled name of the specialist and assumes responsibility for the referral appointment.
What happens next in the patient referral process isn't always predictable. The patient might actually visit the specialist. Or, the slip of paper might get buried on the kitchen counter. Perhaps the patient finds the specialist is out of network and skips the appointment. Meanwhile, the office that recommended the specialist has no way to track the referral's progress.
Par8o, Inc. -- a startup software as a service (SaaS) company in Newton, Mass. -- developed software that kicks the patient referral process in the tail. The SaaS monitors payer and physician criteria in near real time, and then alerts patients on their mobile devices about new appointments. The name of the company plays off the economic theory of Pareto efficiency.
The software can also point patients to an appropriate price for a procedure if, for example, the patient is in a high-deductible health plan, said Daniel Palestrant, M.D., the CEO of par8o and one of the founders of physician social network, SERMO.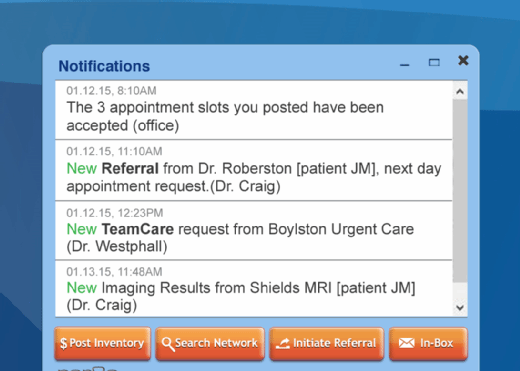 The par8o Healthcare Operating System determines the pricing by cross-referencing criteria to direct a patient to a suitable provider, offering a ranked set of options for the patient or healthcare system. Par8o can search among all specialists in the U.S., and primary care physicians can override the ranking if they want a patient to see a specific specialist.
Par8o -- pronounced "par-eight-oh" -- offers different ways for its clients to interact with the software:
An electronic health record (EHR) open on one computer screen and the par8o portal open on another, which is a basic, no-frills approach;
Desktop OS integration with par8o's features, similar to how Windows works with Dropbox, for example; and
Full integration with an EHR.
Why par8o matters
In Palestrant's experience, a good chunk of patients -- maybe up to 40% -- never make it to a recommended appointment with a specialist because the whole transition is left in the patient's hands.
Par8o's technology turns that situation from a passive process into an active one. The software looks at patient referral components in near real time -- such as cost, quality or location, depending on the situation -- contacts the patient by text message and uses mobile features to monitor whether that patient goes to the specialist.
On the flipside, the software also can kick off dialog between a primary care physician, a patient and a specialist if a patient simply wants to get the specialist's opinion on a medical matter, but doesn't need an office appointment, Palestrant said. Doing so can reduce unnecessary specialist visits, he added.
What a user says
WellHealth Quality Care, based in Las Vegas -- a commercial accountable care network that works similarly to the Medicare program's accountable care organizations, but without the federal payments -- became a customer of par8o's in 2014.
WellHealth maintains its own medical practices and also has a network of more than 600 independent physicians in Nevada, with different EHRs interwoven. "You can't, with one fell swoop, tie all the data of all of these EMRs together," said Steve Keltie, president of business development and marketing at WellHealth. There isn't a common, real-time system to tie all of those physicians together and manage communications of referrals to specialists.
"How are we sure those patients are getting to the right provider?" Keltie asked. Traditionally, systems verified this information by looking at utilization data 30 or 45 days after a specialist visit, but that's too late to be effective, he said. Instead, you need that data immediately to make good decisions, Keltie added.
Par8o feeds WellHealth that information in near real time to network managers so that a patient stays in network, and care coordinators can ensure patients go to the proper specialist at the right moment. "That makes the entire healthcare system more efficient," Keltie said.
WellHealth's current specialist referral volume through par8o is about 30 patient referrals per week. Training and adoption of par8o is ongoing for its practices; once all of the network's offices are up and running with the software, volume will likely average 60 patient referrals per week.
Par8o sits right on the desktops of WellHealth managers, similar to an app. "It's as simple as adding a new printer to your system," Keltie said. "It been pretty well received."
Drilldown
Par8o features a user-friendly portal that developers boiled down to two pages: one for the referral-initiating side and one for the referral-receiving side, Palestrant said.
When directly integrated into EHR data, par8o's software may help its customers usher in population health management efforts, Keltie said.
Vilfredo Pareto, an Italian economist of the early 20th century, inspired par8o's name because of the work he did in resource distribution. "[Pareto] was really known for an observation that efficiency comes from better supply and demand," Palestrant said.
Pricing
Par8o uses a SaaS pricing model that sets charges based on the size or complexity of the client hospital or health system. Pricing starts at $10,000 to $15,000 per month for a small installation.
How does your organization use technology to improve the patient referral process? Email Scott Wallask, news director, at [email protected] or follow him on Twitter: @Scott_HighTech.
Next Steps
Mobile EHR the subject of past Innovation Spotlight
Patients want to schedule medical appointments online
Health insurance resource from CMS guides patients through care