Evaluate
Weigh the pros and cons of technologies, products and projects you are considering.
Why medical imaging technology, such as VNAs, is necessary
See how medical imaging technology, like VNAs and universal viewers, can help healthcare organizations execute patient enablement, population healthcare and other strategies.
Medical imaging technology is important in an increasingly digital healthcare environment. Classical imaging areas, such as radiology and cardiology, have led the way in terms of medical imaging informatics due to the almost complete use of different types of medical imaging technologies that have emerged over the past several decades.

Download this free guide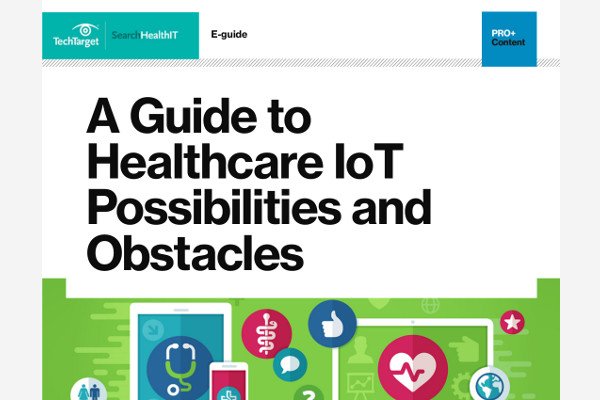 Download Complete Guide to Healthcare IoT Now
Healthcare IoT has the potential to greatly improve patient care – but it's not without its challenges. Download this essential guide in one PDF and learn how to overcome the obstacles: security, data overload, regulations, and more.
As the digital revolution progresses, there are multiple reasons for why healthcare facilities should consider the implementation of medical imaging informatics technology.
Medical image storage
Facilities are trending toward common image storage, primarily through devices known as vendor neutral archives (VNAs). There are varying degrees of VNA implementation that can be classified into four categories.
PACS archive replacement
In its simplest form, the VNA might be applied as a replacement for an existing picture archiving and communications system (PACS). Perhaps the existing PACS are aging and the storage is exceeding capacity, or the media are becoming obsolete. Rather than be dependent on a vendor for replacement, some facilities decide for a multitude of reasons to take over the image archive by procuring medical imaging technology that is independent of the PACS. Cost is typically a factor as the facility may have independent contracts for storage infrastructure.
Service line rationalization
Some facilities have come to the conclusion that managing image archives in multiple service lines is too cumbersome or too expensive. In these situations, the IT department might decide to consolidate image storage into a singular architecture under their control. This may represent an opportunity to improve economies of scale, as well as lower support costs, both of which VNAs provide. An added advantage of adopting a VNA is improved access to existing service line medical images across the enterprise.
Clinical content management
As facilities begin to expand their thinking beyond the classical image service lines of radiology and cardiology to other areas such as dermatology, ophthalmology, etc., the need for a common image storage application that can address future imaging needs becomes important. For example, the implementation of an electronic health record (EHR) might be a precipitator for image access. In these situations, it may be important for the clinical staff to utilize a single image display environment to access all imaging content.
The inclusion of imaging applications for the patient can be achieved by linking the EHR system and the VNA.
Having all of the information residing in one archival environment has a number of advantages, chief among them being the ability to present that information in a manner compatible with medical practices. This would alleviate any pain for clinicians who are not accepting of an environment where it's necessary to use multiple display applications to access pertinent patient information. For example, if a clinician is following the treatment of a cancer therapy, they might want to see the chronological progression of images, lab results and other relevant information. Achieving this by accessing multiple systems presents a complicated and unproductive process to the clinician. Medical imaging technology like a VNA resolves this.
Health information exchange
Current trends in healthcare include facility consolidation and the expansion of provider relationships, where smaller facilities form strategic alliances with larger providers for additional services. Part of the consolidation is the need to access images across multiple business entities. Many communities have established health information exchanges (HIEs) for the purpose of sharing documents. A logical extension is the inclusion of medical image content. A standards body, Integrating the Healthcare Enterprise (IHE), began in 1998 as a joint sponsorship by the Radiological Society of North America and the Healthcare Information and Management Systems Society. To address the need for sharing health information, the IHE created the Cross-Enterprise Document (XDS) sharing integration profile standard to address the needs for the registration, distribution and access across health enterprises of patients' clinical information.
Many VNAs support the XDS standard, which addresses both registry and repository applications. This enables multiple entities to establish a common registry across all facilities despite having multiple storage locations (repositories), providing a means for presenting all patient information in a singular query. The use of the cloud for image storage may be also useful in HIE environments where multiple facilities are involved, as it may be more conducive to multi-entity ownership and governance.
Medical image display
Storing images is only part of the need. Accessing and displaying images is another. Toward this end, common image display applications can improve the way clinicians access patient information. EHR systems typically do not have the capability for displaying medical images, so it is up to ancillary medical imaging technology to do so in conjunction with the EHR. Image-enabling an EHR system can be useful to the clinical staff, as they can review other patient information such as radiology reports within the EHR, and then launch associated images directly from the EHR without having to launch a separate image viewing application.
Most PACS provide such clinical viewing applications and can be interfaced to the EHR system for patient selection. However, facilities can expand beyond simple PACS functionality and into service lines that don't support typical PACS protocols such as the digital imaging and communications standard (DICOM). To address this, vendors are now offering universal viewers that support multiple image formats such as JPEG in addition to DICOM. In multiservice line or HIE applications, the same viewer can be used to view DICOM and other images in one application, making it easier for a clinician to access all of a patient's information.
As facilities continue to expand the functionality of their EHRs, addressing patient enablement -- the ability of patients to access their images among other information -- will increase. The inclusion of imaging applications for the patient can be achieved by linking the EHR system and the VNA. In addition, the ability for the patient to be able to authorize other providers' access to their images can improve the efficiency and efficacy of healthcare delivery. For example, in the case of ophthalmology, a laser scanner device known as optical coherence tomography is used to evaluate the retinal surface of the eye. The device outputs a PDF file that is typically printed with a color printer, making it difficult to communicate to retinal specialists. The PDF file could be captured digitally into a VNA and accessed by a universal image viewer, thereby expediting the delivery to a specialist.
Analytics in medical imaging technology
In conjunction with healthcare reform, the application of analytics is growing, largely to the benefit of the justification of medical procedures. One aspect of this is known as population health management, whereby diagnostic and therapeutic actions are based on the outcomes as they pertain to an entire population. Imaging can play a key role in this process if imaging data is readily accessible in a large enough sample, such as through VNAs or the cloud. Medical imaging informatics can play a role in improving population health management.
For example, consider the case of IBM's Watson Health initiative. IBM has formed a consortium of leading industry and clinical members to explore ways of creating cognitive imaging learning to improve the efficacy and efficiency of diagnosis. By combining text, images and image research, applications may be able, for example, to cut the time in half in assessing a potential stroke by identifying brain bleeds.
In another example, a company is developing the capability to analyze images as part of a migration of data from one system to another. By analyzing the pixel content against associated reports, they are able to identify potential mismatches between the image content and the diagnostic report, thereby correcting missed or incorrect diagnoses.
Imaging analytics, as part of medical imaging technology, plays a role in improving healthcare. The ability to centrally access and view images will be crucial to the success of imaging analytics.
Dig Deeper on PACS (Picture archiving and communication system)